Haute Horlogerie means fine watchmaking for a reason. The high price tag of luxury watches makes them stand out. A timepiece that costs many millions is acclaimed as a work of art and ends up in a museum if not in a private collection. Among the watch styles available are pilot watches, dive watches, field watches, and dress watches.
There is no doubt, however, that the most expensive watches are in a class all their own. A record-breaking collection that attracts the attention of top collectors and threatens to empty the pockets of royal families, billionaires, and Hollywood A-listers seems to be the whole purpose of their existence. Keep reading to find out what is the world's most expensive watch.
The world's most expensive watches-many of which are also the rarest watches-feature a wide range of timepieces, from vintage pocket watches to timepieces more akin to luxury jewelry. Although none of them are in your reach, who says that dreaming can't be good for you?
Graff Diamonds Hallucination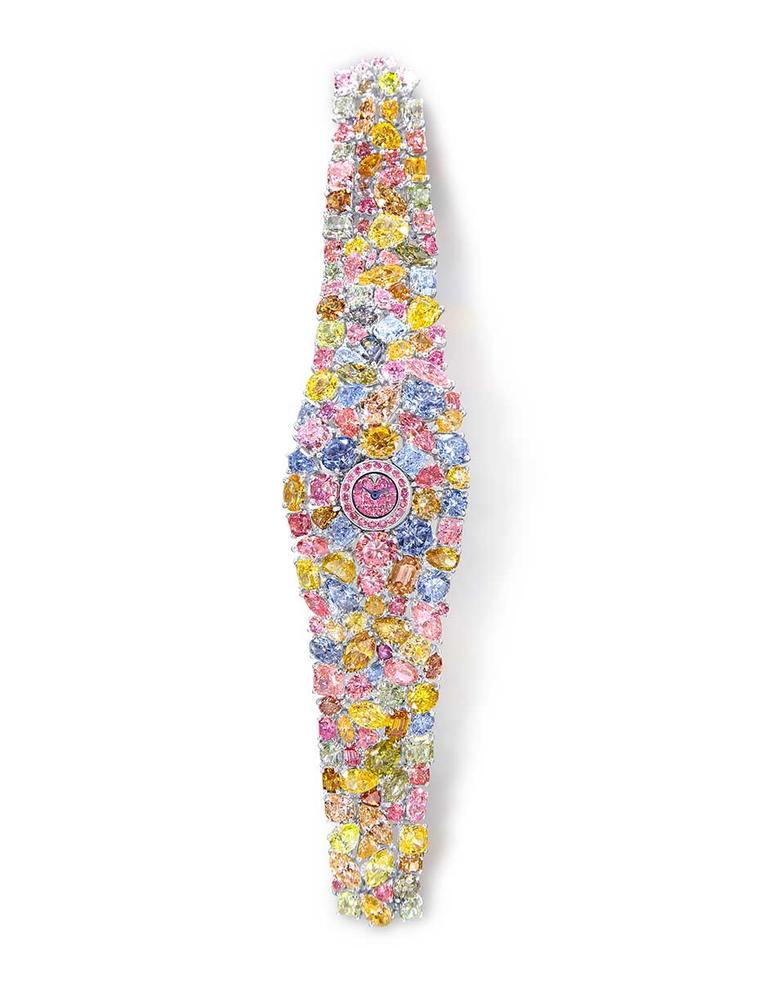 Photo courtesy http://www.thejewelleryeditor.com
One of Graff Diamonds' most expensive creations. As a phenomenal achievement and a complete joy to watch, The Hallucination is an incredible delight. With 110 carats of different colored diamonds set into platinum, the Hallucination bracelet brings high-fashion to the world of horology. While this watch is a far cry from a tactical piece, you might not realize it can tell time, but it does, behind all that glimmer. This sensual performance is certain to leave you feeling like a million dollars.
Patek Philippe Grandmaster Chime Ref. 6300A-010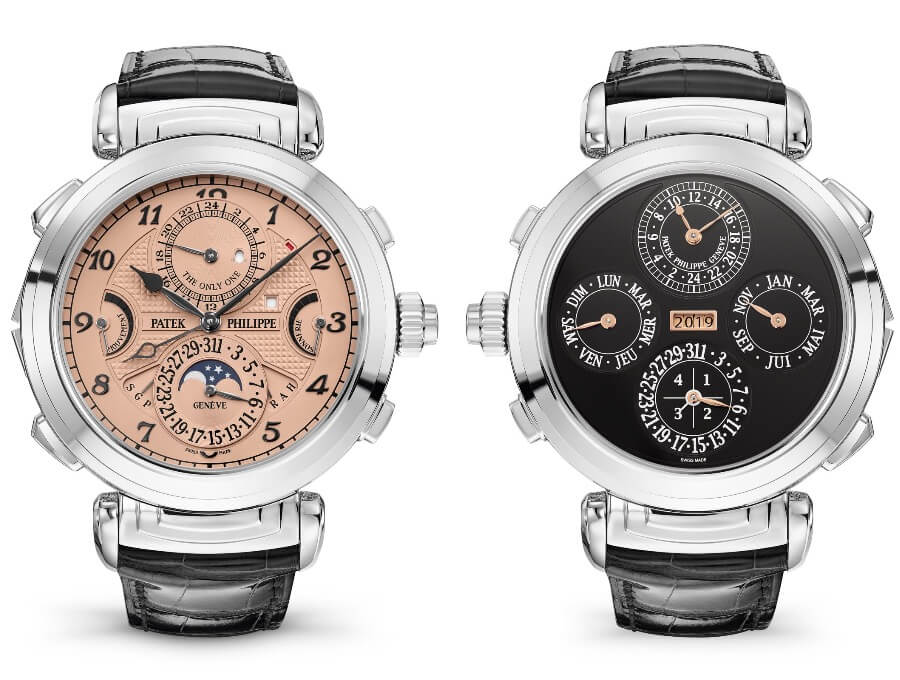 Photo courtesy https://www.gmtpost.com
1851 marked the founding of Patek Philippe & Co. Throughout history, these watches have been associated with royalty due to their intricate mechanisms and traditional styling. With its distinctive signature style, the brand presents its marketing in a classic yet unique way.
There are two dials on this timepiece, one on the front, and one on the back. In addition to its chiming functions (hence its name), this clock is equipped with an acoustic alarm and repeat date functions. With 18K solid gold dial plates and blue opaline dials with gold-applied numerals, both watches have 18K solid gold dials. Leather is tan alligator and white gold.
Breguet Grande Complication Marie Antoinette
Photo courtesy https://www.breguet.com
It is a piece with a rich history. It is said that the watch was actually a gift from a lover to the legendary French queen, Marie Antoinette, who appreciated the finer things in life. The creation of this timepiece took her around 40 years, and she died before it was complete, adding to its romance and mystery. There are a number of complications in the watch, including a perpetual calendar and a thermometer. Both are encased in gold. The Los Angeles Museum has safely stored the stolen watch, which was stolen during the nineteenth century.
Jaeger-LeCoultre Joaillerie 101 Manchette
Photo courtesy https://allwatches.org
Jaeger-LeCoultre is a luxury Swiss watch brand specializing in timepieces that feature intricate details. As a result of its pioneering vision, it has remained remarkably innovative and clear. Its classic elements make it a watch that can be worn time and time again. One of the world's most renowned luxury watch brands, Jaeger-LeCoultre, made this timepiece for Queen Elizabeth II to celebrate her 60th year as monarch. With its elegant profile, crafted from white gold, polished links with diamond overlays, and Calibre 101 movement (one of the smallest in the world), this watch is worthy of wearing in state chambers and at prestigious events.
Chopard 201 Carat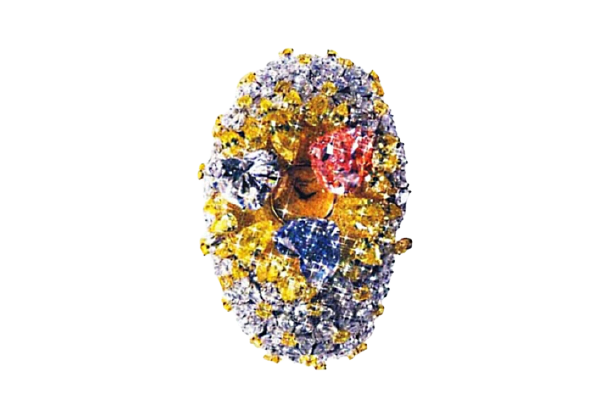 Photo courtesy https://technoprinceweb.wordpress.com
Watchmaker Chopard is famous not only for its unique timepieces, but also for their jewelry. Louis-Ulysse Chopard founded the company in 1860. Chopard is renowned for its exceptional looks and fine details. Chopard combines the latest in technological innovation and well-established craftsmanship, resulting in highly sophisticated designs. Using design aesthetics and innovation, Chopard has established itself as a global luxury brand. Despite its obvious style, this Chopard timepiece makes no doubt that it is a statement piece. The 25 million dollar watches features 874 diamonds, totaling 201 carats, making it a favorite of royalty and A-listers alike.
Rolex Paul Newman Daytona Ref. 6239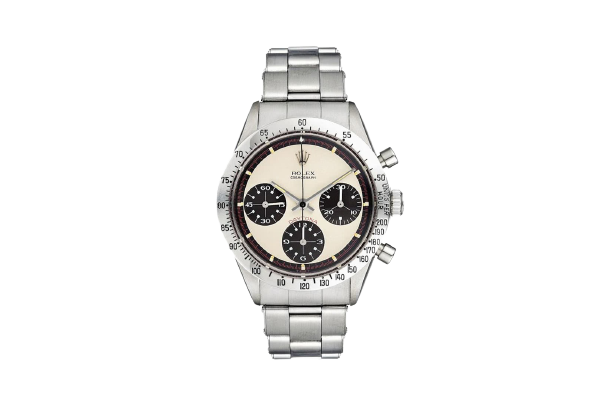 Photo courtesy https://www.rolex.com
A fashion icon, Paul Newman was known for his love of fine watches and obsession with racing cars. The watch was engraved with the words Drive Carefully when it was ordered by Joanne Woodard in 1968. The exotic dial and elegant Art Deco style of Paul Newman's Rolex Daytona Ref.6239 appeals to watch connoisseurs as well as Hollywood memorabilia fans alike. With just 12 minutes of bid-taking, the highest bidder received the watch by telephone. One of the world's most recognized luxury brands is Rolex, besides being the world's most famous watch manufacturer.
Jacob & Co. Billionaire Watch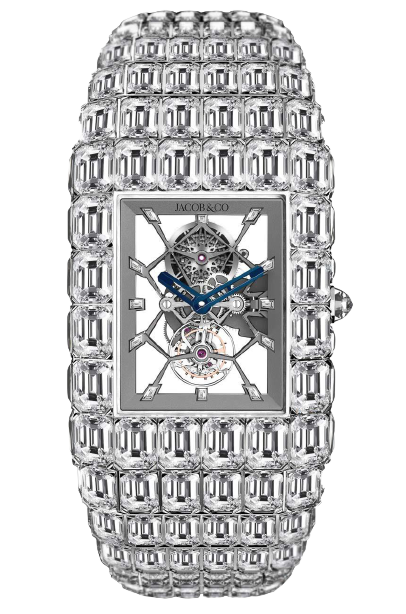 Photo courtesy https://www.ablogtowatch.com
The most expensive and rarest watches in the world are about to be discussed. The Billionaire watch from Jacob & Co. is the ultimate luxury timepiece.
This 189 carat diamond certainly lives up to its name. Akosha diamonds are cut in a way to make each one appear 30% larger than a standard emerald cut diamond. Furthermore, the skeleton face displays the tourbillon's 167 elements and 18 jewels in action.
Vacheron Constantin 57260
Photo courtesy https://watchesbysjx.com
One of the earliest manufacturers of luxury watches was Vacheron Constantin, founded in Geneva, Switzerland, in 1755 by Jean-Marc Vacheron. Founded in 1889, this luxury watch brand belongs to the Richemont Group. Vacheron Constantin truly embodies its heritage through its watches. Combining precision details with traditional shapes and styles, these watches have a unique look. Many historical figures, including Napoleon Bonaparte and Harry Truman, wore watches. The Vacheron Constantin is a custom piece, and is the most complicated timepiece in the world. 57 complications are included in this timepiece, as well as 2826 components and 242 jewels. One hundred and ten of these complications were new inventions in horology when they were manufactured. A few notable features include the Judaic calendar, the night mode, and the split second double retrograde timekeeping. Despite its simplicity, mechanical excellence shows through. The watch took three watchmakers eight years to create, so it makes sense that it sold for around $8 million.
Audemars Piguet Royal Offshore Oak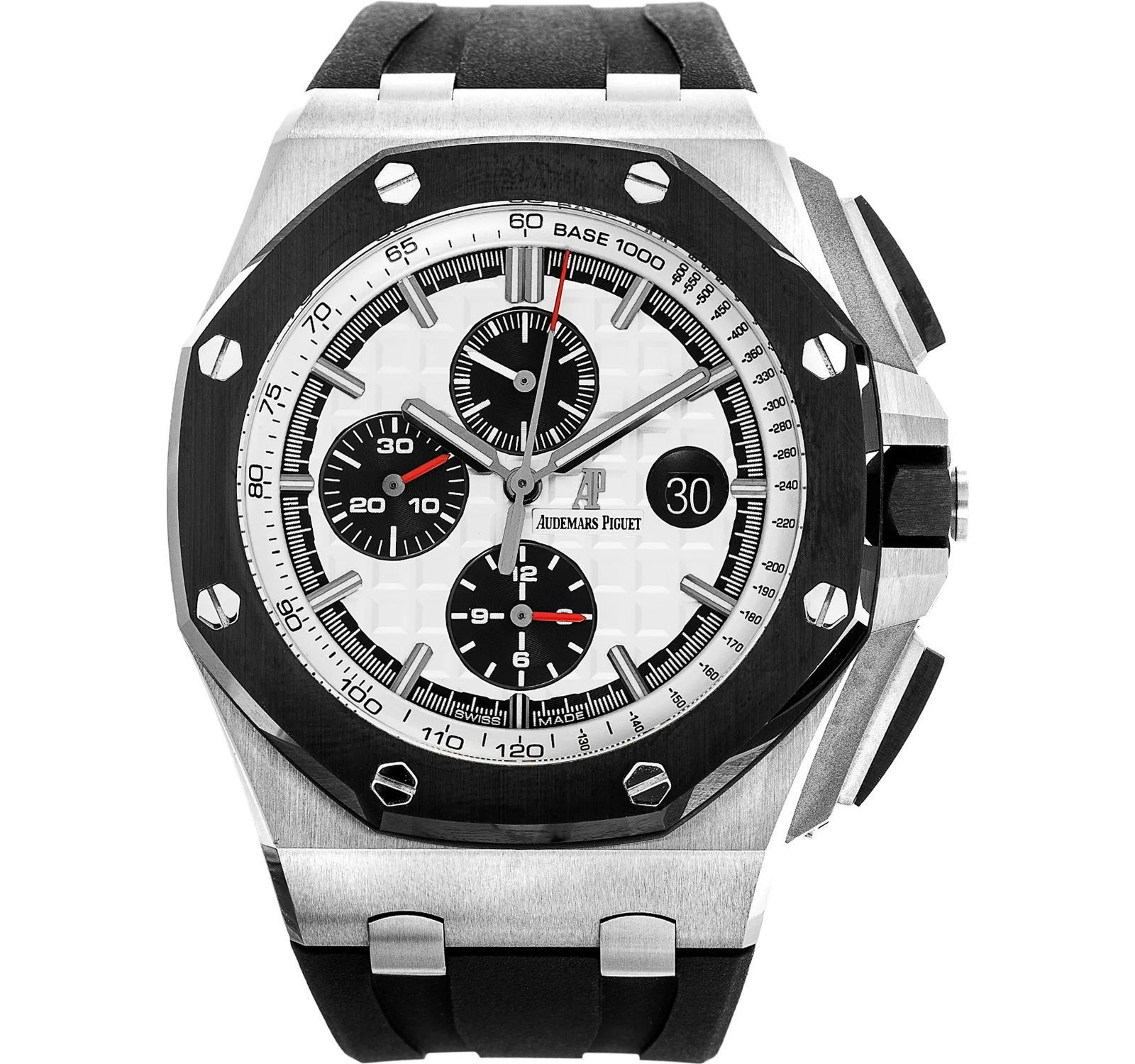 Photo courtesy https://www.secondtimezone.com
Established in 1875 by Jules-Louis Audemars and Edward-Auguste Piguet, Audemars Piguet became the world's largest watch company. 36,000 timepieces are produced each year by this company. In addition to Tiffany & Co. Bulgari uses this movement. As well as creating the first steel luxury sports watch, this luxury watch brand was also the pioneer of steel sports watches. It was dubbed in 1972. As the first oversized watch in the world, Royal Oak Offshore was introduced in 1993.
Blancpain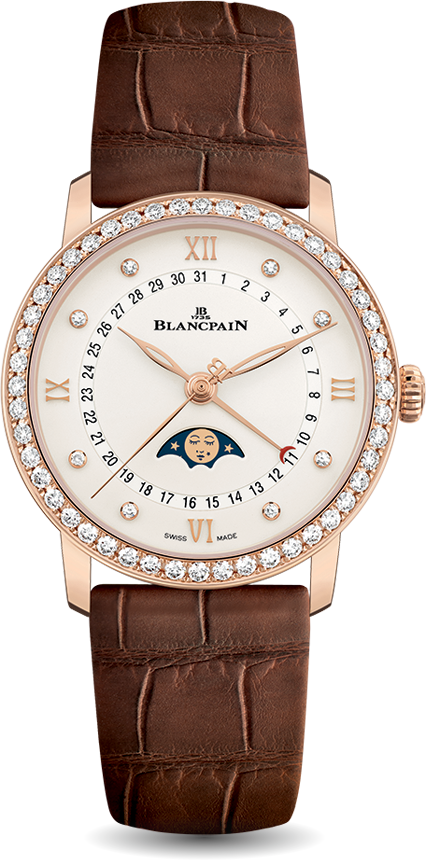 Photo courtesy https://www.blancpain.com
Similarly to many other brands, Blancpain was founded in 1735, as was many others within the Swatch Group. Blancpain developed dramatically in the 19th century, updating and modernizing both their watches and production methods. Choose from minimalist designs as well as luxuriously styled pieces with Blancpain.
IWC Schaffhausen Siderale Scafusia
Photo courtesy https://www.iwc.com
The premium Swiss watchmaking company Schaffhausen was established in 1868. Its timepieces have a distinctive appearance due to their classic shapes and premium materials. The brand aims at creating world-class watches while also addressing concerns about the environment and supporting landmark projects around the world. Scafusia is designed for accurate astronomical displays. One of the most distinctive features of this new high-tech timepiece is its constant-force tourbillon dial. Watches' reverse sides are equally impressive. It offers a celestial chart, horizon, coordinates, solar time, sidereal time, as well as daytime, nighttime, and twilight displays. Furthermore, the perpetual calendar is integrated with the display of the current day.
Ulysse Nardin The Royal Blue Tourbillon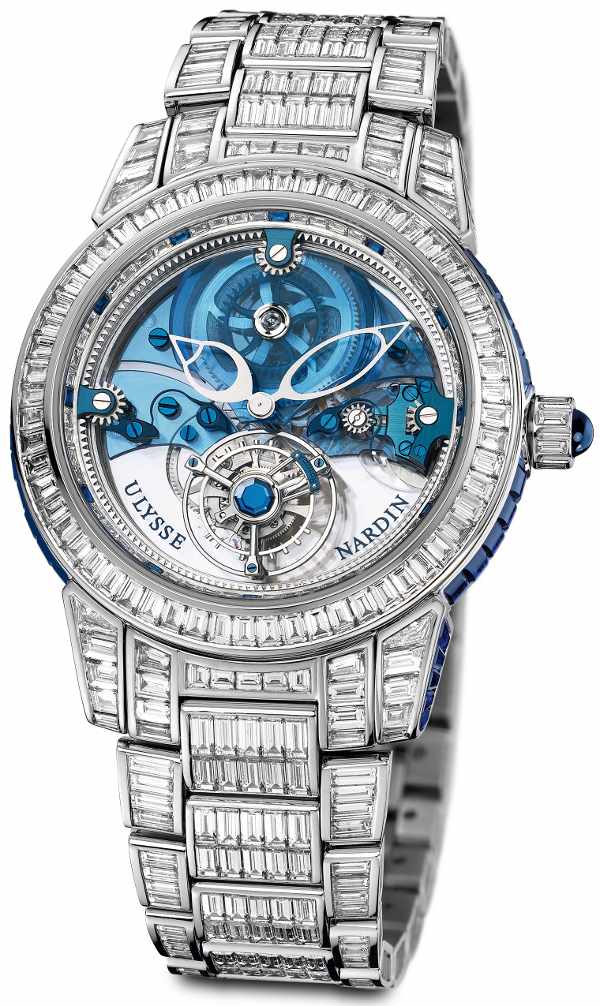 Photo courtesy https://luxatic.com
Founded in 1846, the company has been producing watches continuously ever since. They are known for their watches, writing instruments, and accessories, which are often crafted from highly distinctive materials, like leather. In addition to using modern materials and utilizing modern manufacturing methods, Ulysse Nardin watches are renowned for their craftsmanship. This watch features an exposed skeleton and platinum and royal blue colors. This timepiece is so extravagant and daring that it is covered in precious stones, including 568 baguette-cut diamonds (totaling 33.8 carats) and 234 baguette-cut sapphires (totaling 16.79 carats). It boasts an intricate design and luxurious appearance thanks to sapphire crystals embedded in its case. The lower half of the dial has the designer's name engraved in blue enamel, set in a platinum case from 4 to 8 o'clock. An elegant yet simple strapping is used. This watch has artistically handmade hour and minute hands, adding to its finesse.
The Panerai Kampfschwimmer Watch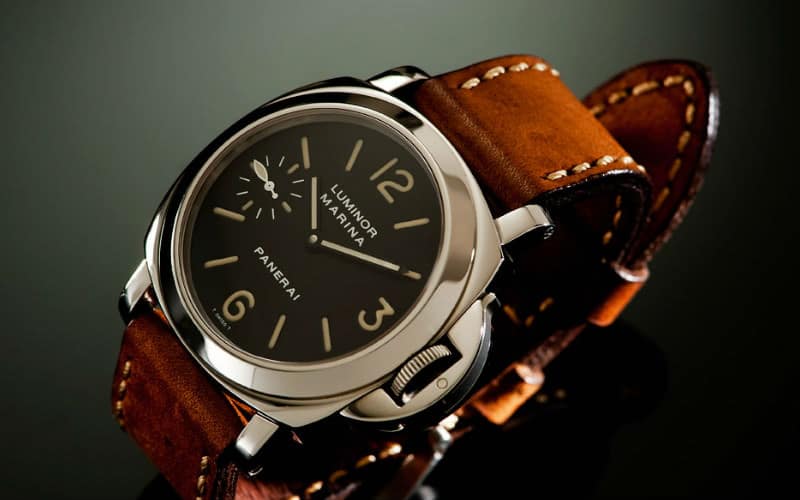 Photo courtesy https://www.thetrendspotter.net
The company was founded in Florence, Italy in 1860, but today its headquarters are located in Milan, Italy. The Italian company is known for its bold graphics, simple designs, and international clientele. In contrast to the brown alligator strap on this watch, its brown dial contrasts beautifully. Watches with manual movements are rare. Despite the distance, it can resist electricity for 100 meters. It was created in very limited numbers. This watch was made by Panerai while it has a Rolex movement. In today's society, it's a priceless and rare item that, if sold or auctioned, would be worth millions.
Piaget Emperador Temple Watch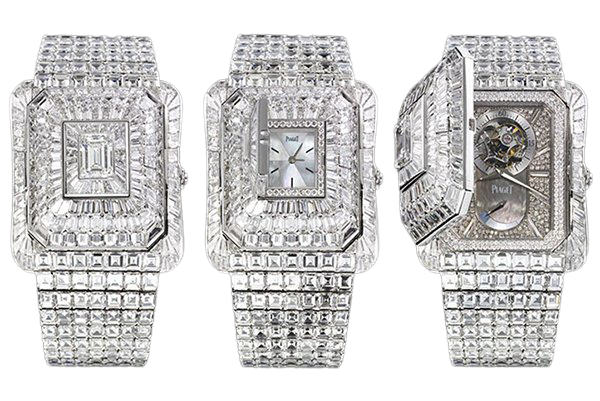 Photo courtesy https://300magazine.com
Piaget has been making high-end watches for men and women since 1874. Since its beginnings in the production of pocket watches and movements for luxury watch brands, it has become one of the most highly regarded watchmakers in the prestigious field of Haute Horlogerie. This company also manufactures some of the world's best jewelry pieces, as demonstrated by its brand of designer watches that incorporate sophisticated movements. Designed with outstanding mechanical and aesthetic qualities, Piaget timepieces combine the finest watchmaking expertise and high jewelry expertise. There is no wonder that such designer watches cost hundreds of thousands of dollars, if not millions. Piaget's Emperador Temple is one of the most impressive examples of the brand's craftsmanship. Despite the fact that many diamonds are encrusted on the watch, it does not look too garish. A mother of pearl offsets the dial, adding just a bit of elegance toned down from the brilliance of the diamonds, and this feature adds a resting place for the eyes, which is still very chic. When it comes to aesthetics, its dial panel, which is also encrusted with diamonds, is noteworthy. Opening the dial panel reveals two additional dials and more beautiful features.
Cartier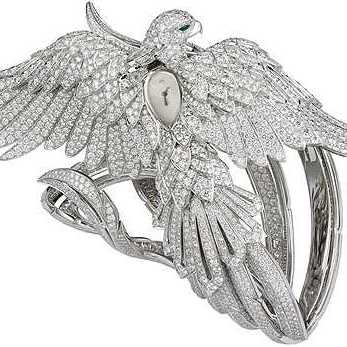 Photo courtesy https://in.askmen.com
There are many watch companies out there, but Cartier is one of the biggest. With its popular brand, high-end luxury watches are produced with an emphasis on beauty and functionality. Cartier watches are renowned for their accuracy, flashy design, uniqueness and durability. Cartier replica watches are a dream come true for avid watch collectors and fashion enthusiasts alike. Timepieces designed by the brand have earned worldwide admiration over the years. Due to the quality of the materials used and the advanced technology employed in the production of Cartier watches, the watches are quite expensive. There are however a few Cartier watches that are simply over the top luxurious. Here are some of Cartier's most expensive watches. Phoenix watches are hidden in phoenixes as their names suggest. A stylish watch made from 18-carat white gold with rhodium plating and a variety of other enticing features. In addition to the eye of the phoenix being entirely made of pure emerald, it is completely adorned with 3010 brilliants. In addition, the ring features a 3.53 carat pear shaped and portrait cut diamond. Diamonds totaling 80.13 carats adorn the dial of the timepiece. The watch cannot be worn on the wrist but is the most expensive watch from Cartier and the most expensive watch in the world. The watch is valued at $2.76 million.
Tag Heuer Mikrogirder 10000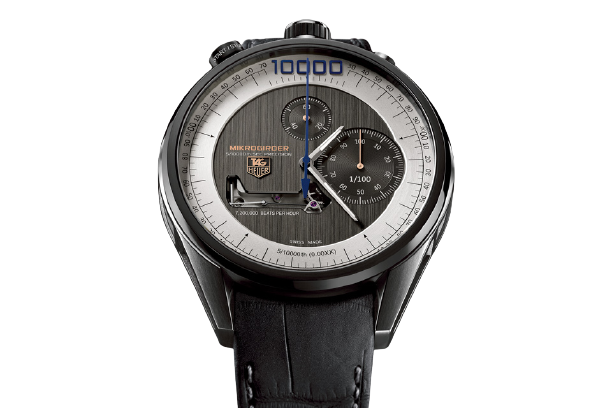 Photo courtesy https://uncrate.com
Swiss the company not only makes watches, but also eyewear, mobile phones, and accessories. Founded by Edouard Heuer, TAG Heuer is an iconic watch brand. 'Techniques d'Avant-Garde' is the abbreviation for TAG Heuer. It is still possible to distinguish the watches from sports equipment even though they have evolved over time. With an appeal for technology and reliable functionality, the brand provides chronographs and timepieces. You'll never miss a beat with a watch that measures time to the minute 5/10,000th of a second. A polished and brushed black titanium carbide coated steel case features a sapphire crystal and silver dial with a black underside and an anthracite soft-touch alligator bracelet.
A. LANGE & SOHNE GRAND COMPLICATION
Photo courtesy https://www.alange-soehne.com
Founded in 1845 by Ferdinand Adolph Lange, A Lange & Sohne company produces luxury goods. As a result of post-war Soviet administration, A. Lange & Sohne had to close its doors by 1948. Nevertheless, they reopened in 1990 and have made their mark on the watchmaking industry with their highly complicated timepieces. Unlike quartz movements, the brand prefers mechanical movements, and its cases are made from different colors of gold, including yellow gold, rose gold, white gold, and platinum. Style and quality are synonymous with the brand. This grand complication, inspired somewhat by the discovery of an old piece, also features a minute repeater, perpetual calendar, rattrapante chronograph and flying seconds. Each watch can only be assembled and adjusted once every year, and only 6 of these masterpieces will be made over the course of 6 years.
Breitling Grande Complication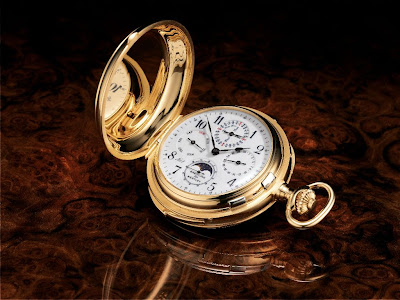 Photo courtesy https://masterhorologer.com
Breitling watches are known for their precision and durability, and the company dates back to 1884. Several of the watches can be used as fighter pilot watches due to their inspiration from fighter pilots. The brand makes watches specifically designed to be worn by divers, demonstrating its versatility and innovation in the watch industry. You were surprised when you saw this watch was a pocket watch rather than a wristwatch like the others. Grande Complication features minutes, perpetual calendars, and moon phases. Bentley Motors founder Walter Owen Bentley is engraved on the caseback of this 18 carat yellow gold watch.
The Hublot $5 million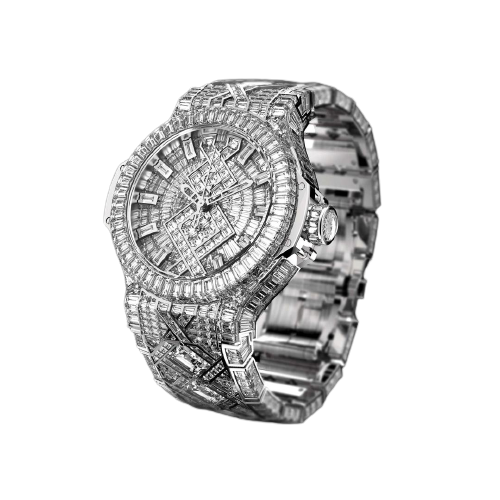 Photo courtesy http://www.thejewelleryeditor.com
Even though Hublot is a relatively new luxury watch brand, the brand is no less impressive. As one of the most prestigious names in the watch industry since its founding in 1980, Hublot has gained recognition around the world. With award-winning collections under its belt, Hublot looks set to continue its success. The Big Bang watch from the Swiss brand is diamond-crusted and epitomizes the statement that nothing surpasses excess. During the company's 32-year history, this is said to be its most valuable watch. A one-inch (44-mm) diameter 18K white gold case studded with 302 baguette diamonds is featured on this watch. This 18K white gold crown has a rose-cut diamond weighing 1.06 carats, as well as 12 additional baguettes that add up to 1,282 diamonds total, totaling more than 100 carats in baguettes, all graded A VVS clarity. A self-winding movement, the "HUB 1100" boasts 42 hours of power reserve and diamond-polished hands.
Girard Perregaux Vintage 1945 Jackpot Tourbillon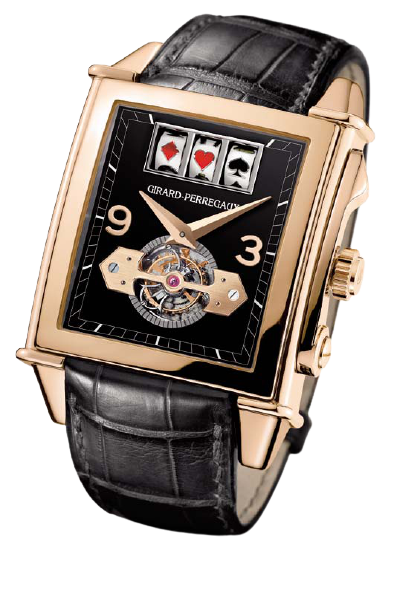 Photo courtesy https://girard-perregaux.watchonista.com
The horological giant, Girard Perregaux, has set the standard for exquisite craftsmanship. As a name synonymous with luxury timepieces, this brand knows what it is doing. Girard Perregaux has a long history of accomplishments and patents that are commendable. It is this fusion of these worlds that makes Girard-Perregaux a timepiece of unexpected complexity in Haute Horlogerie. A watch case with the dimensions of the Vintage 1945 combines a tourbillon with a slot machine for the first time. Watches without jewels have gold bridges. Pink or gold cases enclose the device, which is transparent at the back. The device is dust- and water-resistant, and has a battery life of four days. The watch has an anti-reflective sapphire crystal and needs to be wound manually. Straps are secured by folding clasps.
Richard Miller Panda RM 026-1
Photo courtesy https://www.richardmille.com
Richard Mille has never released a watch with an artwork on its dial before. It features a baseplate made of black Onyx, which is a chalcedony containing silicon dioxide (SiO2). The stones with black stripes and white stripes are known as agates; all black stones are referred to as black Onyx.
Legend has it that this gem absorbs negative energy and brings emotional stability to its wearer. Therefore, black onyx is a good stone to protect against negative thoughts, as it can also inspire and balance. A diamond and black sapphire entirely adorn the Panda, which is made of 18K white gold. This piece features gold leaves painted by hand and rests in the middle of a bamboo forest. There are only 30 pieces of the RM 26-01 tourbillon available in 18K red and white gold. The selection of luxury watches was very difficult. Luxury watches offer impressive craftsmanship and a sophisticated aesthetic, making them wearable works of art. Here are a few of my favorites.
By Rashmi Goel