half up half down hairstyles are quite flexible elegant ways to wear your hair. This hairstyle merges two hairstyles where you loosen up some hair and tie some of them on the top of your head keeping your hair away from your face. However, half-up half-down hairstyles and black hair are not just limited to ponytails. You can style it with buns or braids as well. Half-up half-down hairstyles go for every occasion from your gym workout to your date night, or your office meeting. Not just straight hair, but with curly hair as well this hairstyle works wonders. There are endless options to try, let's check some of them.
1- High pony
half up half down high pony is the most elementary hairstyle for black hair. There are no set steps or skill sets to achieve this hairstyle. With one or two steps your hairstyle is ready. Take a partition of your hair downwards from the middle of your head in a horizontal way. Now tie the upper part of your hair on top like a pony covering and stop it from coming onto your face.
2- Top knot
This hairstyle never gets old and is well-played on every occasion. You are not required to tie all of your on top, take the partition of the hair you want to tie high and leave the rest of the hair from the way. To avoid mess and ensure the smoothness of your hairstyle use a shaping cream or gel.
3- Braidless Crochet

if you want everyone's head turned up towards you while you attend a party, try this half-up up half-down braid less crochet hairstyle. This is a bold yet classy hairstyle to begin with. To maintain the hairstyle and prevent your loose hair from getting messy, use a protective cream or gel product for fine and good results.
How do you make half up half down Look Good?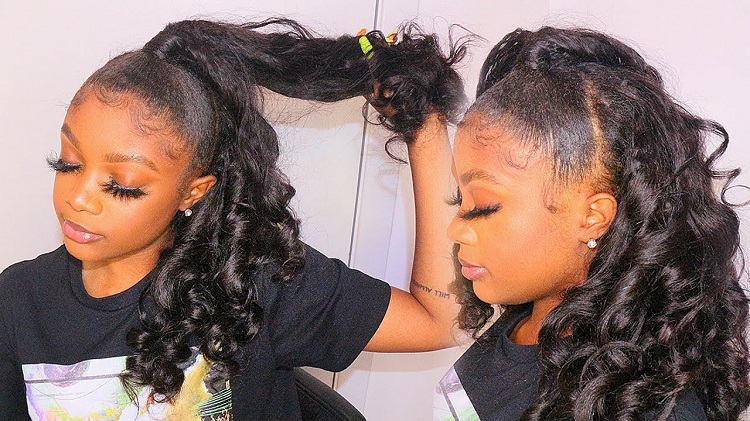 source: google.com
Half up half down hairstyle is a major and leading hairstyle for many reasons. It is quite easy to make and doesn't require much time or any mess. Plus the half bun or ponytail goes for any casual get-together or a specific occasion. If not sure how to pull this hairstyle off which makes heads turn, get help from a hairstylist.
Read Also: Summer Braid Styles: Little Girl Braid Hairstyles Half Up Half Down
This hairstyle is quite famous everywhere, from the red carpet to online social media accounts, from parties to office meetings, from gym workouts to your casual day. This is a revival of your school time hairstyle. Some celebrities like Olivia, and Ashely, who have tried this hairstyle say it makes them look and feel younger. Another advantage of having this hairstyle is it prevents hair from coming on your face without having to tie all of it at the back.
Another factor here is, that the hairstyle does make a difference when you decide how exactly or high you are going to tie your hair at the back of your head. For a round face shape, pull your hair ponytail high at the back of your head to make your face shape look lengthy. For a heart-shaped face, pull the ponytail at the back of your ears as your jawline will look sharp and soften.
10 Reasons to Try Half up half down Hairstyles Black hair.
when you are busy with your day-to-day tasks, you do not want to spend much time on combing your messy hair. To avoid this struggle, go for all time easy and quick half-half-down look. This can be done in so many ways.
1- Warped half up
if you have thick hair and are struggling to set it, this twisted half-up hair do is simply pretty. You can carry this hair with floral dresses that are off-shoulder, or carry it with elegant jewellery which will complete your entire look.
2- Hidden half up
this hairstyle is such an admiring one that you can create in 2 minutes without much hustle. You can create this look on curly hair as well as straight hair. This works great on any romantic date, or party with friends.
3- Twisted Crown
this hairstyle is quite famous when it is created with braids. You get both options here, half up half down hairstyles weave
while setting the other half up at the top of your head.
The option to try half up half down hairstyles weave does not end here. You can try endless options.
Read Also: BRAIDED HAIRSTYLES TRENDS: BEST BRAIDED HAIRSTYLES WITH WEAVE IN THE BACK 2023
The Impact of Half up half down Hairstyles on Black hair
source: google.com
this hairstyle does wonders with curly hair, braids, or relaxed hair. You can customize it according to your style and it will not disappoint you. One plus point about Half up half down Hairstyles Black hair is its adaptability. You can work with any hair length in this hairstyle which will make you feel confident and glamorous. By securing the hair on top of your head you can avoid any irritation while struggling with hair on your face. You can also add braids, accessories, or twists on top of your tied hair knot.
Is half up half down in Style?
Half up half down hairstyle has been in trend for so long. You will see this hairdo at parties, meetings, and workouts. Half up half down is an ageless hairdo that gives you the experience of two hairstyles at once. One way is you can avoid the mess of your hair on your face by tying the knot high while showing off your back hair length by keeping it loose. You can never go wrong with this hairstyle. There are a variety of hairdos to try on in half-up-down styles. One of them is flipped ends which are in trend again. Then comes the zigzag braid where instead of trying the old half up half down pattern, try a twisted zigzag braid down the centre to give your look a fun and happening outcome. Other than these, you can try fishtail braids, casual pony, or simple Half up half down Hairstyles Black hair.
(By Nikita Jain)