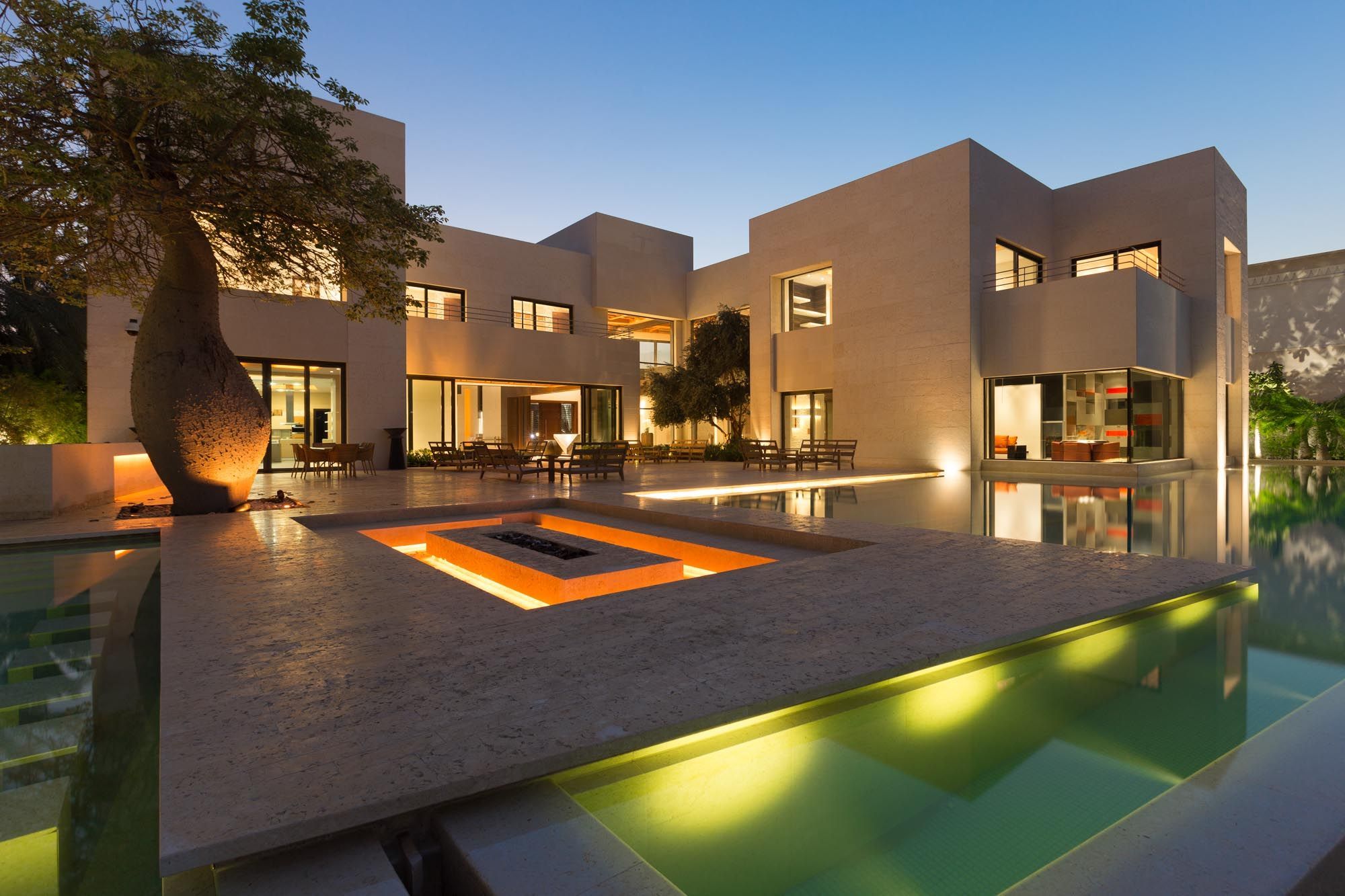 Everywhere we travel and whatever we do, we aspire to be surrounded by the beauty of the world. One of the greatest treasures of life is a lifetime of fond memories. The backdrop to these moments should be an opulent villa. We weave our lives with experiences, moments that will undoubtedly become legends and myths. Here's the place for you. No matter if you're planning a private celebration, a family reunion or starting a new chapter, you'll find it at these amazing venues. Over Yonder Cay Bahamas, Caribbean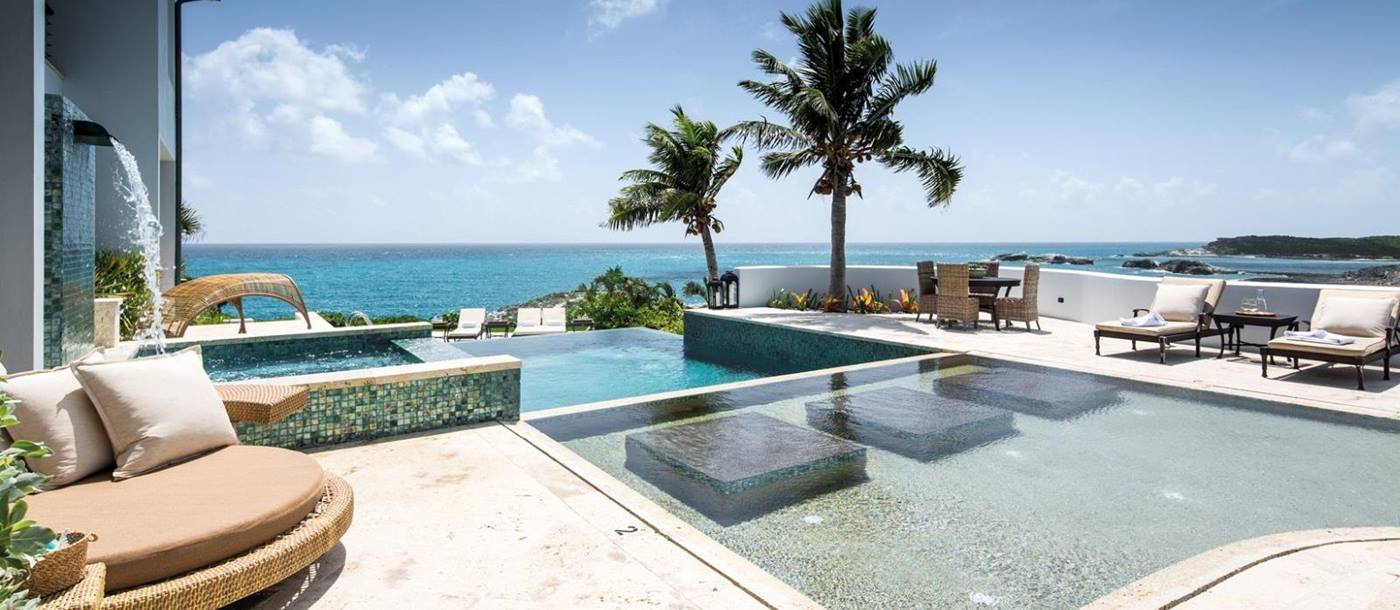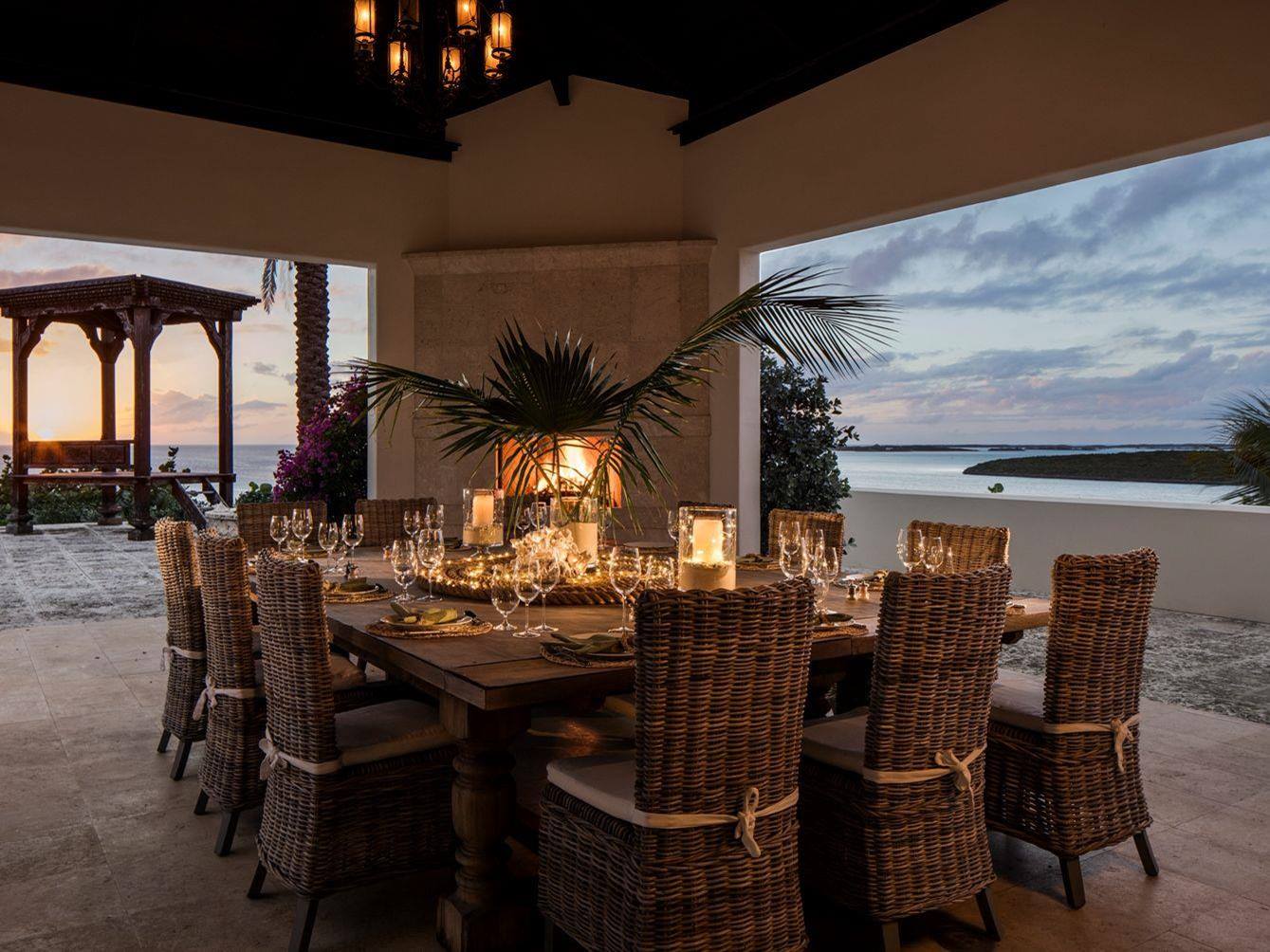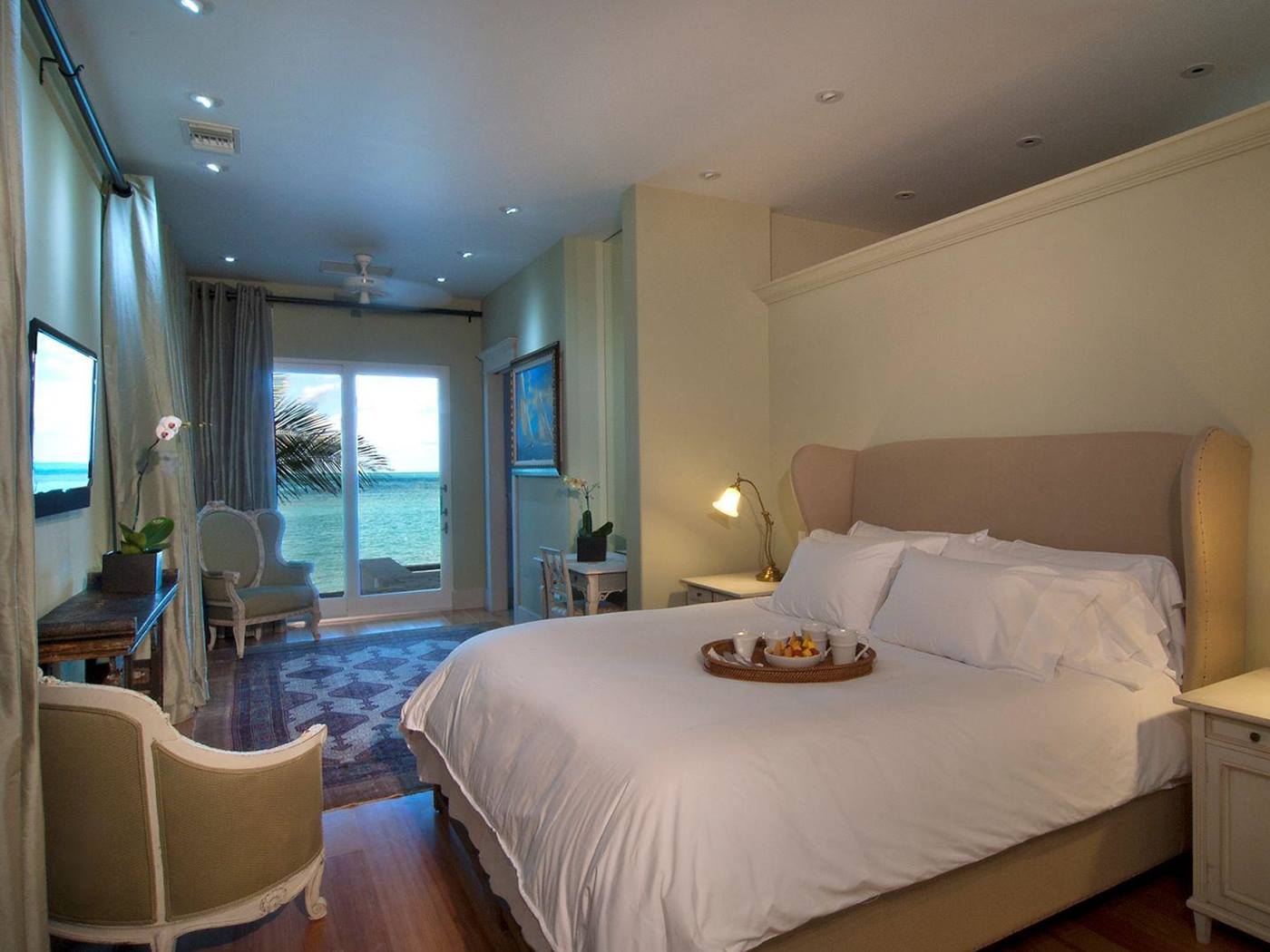 https://overyondercay.com Luxury and privacy are the hallmarks of Over Yonder Cay Bahamas. Each villa on this private island has its own beach and breathtaking views, and it can accommodate groups of 2 to 30 people. The island was once a remote fishing outpost that has been transformed into an eco-friendly destination for those seeking barefoot luxury in the midst of a sustainable setting. Located in Over Yonder Cay, Bahamas' natural surroundings, each of the four villas offers stunning sunrises, sunsets, and sea breeze views from their private balconies. A number of amenities are available at the resort, including infinity pools, private beaches, alfresco dining and lounging areas, as well as comfortable, air-conditioned living quarters. The rates include access to all activities, amenities, and facilities on the island. Guests seeking the privacy of a private island will receive expert attention from Over Yonder Cat's staff. The 1-acre solar field at Over Yonder Cay is complemented by three wind turbines and a modern renewable energy system.
Amilla Great Beach Villa Residence
Baa Atoll Maldives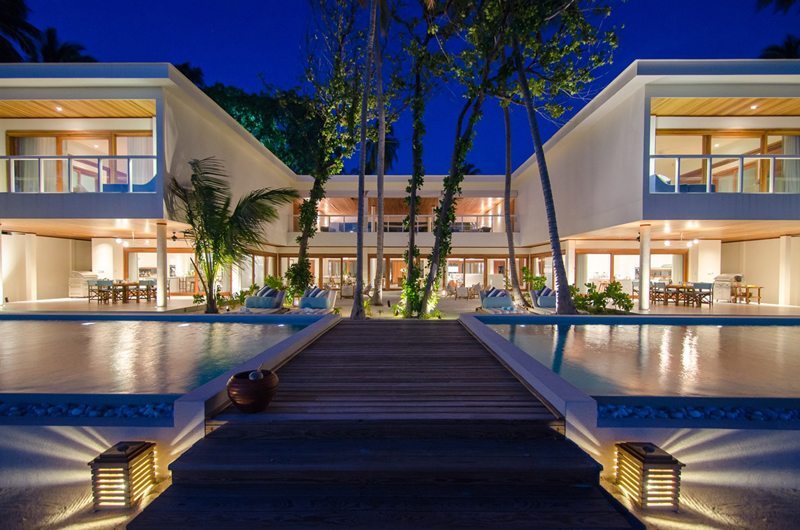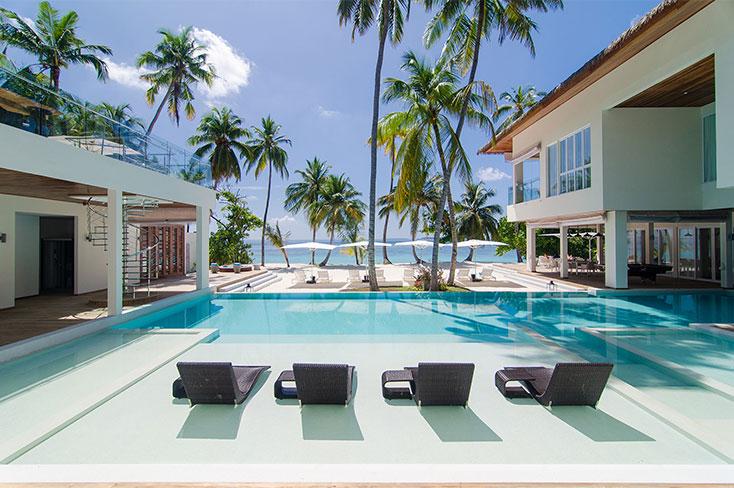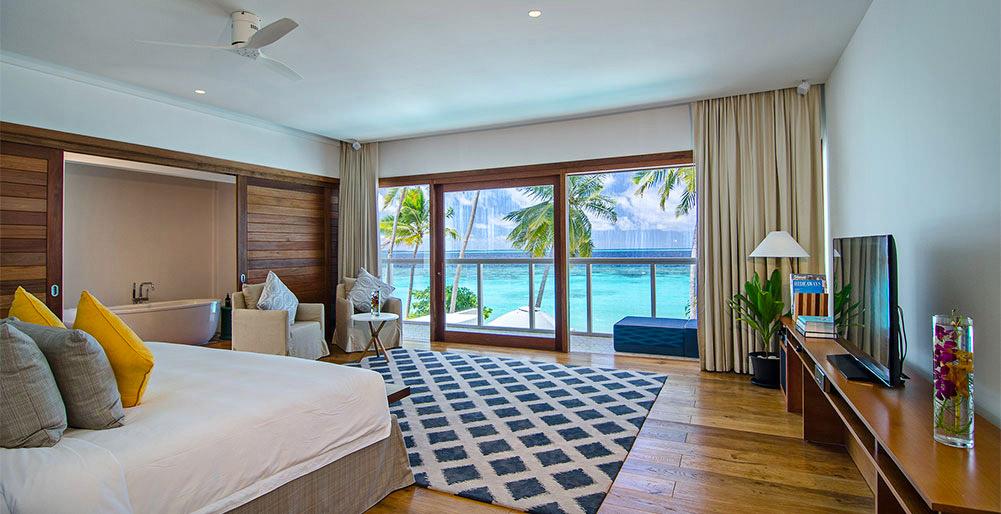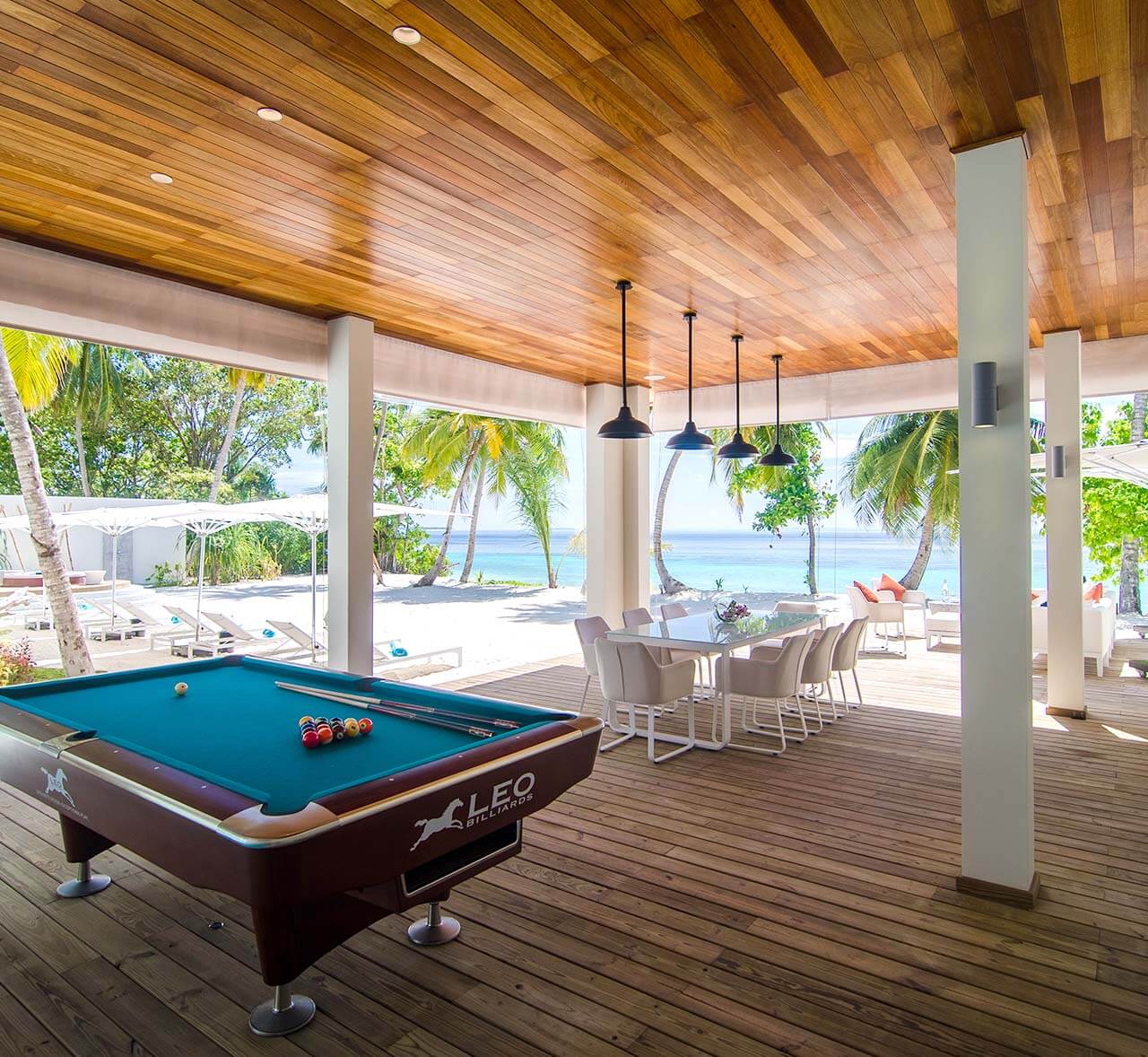 https://www.amillabeachvillaresidences.com
The Amilla Beach Villa Residences are one of eight immaculate and ultra-luxurious villas that are all designed in Miami style. Large families or large groups of friends who seek a spacious setting for entertaining without compromising their privacy will find the area ideal. An incredible property in every sense -it has two swimming pools and sun terraces, enormous living rooms, as well as spacious master bedrooms, plush guest suites, a kitchen with every gadget and innovation, as well as table tennis, pool, and a PlayStation 4. The Dhivehi language refers to Amilla Fushi as 'my island home'. You may feel more inclined to stay put if your kitchen is stocked with delectable treats and delicious meals are delivered for an additional fee. You'll have access to your own beach buggy, as well as a fleet of bikes that you can use to explore the island's fantastic restaurants, spa, and seemingly endless choices of land and water activities.
The Sanctuary Estate With Spa at COMO Parrot Cay
Turks & Caicos, Caribbean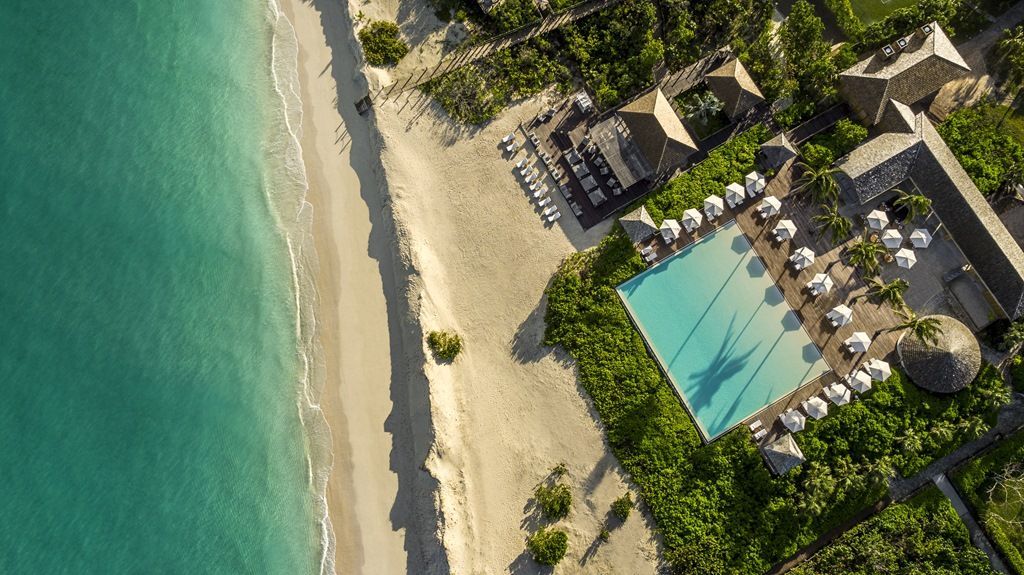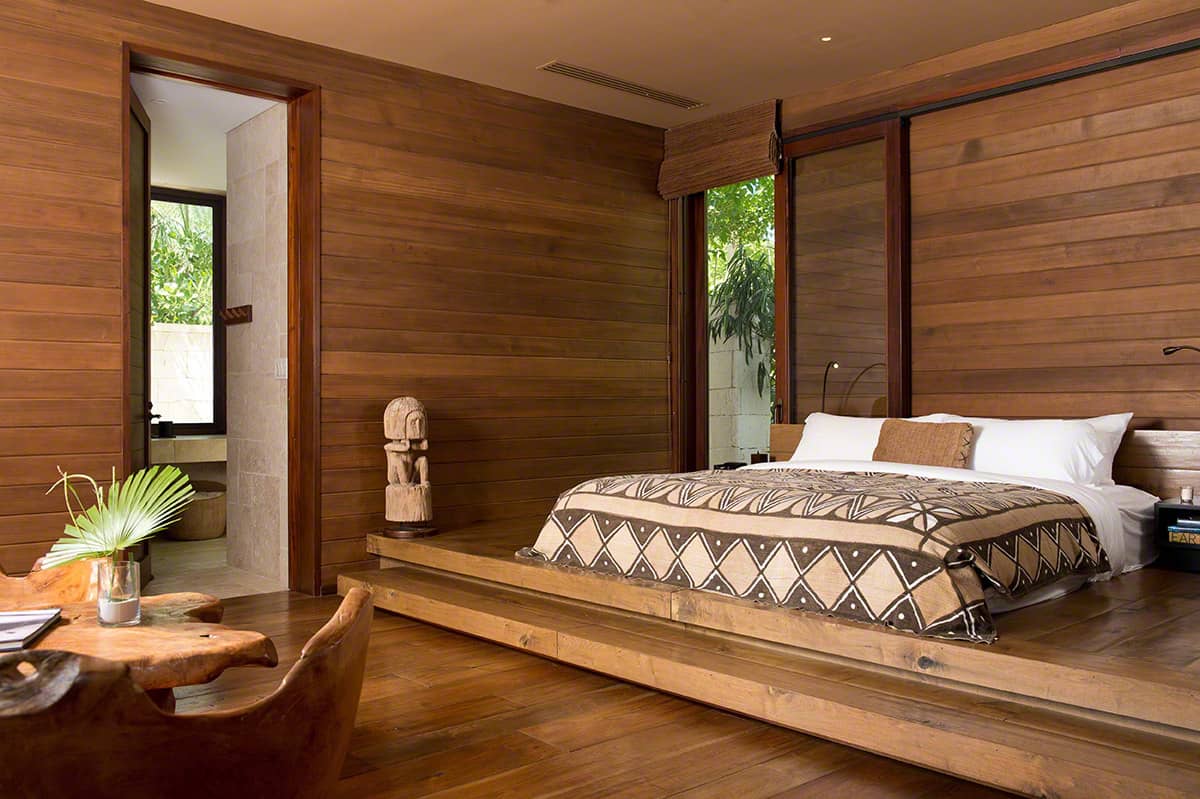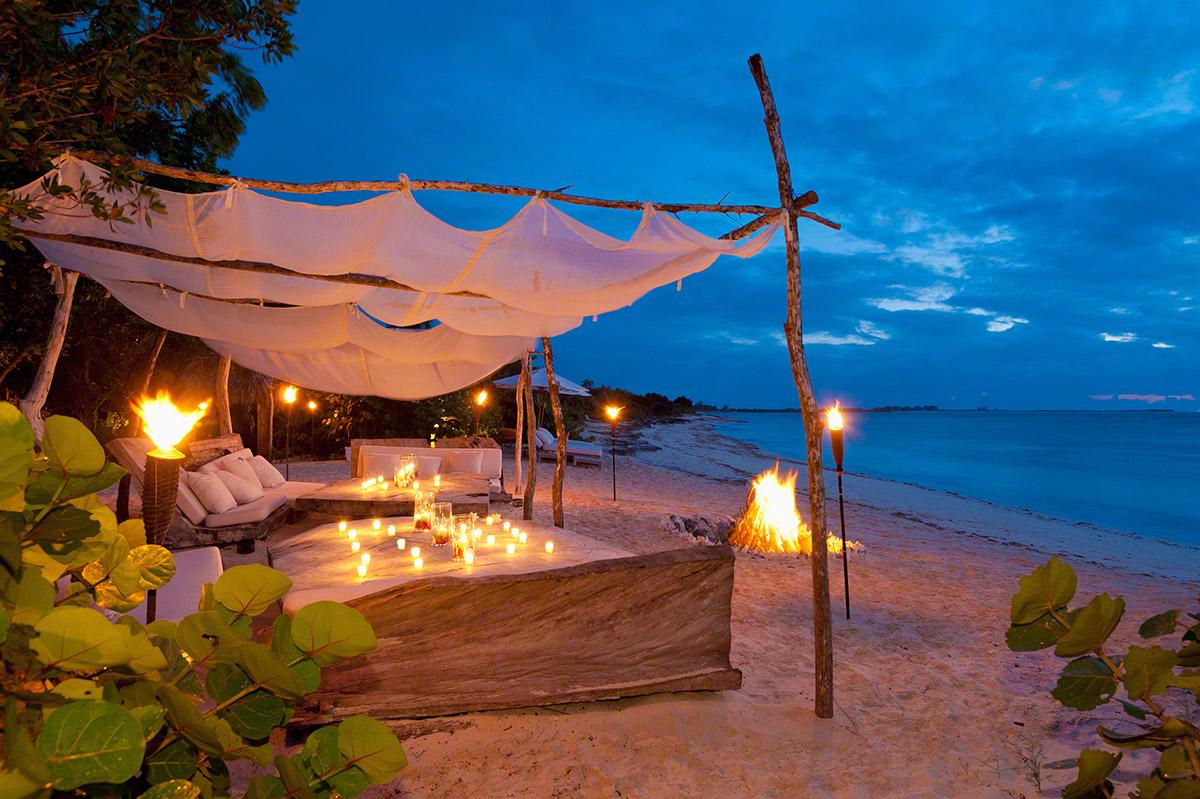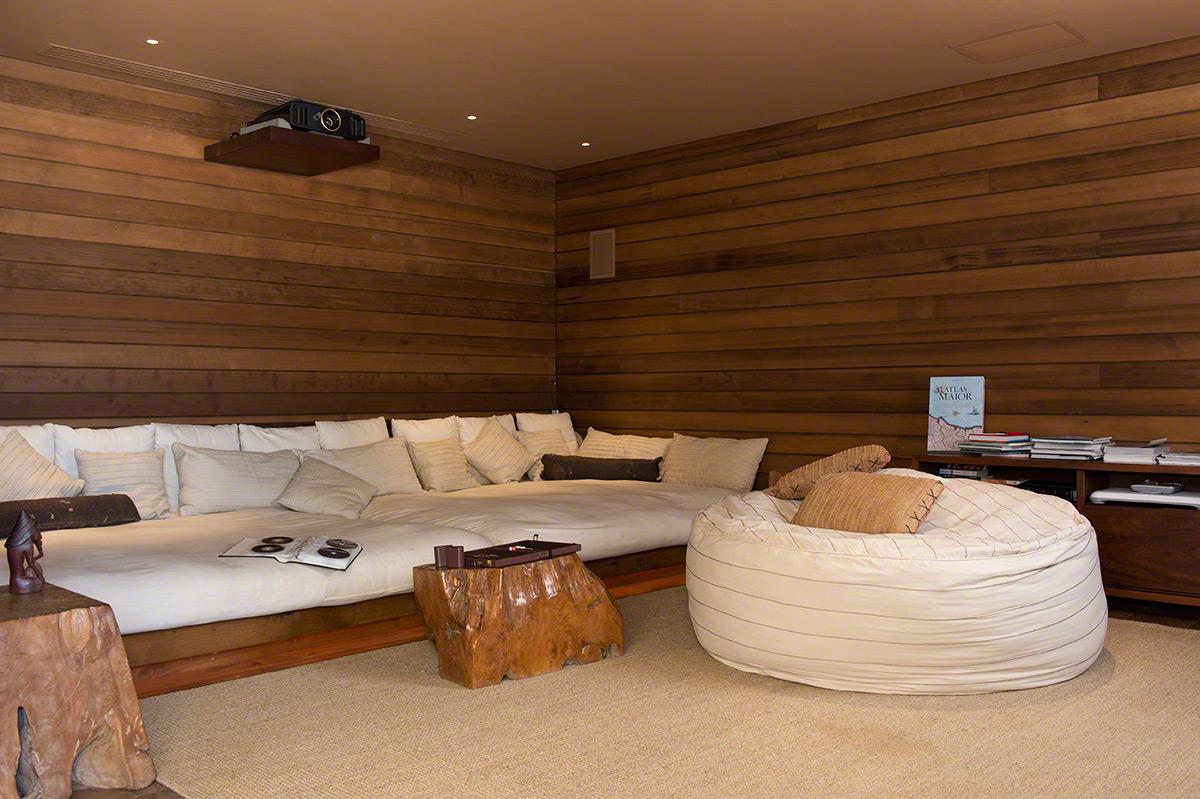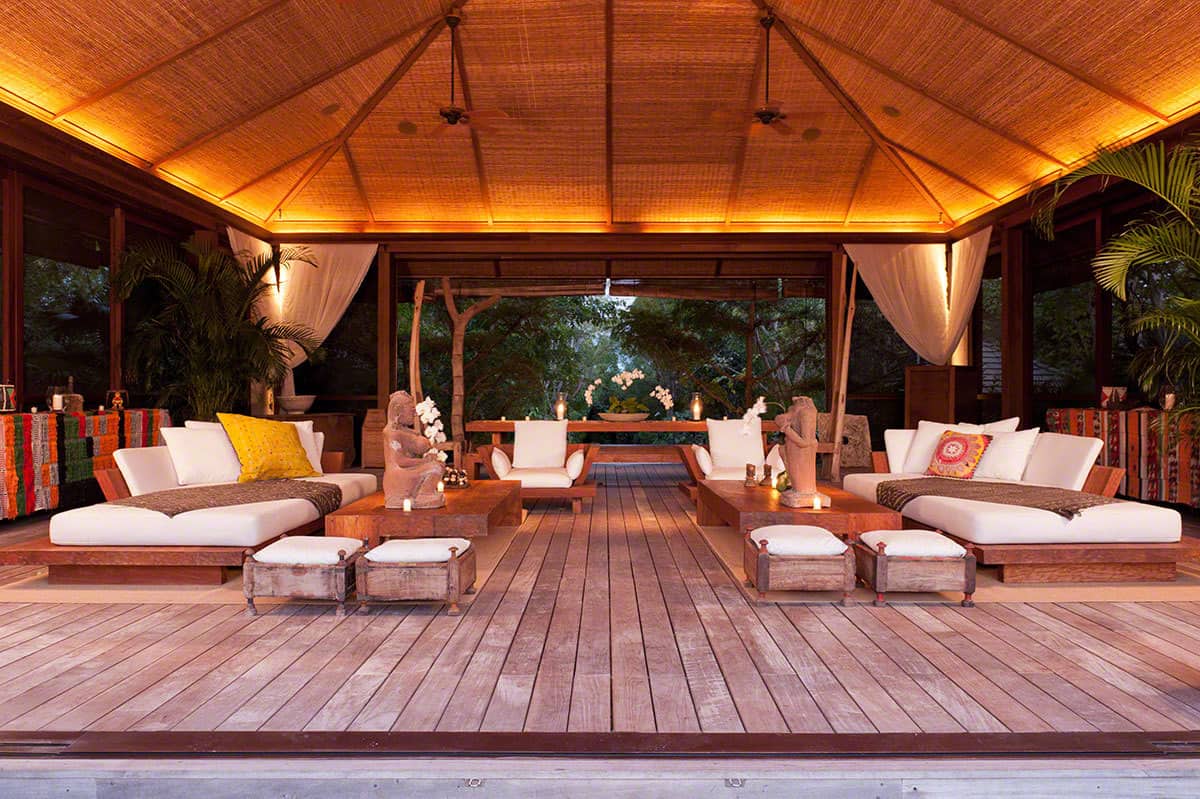 https://hauteretreats.com
The Sanctuary at Turks and Caicos is spread out over a 1,100-acre private island resort in one of the Caribbean's most tropical islands. Property design has been crafted to blend in harmoniously with the lush green environment. To get to your hotel from Providenciales International Airport, you can take a boat ride and a car transfer for 50 minutes. Turks and Caicos consists of more than 40 small cays and 8 islands, located 925 kilometers south of Miami. It is possible to explore for a long time the hidden coves and coral reefs in the area. This Caribbean villa features teak framework and floors, a wealth of windows, and locally-inspired furniture and fabrics. The veranda's tropical plants provide welcome shade and dappled sunlight. The property has direct beach access, so you can take a dip in the sea at your leisure or relax by the infinity pool on the raised deck. With four en suite bedrooms, the master bedroom has a four-poster bed draped in white voile with forest or ocean views. An island that prohibits cars and exalts nature, the island is a relaxing, stress-free place to unwind. At Parrot Cay, enjoy fresh fruit and juices in the morning, and fresh seafood and grilled fish with piquant sauces for candlelit dinners while relaxing and enjoying the bounty of the island. COMO Parrot Bay offers a wide range of luxurious amenities.
Green 10 Private Villas at Finca Cortesin
Malaga, Spain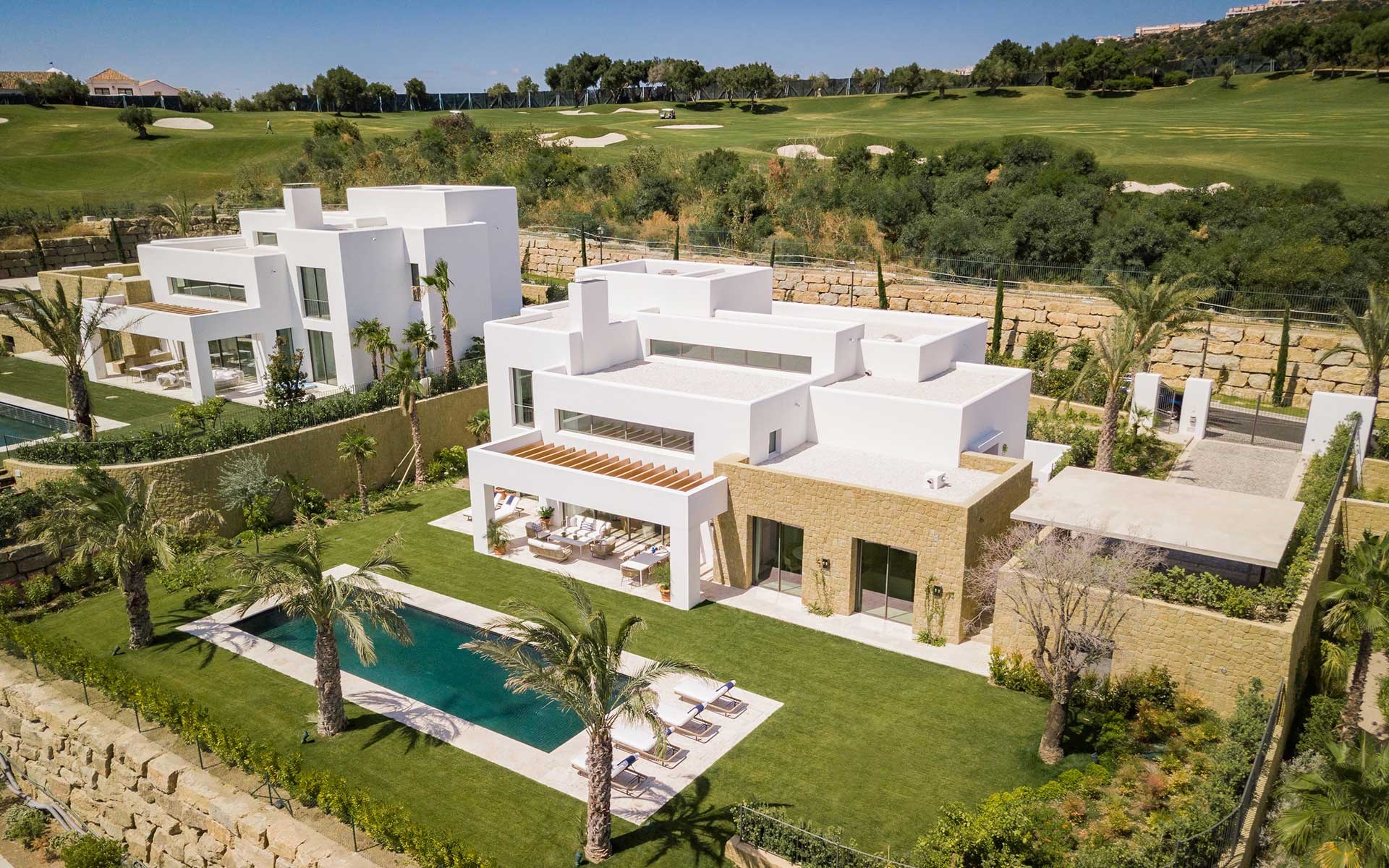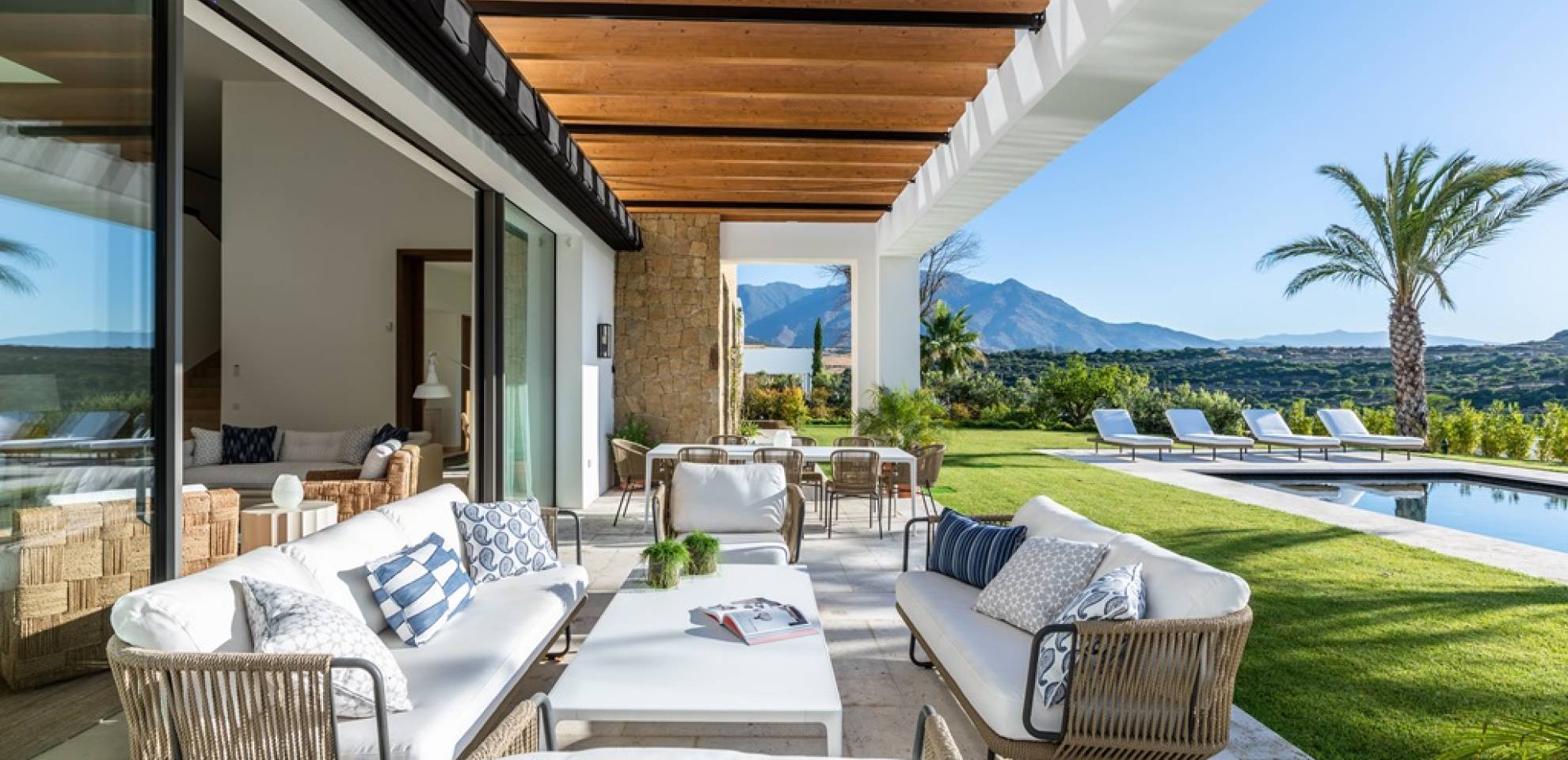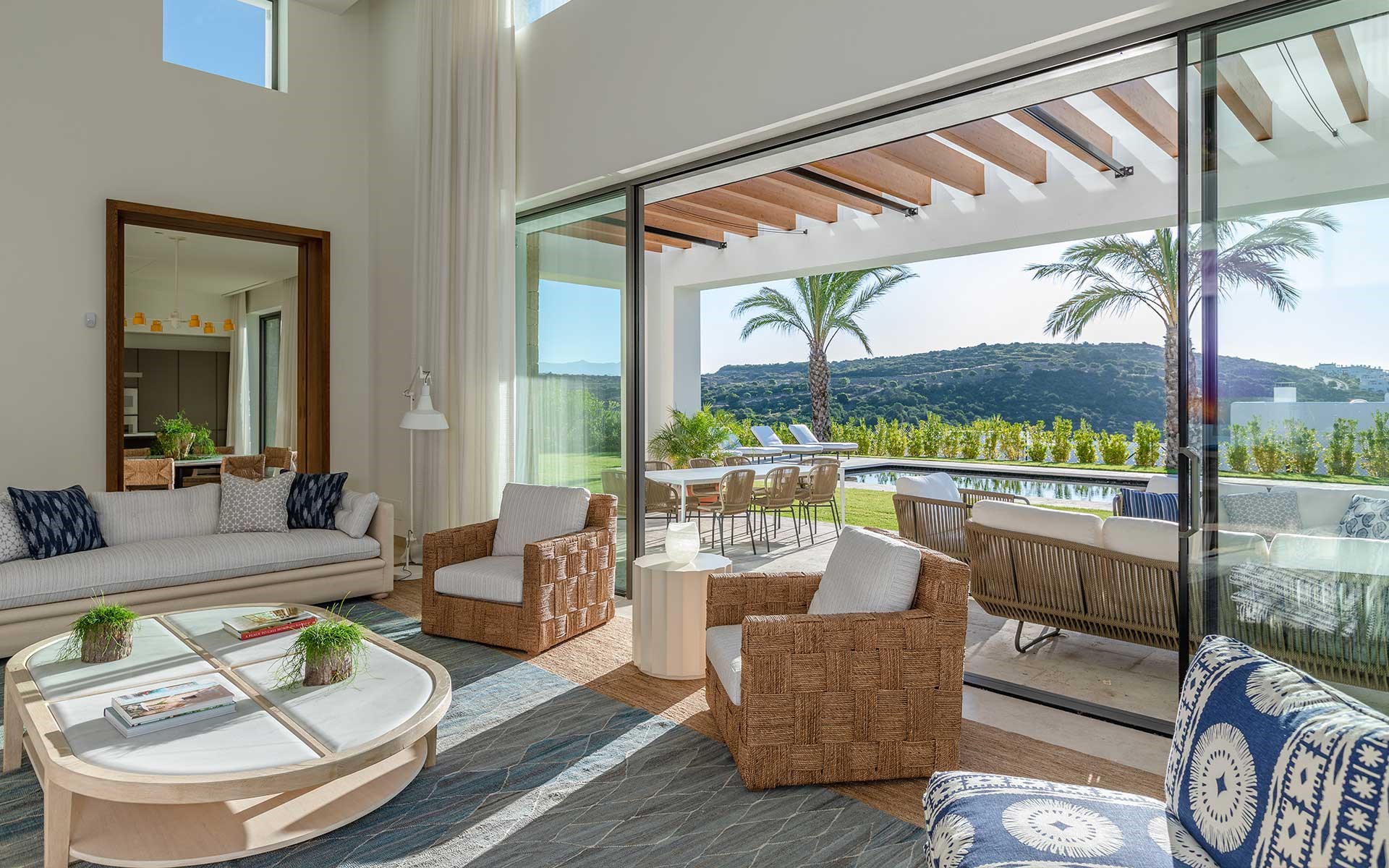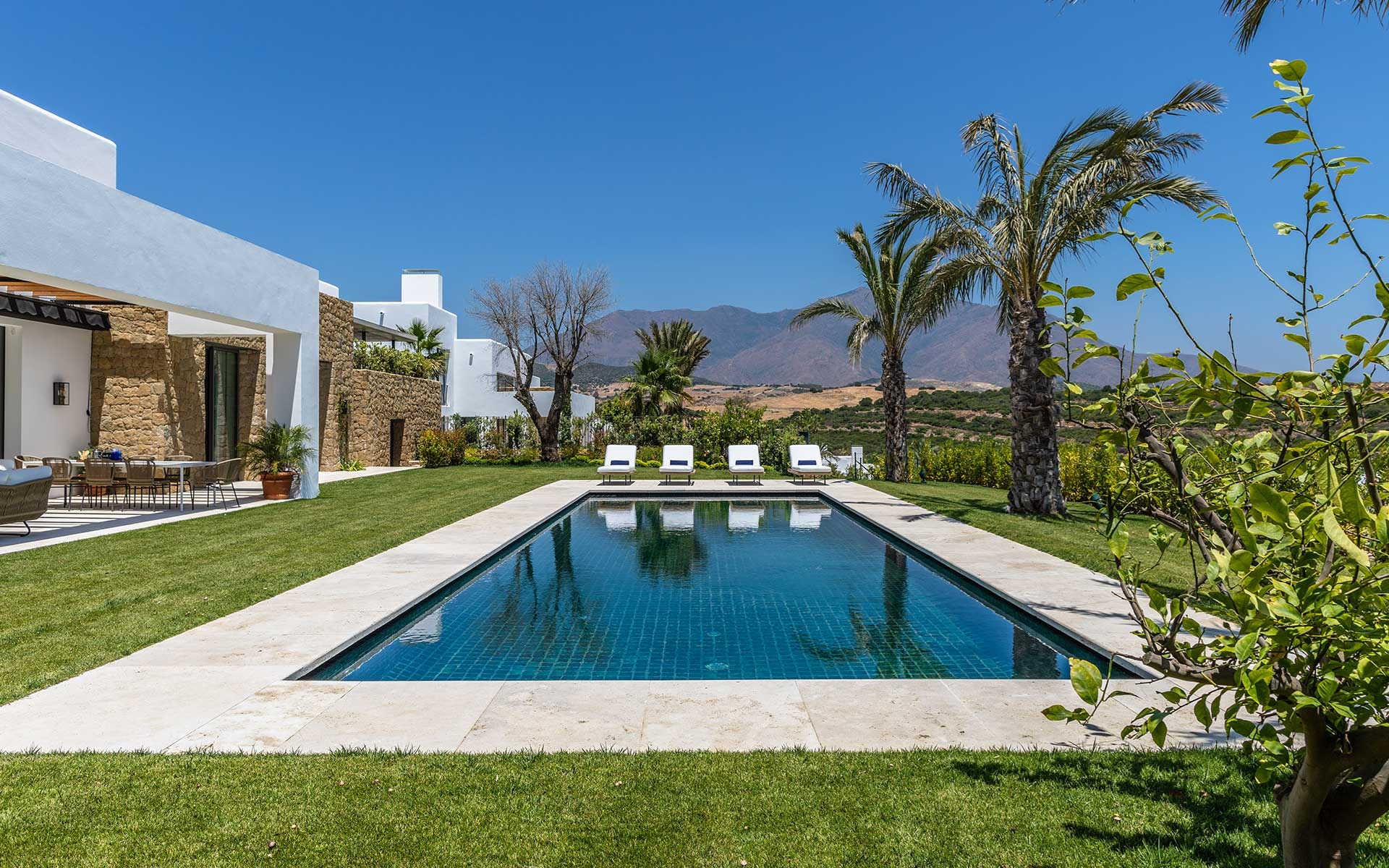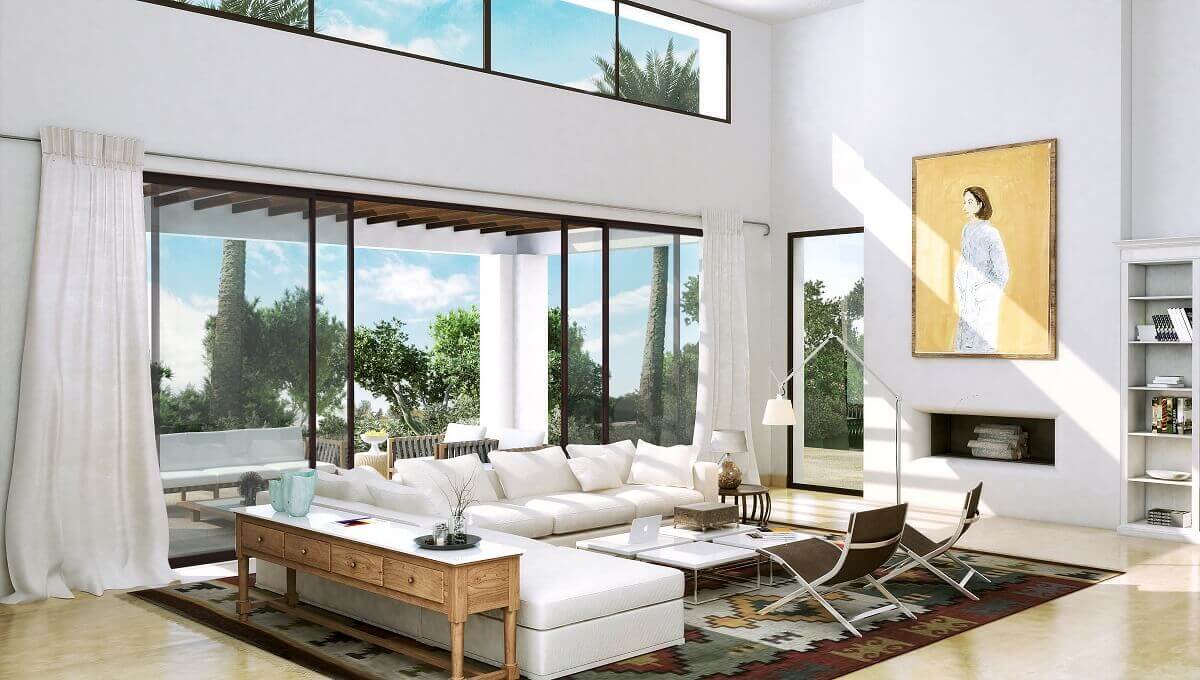 https://www.fincacortesinrealestate.com
There are 215 hectares of undisturbed nature surrounding the Finca Cortesin property. In total, there are six key areas in the resort: three stunning hotels, an exceptional golf course, a superb spa, and an outstanding beach club. A quiet and sought-after enclave of the Andalucian coast, this resort is located within a mile of a picturesque town called Casares, and only a few miles from a stretch of pristine beach. Its avant-garde design and elegance are influenced by a traditional andalusian architectural theme. Luxurious accommodations and impeccable service are combined with the Mediterranean lifestyle, which combines natural beauty with a peaceful, tranquil atmosphere. With 23,000 square meters of manicured gardens, a deluxe spa offering Thai treatments, four swimming pools, tennis courts, and a spectacular beach club offering 6,000 square meters of beachfront space, Finca Cortesin is a destination that will leave you wanting more.
Ezzahra Estate Marrakech
Marrakech, Morocco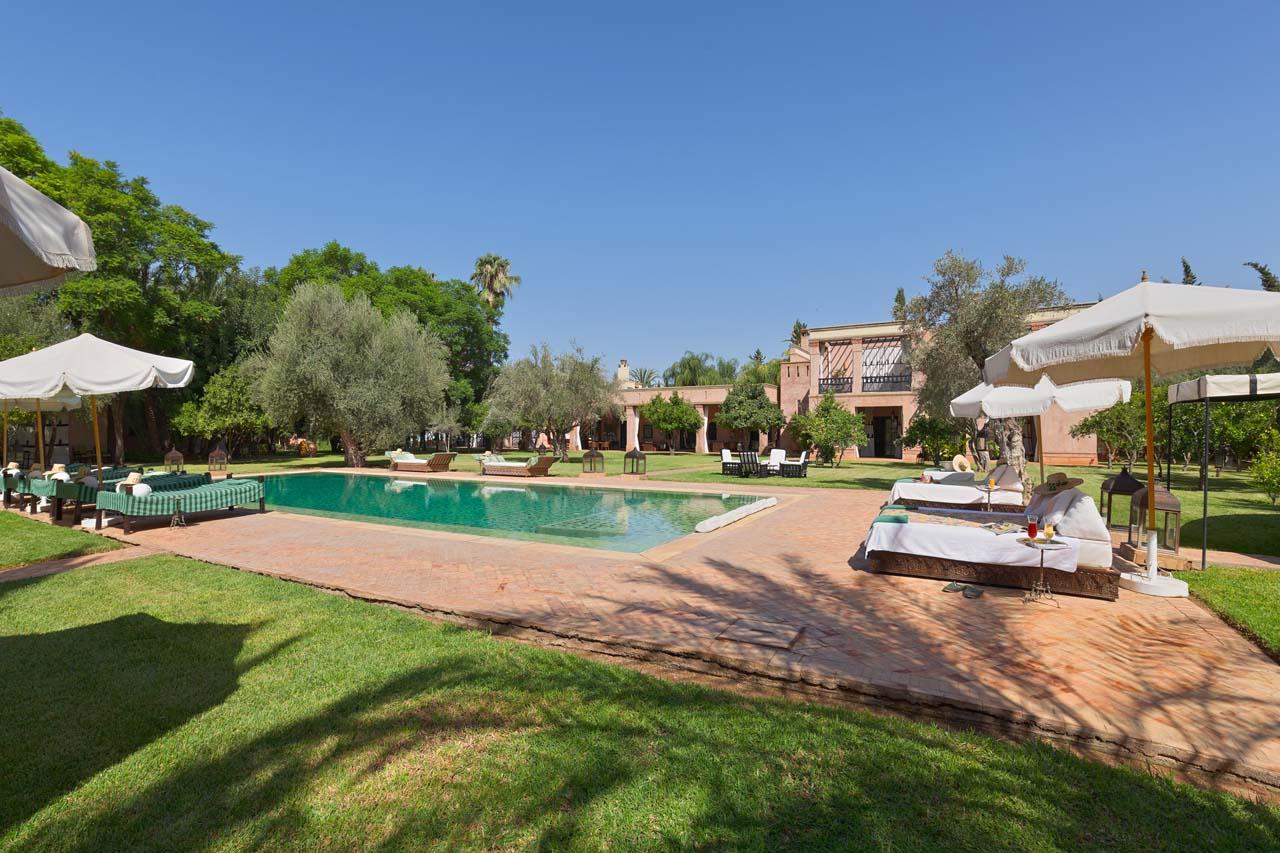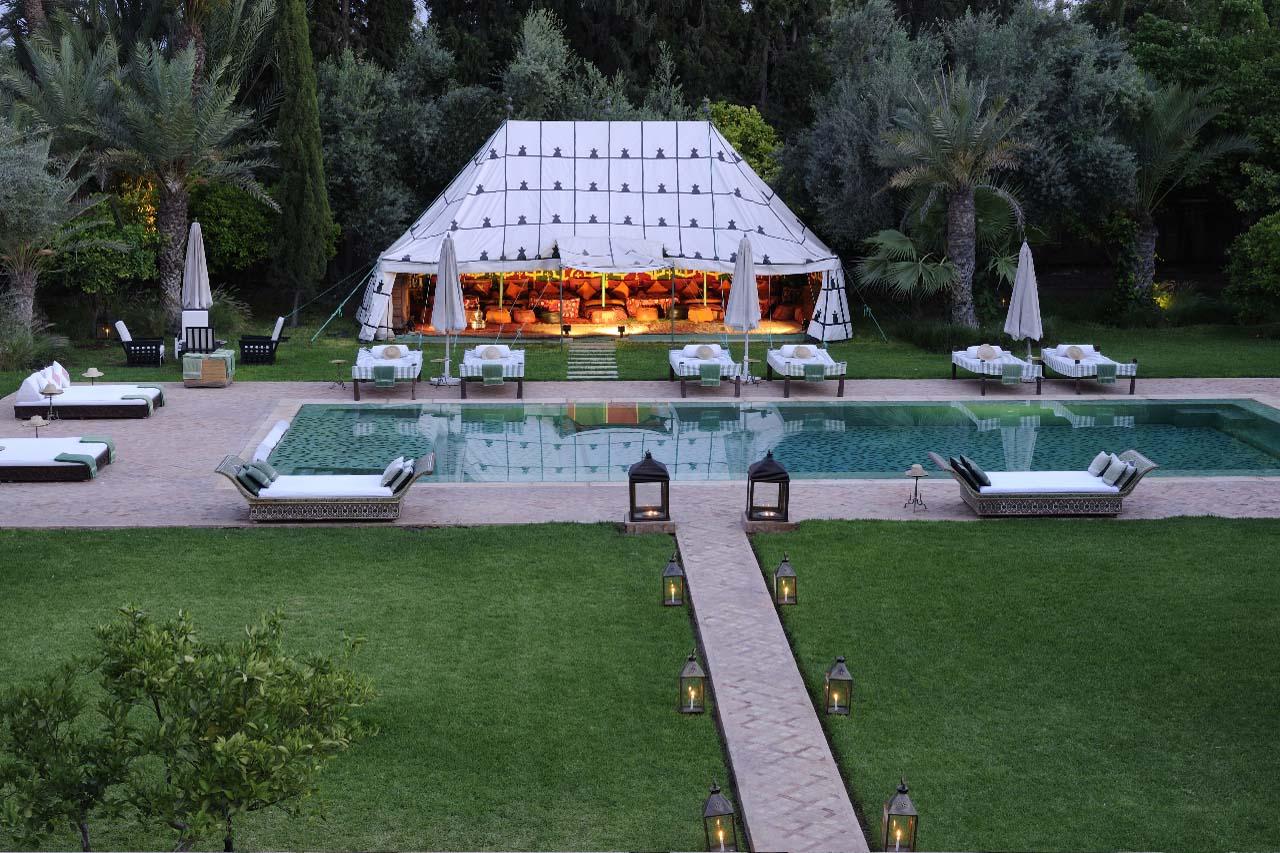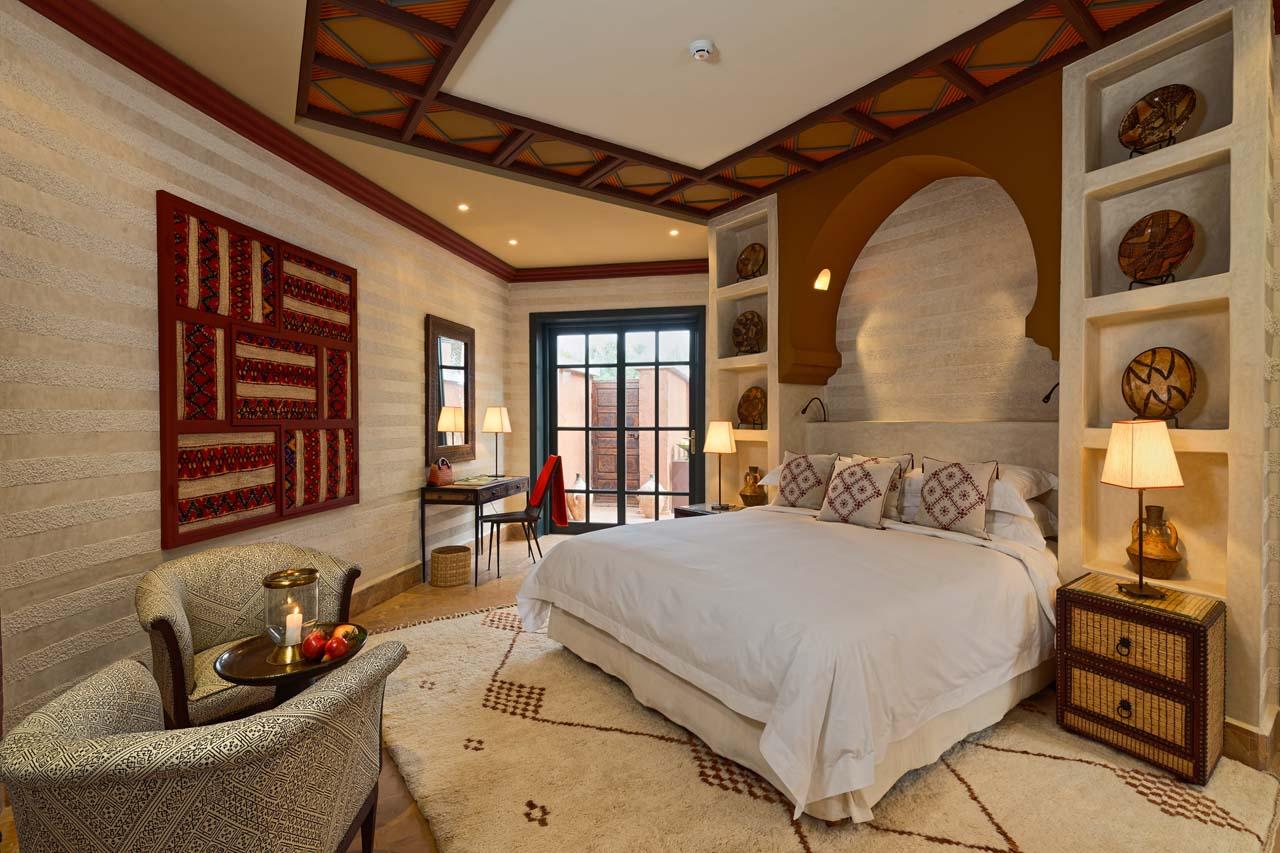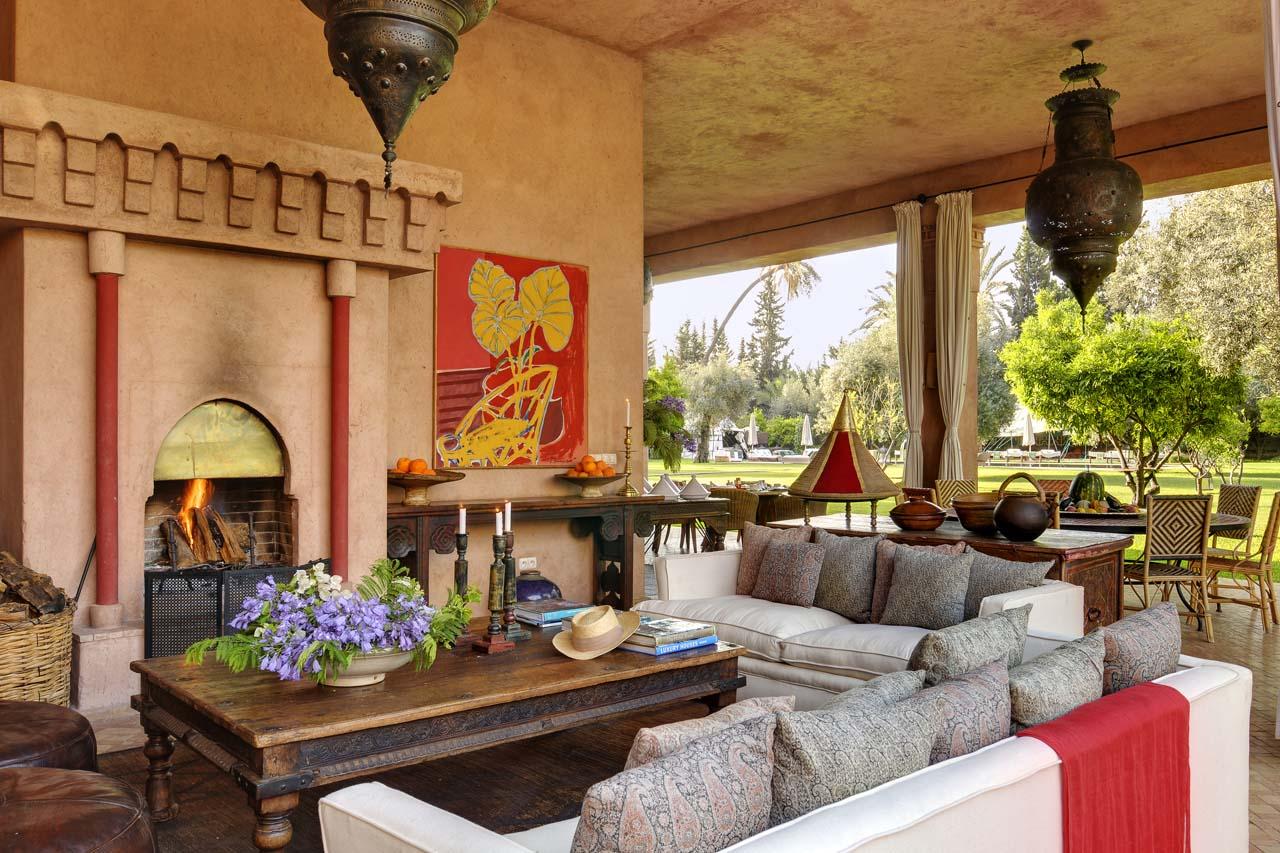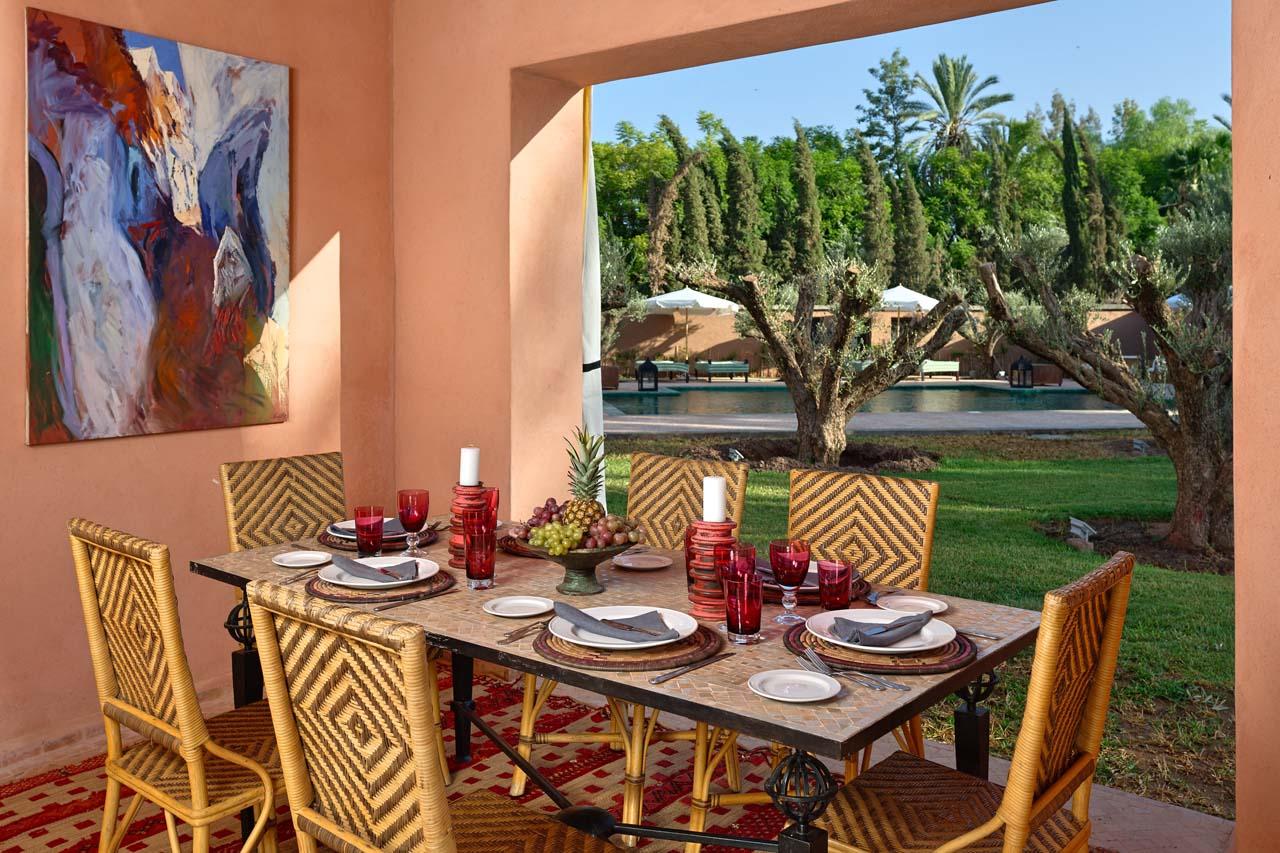 https://ezzahra-morocco.com
Three luxurious villas are located in Ezzahra's Palmeraie location, fifteen minutes away from Marrakech's Medina. 20,000 square meters of lush landscaping surround these villas, including olive trees, date palms, orange trees, and pomegranate trees. At Ezzahra, guests will be pampered and served food during their stay. They will also be transported back to Marrakech airport upon checkout. Experienced chefs prepare Moroccan dishes each day in addition to lighter European options and a children's menu that's hard to resist. Guests will also find a full-size pool table, a Moroccan tent for drinks, paddle tennis courts, two screening rooms with DVDs and board games for children. There is wireless internet access at all of Ezzahra's properties. In addition to estate manager Maria, our team of 20 members includes five junior employees. Activities such as guided tours of the Medina, sightseeing trips, horseback riding, and yoga lessons can be arranged by the host.
El Chante Estate
Tamarindo, Costa Rica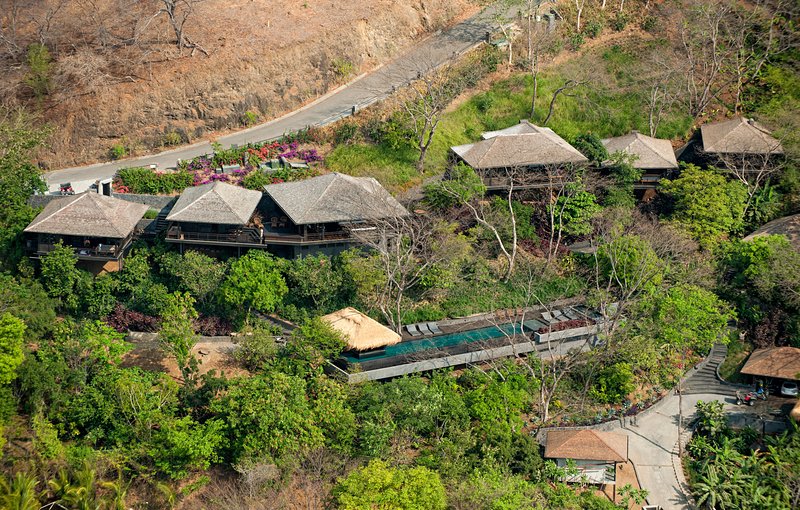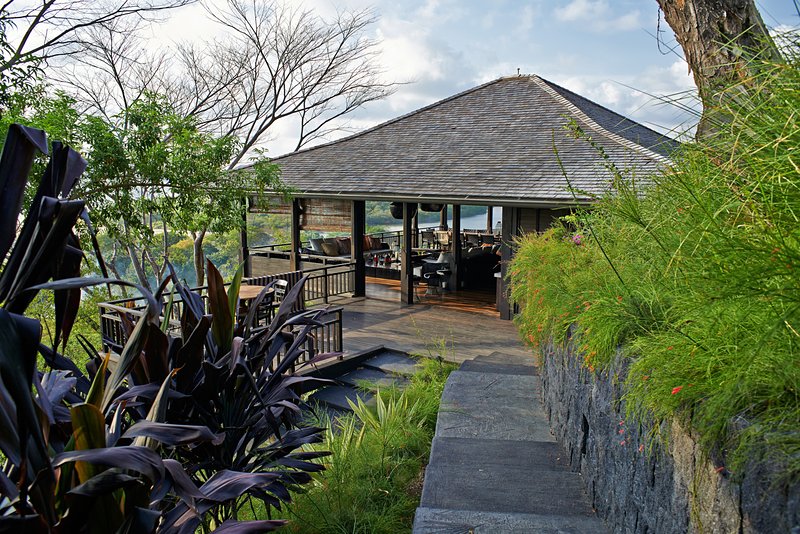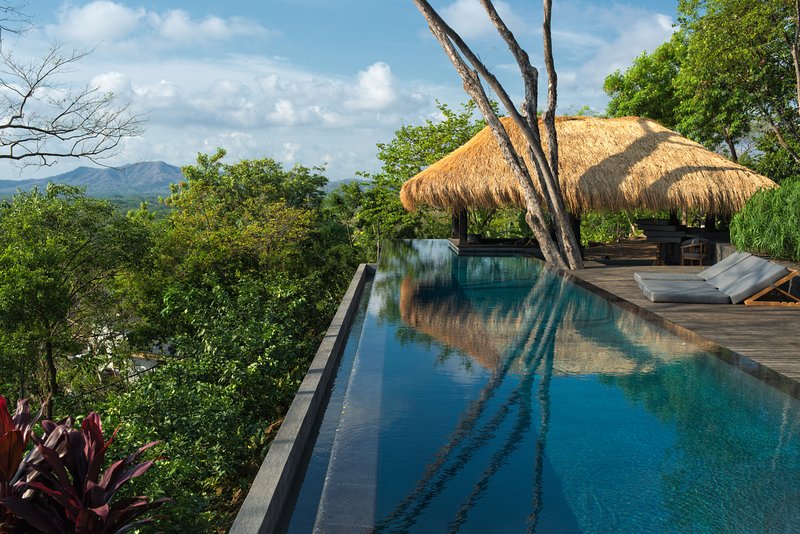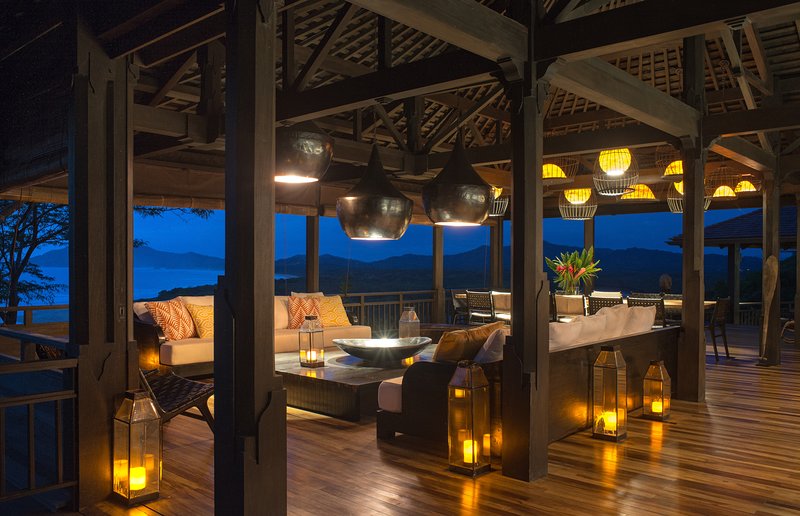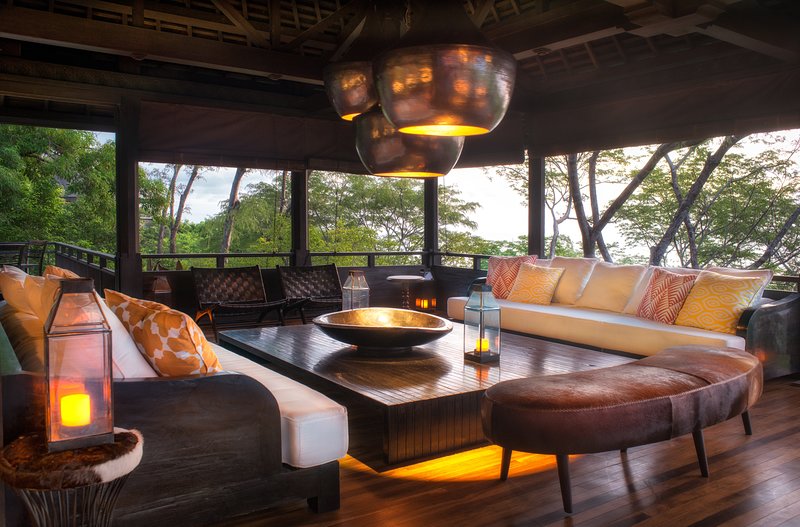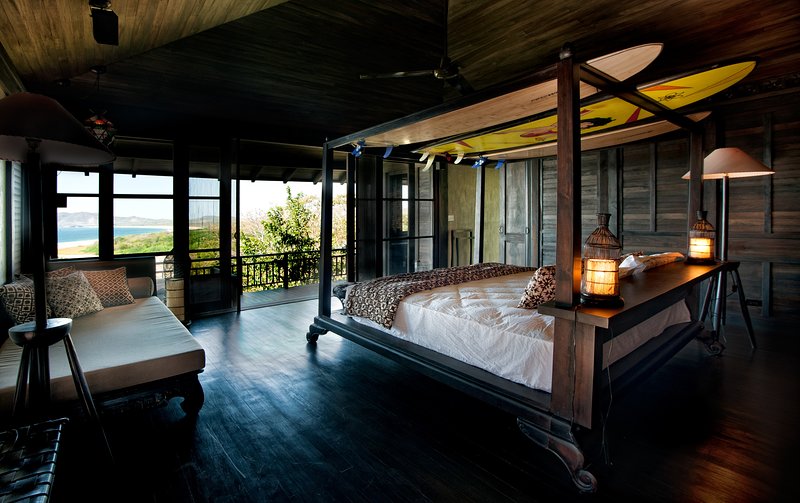 http://www.elchantetamarindo.com
If you love nature or surfing, then this tropical oasis on Nicaragua's coast should not be missed. Within the tree that encloses the villa are eight wooden bungalows - each one with its own terrace, master bath, and authentic Balinese furniture, carvings, and traditional art. Through the forest, one can access the main house and eight bungalows of El Chante, which are connected by stone steps and shaded paths. Each bungalow embodies the tropical indoor/outdoor lifestyle with a state-of-the-art architectural design. Living close to nature with a porch or large sliding door with a screen is possible without closing your room. With these design elements, not only do your villas have a more intimate connection to nature, but tropical ocean breezes and forest breezes are circulating day and night to keep things comfortable.
Sava Beach Villas Estate
Natai Beach, Thailand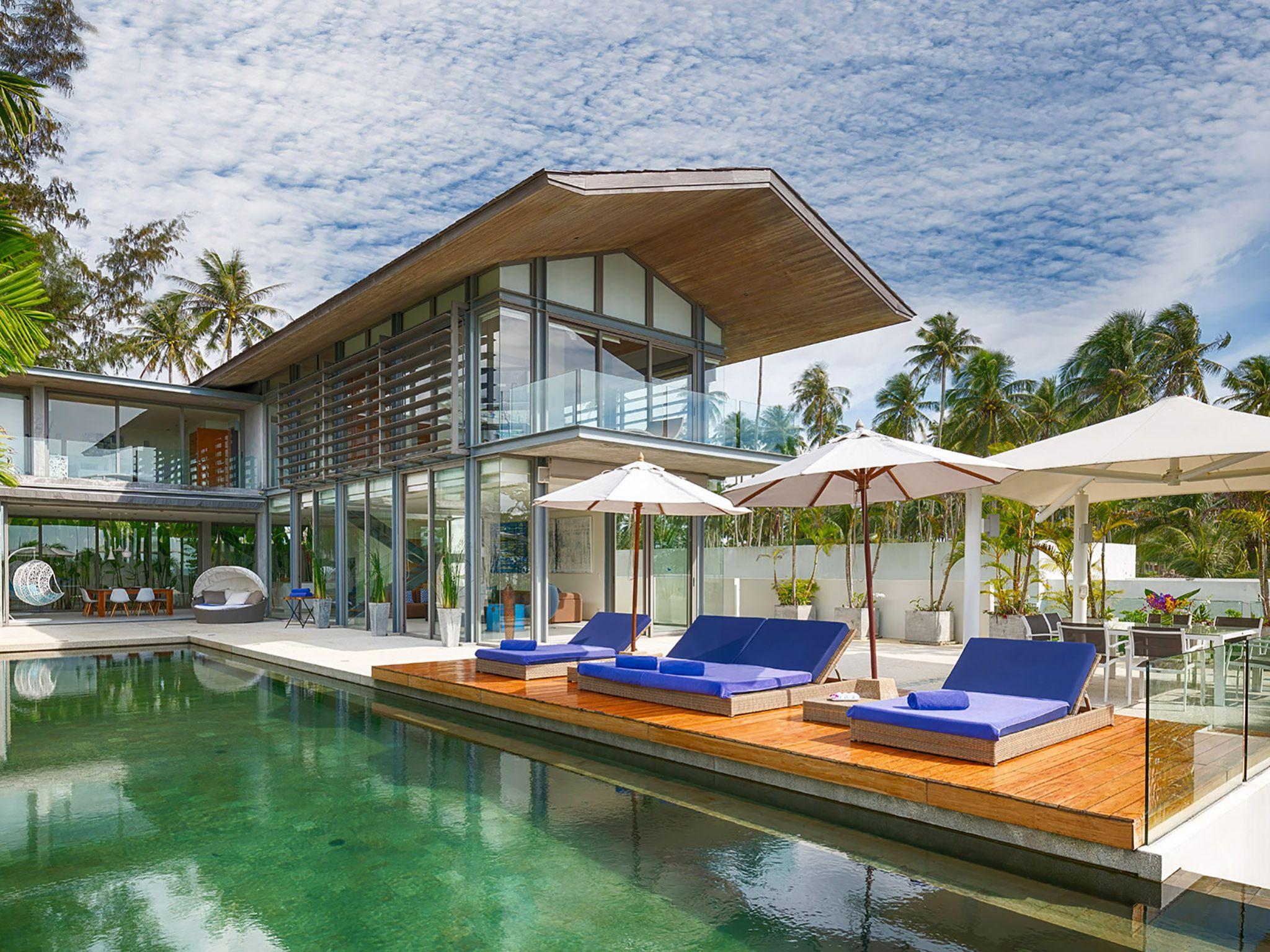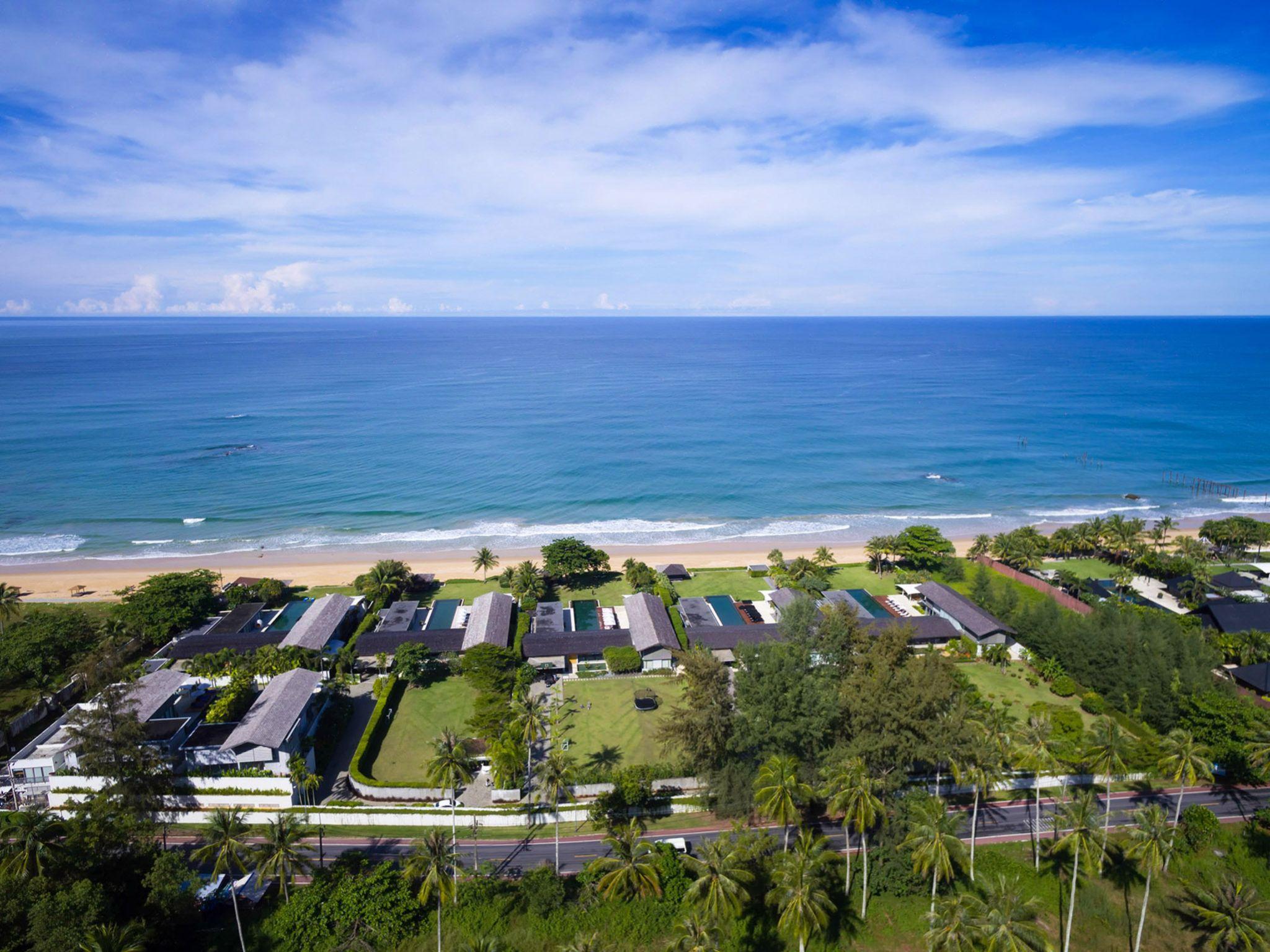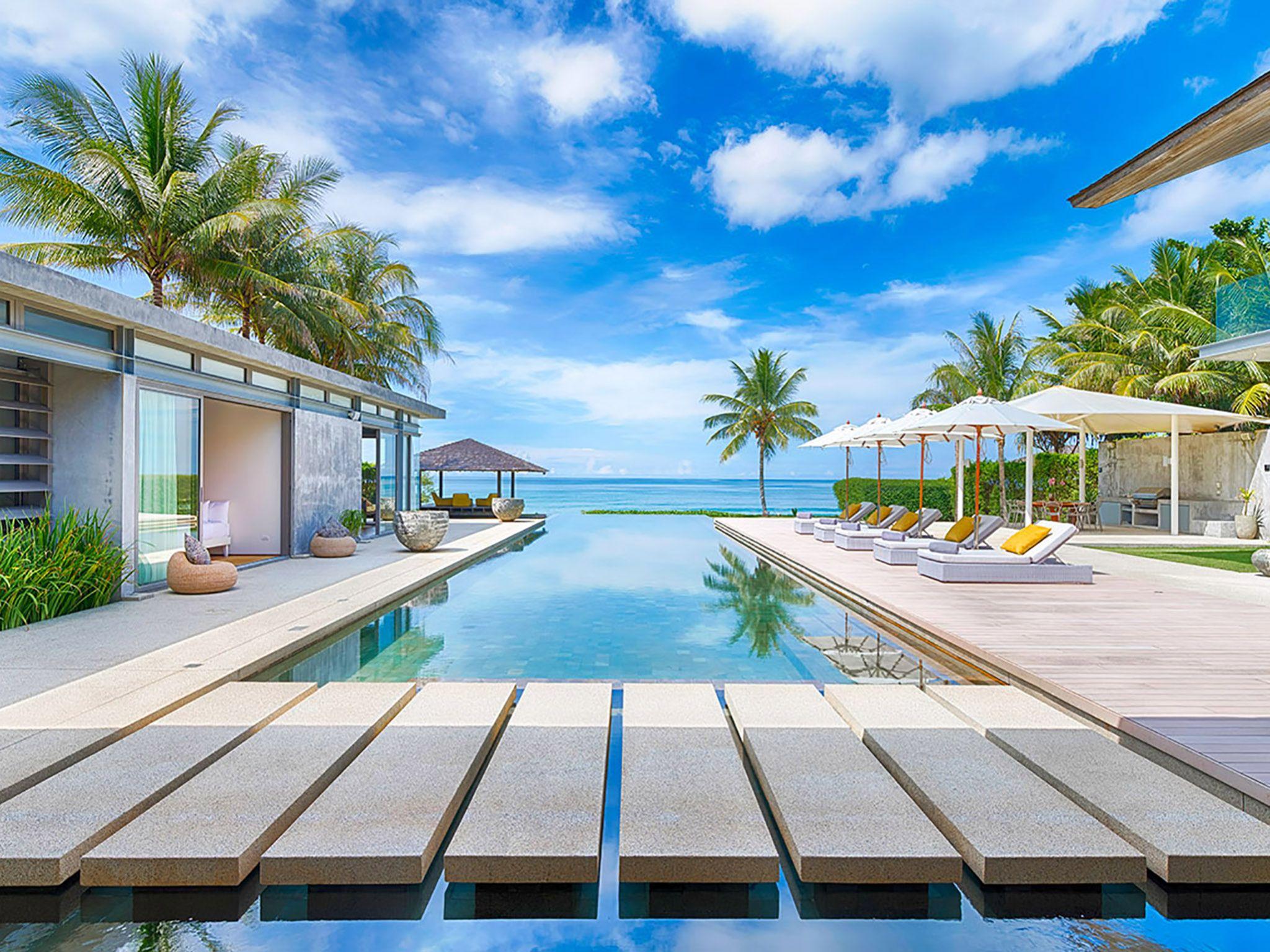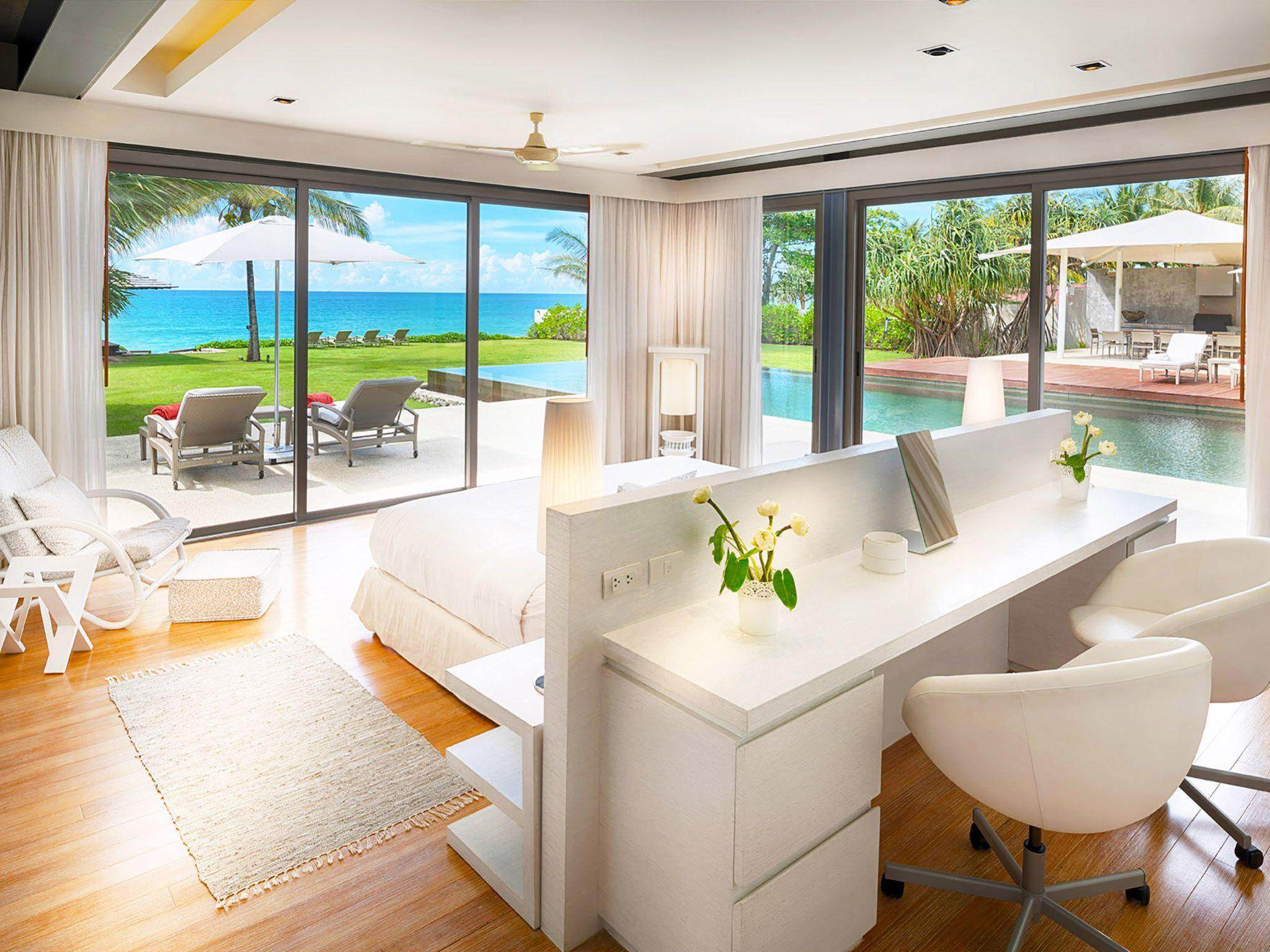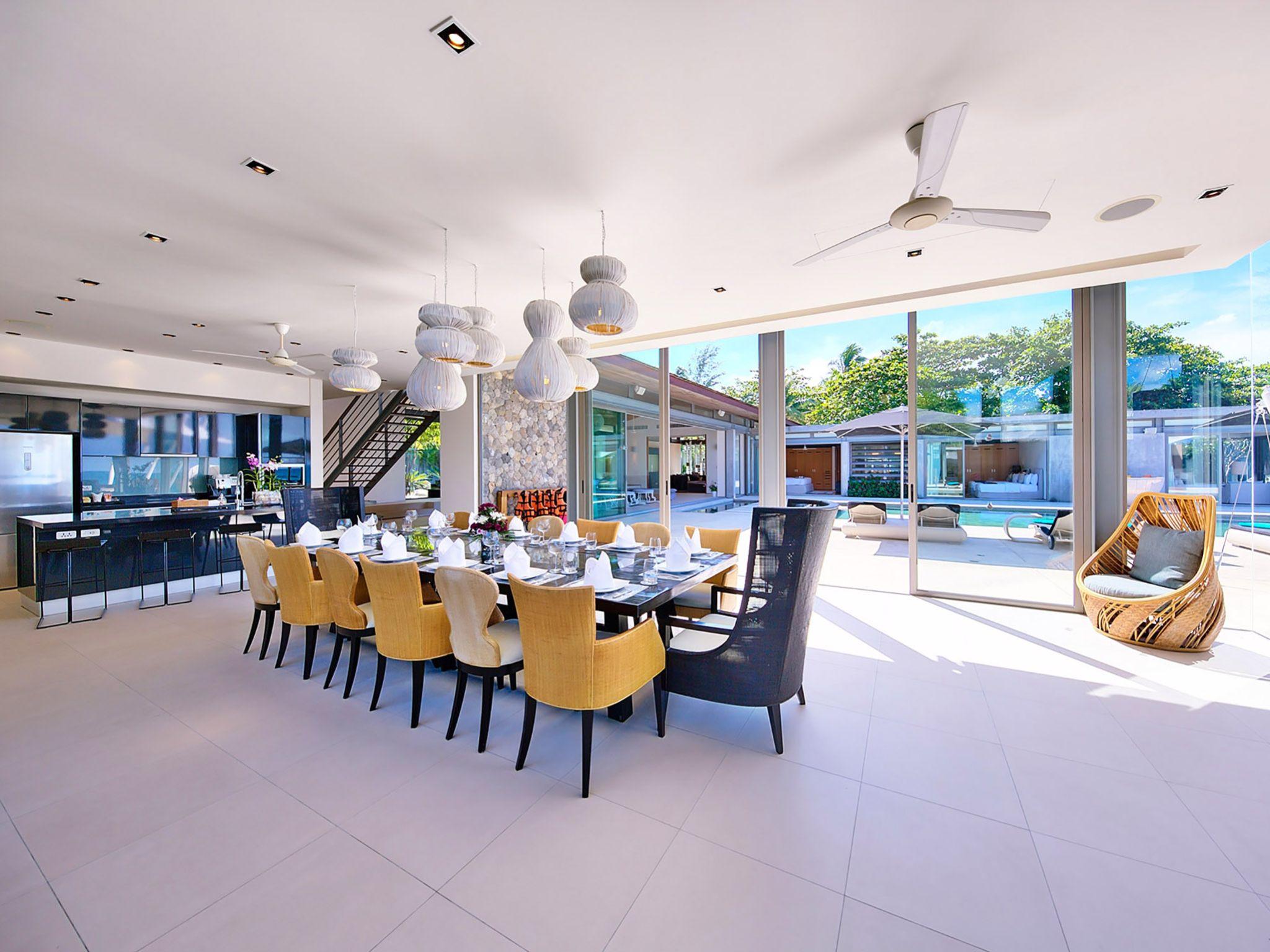 https://www.savabeachvillas.com
Phuket island has a heavenly 10-kilometer white sand beach just across the bridge from it, which is hidden from everyone. Natai Beach is surrounded by a tranquil rural landscape with buffalo roaming freely and farmers tending to their crops as well as the shimmering waters of the Andaman Sea. Sava Beach Villas are located in this tropical Thai setting where seven deluxe villas bring holiday dreams to life, as well as a magical wedding, reception, and event space. With its tropical beachside environment, an infinity pool and sun terrace are visible from a living and dining room that's fully enclosed with glass. The impressive architectural details in each villa are similar, but each also has its own unique personality, reflecting the individual tastes and interests of the owners. Villas and guests are looked after by highly skilled staff. Besides a chef and villa manager, there are villa attendants who provide attentive, personalized service. Despite being just 30 minutes from Phuket airport, Natai Beach remains relatively unknown, and most tourists and hotels are located at the upscale resorts. Visit waterfalls, jungle-covered parks, Phang Nga Bay, and more to discover the area's natural wonders. Within minutes of the resorts, you will find fine dining and surprisingly affordable rates at the Aleenta and Iniala. Bookings usually include airport transfers and rental cars (with drivers) so you can relax and enjoy the beautiful scenery of this region of Thailand.
Santorini Mozambique Estate
Vilanculos, Mozambique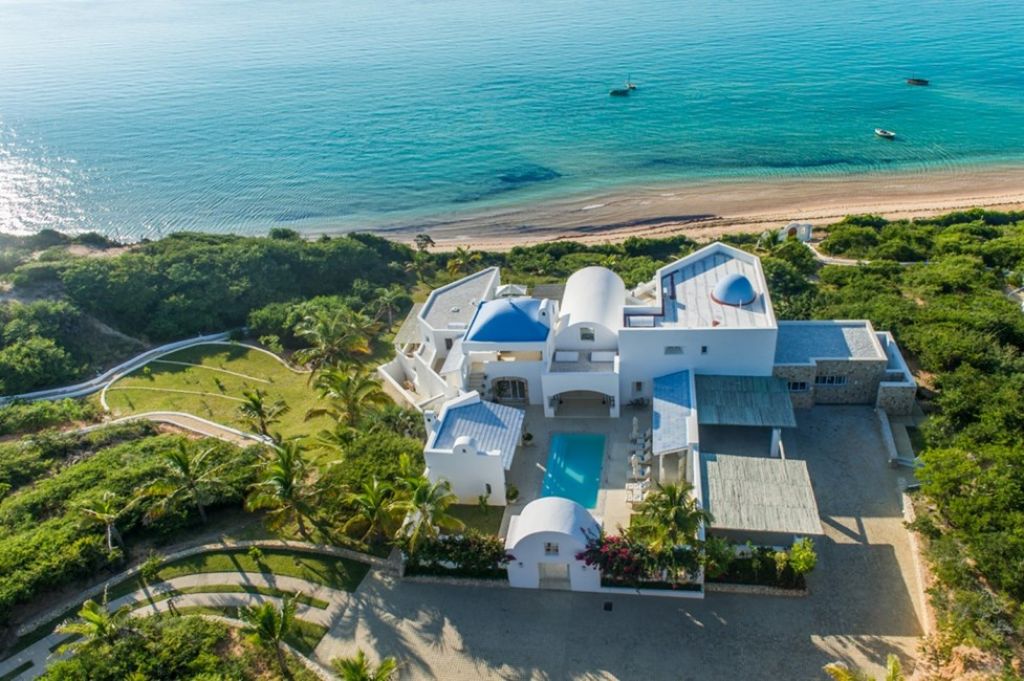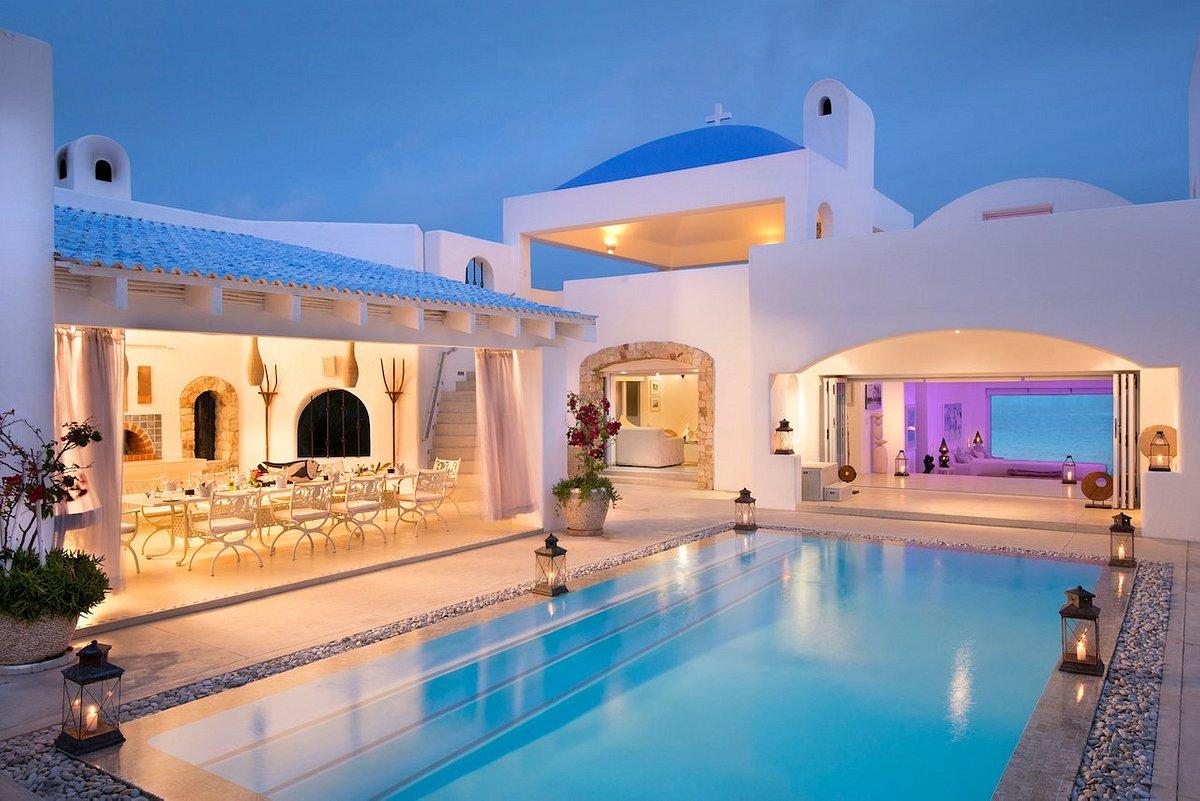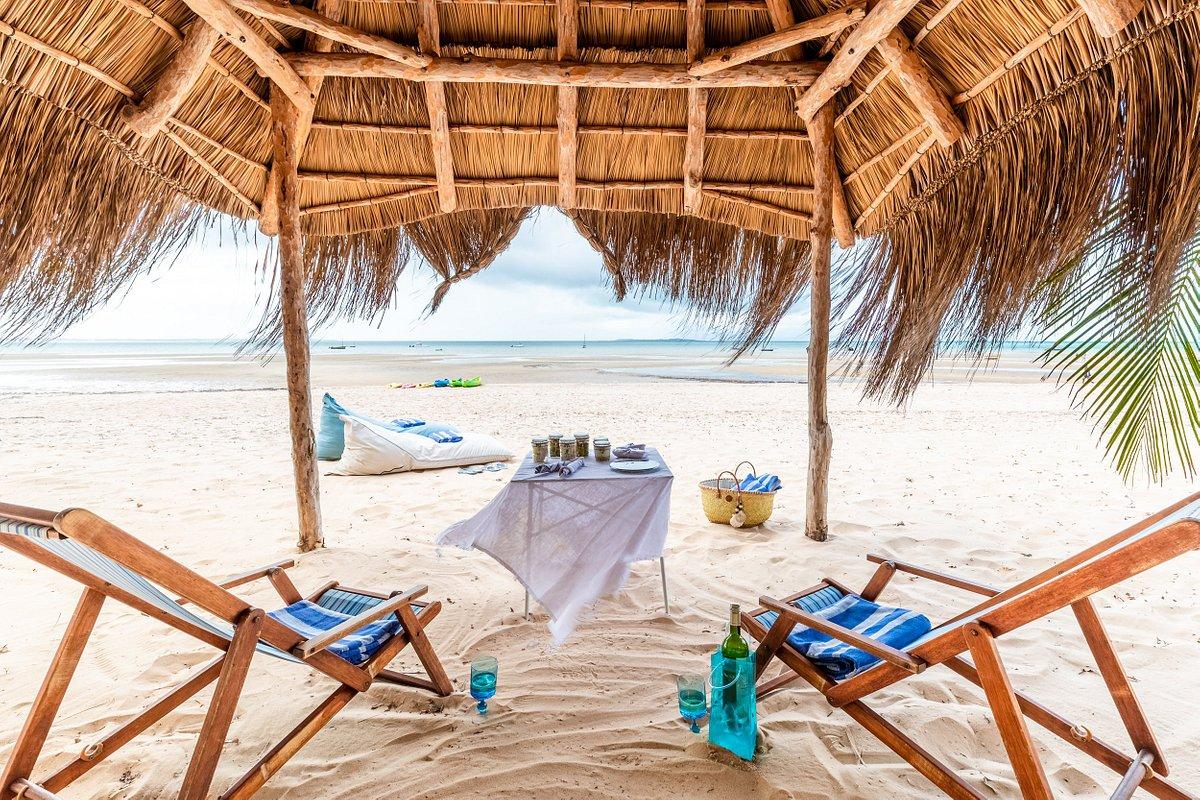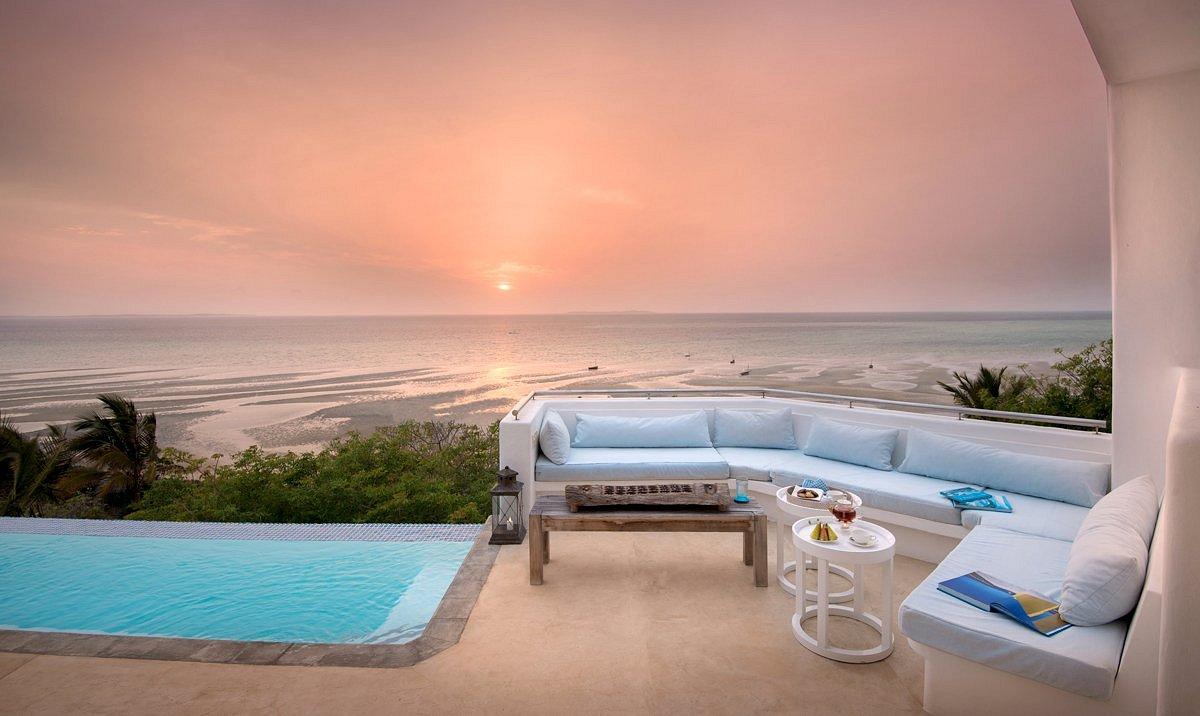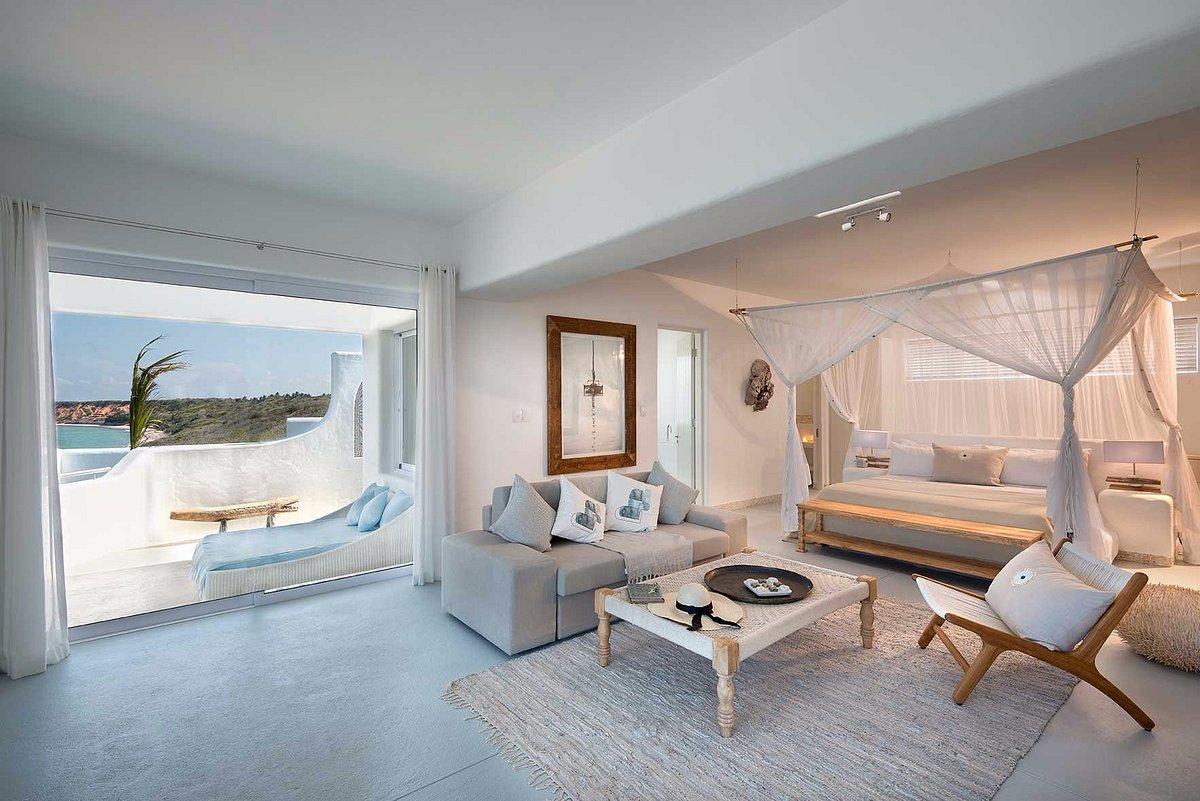 https://santorinimozambique.com
Santorinis' magical views of the archipelago islands and curving mainland are unmatched from its vantage point above Kingfisher Bay in Vilanculos. Located in the heart of a raw African landscape, Santorini Mozambique is like a Greek village surrounded by nature. With its true richness and sophistication, this hotel blends luxury with genuine humility and modesty, which adds a welcoming warmth to its ambiance. Throughout your stay, you will be pampered with attention to detail and a personal touch that goes beyond your expectations. In addition to the stunning interiors and captivating designs within the villas, the lush gardens and excellent cuisine do not go unnoticed. In an effort to create mystical pieces of heaven into this dramatic backdrop, the villa was originally designed as a boutique villa. Passion and aspiration expanded above this initially intended function. An unpretentious charm permeates the whole estate.
Grand Majestic Villa at Myconian Utopia
Mykonos, Greece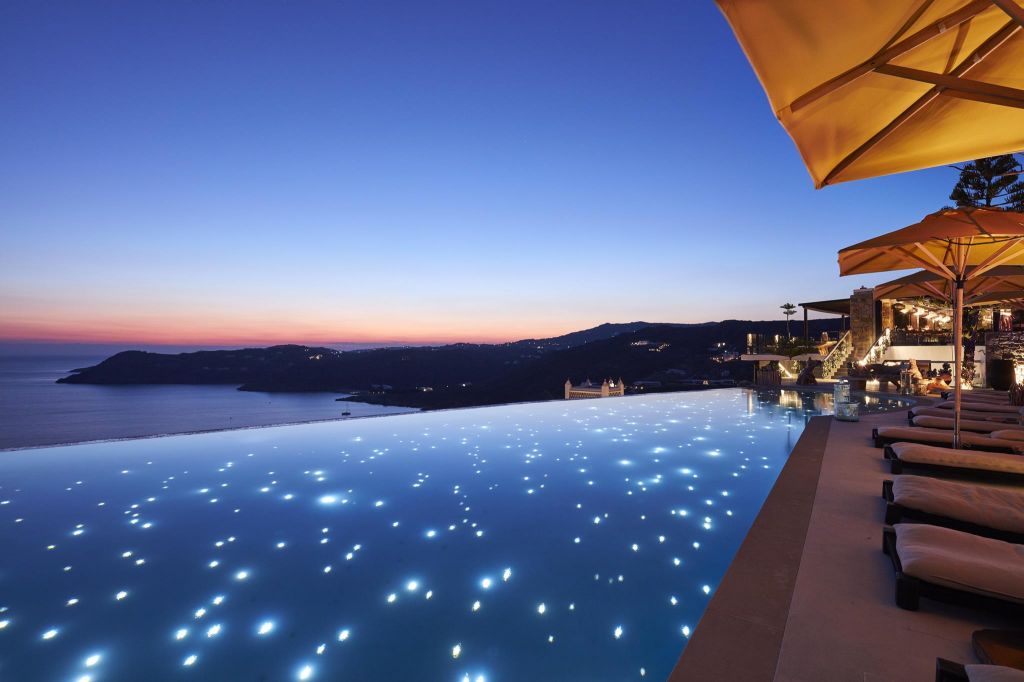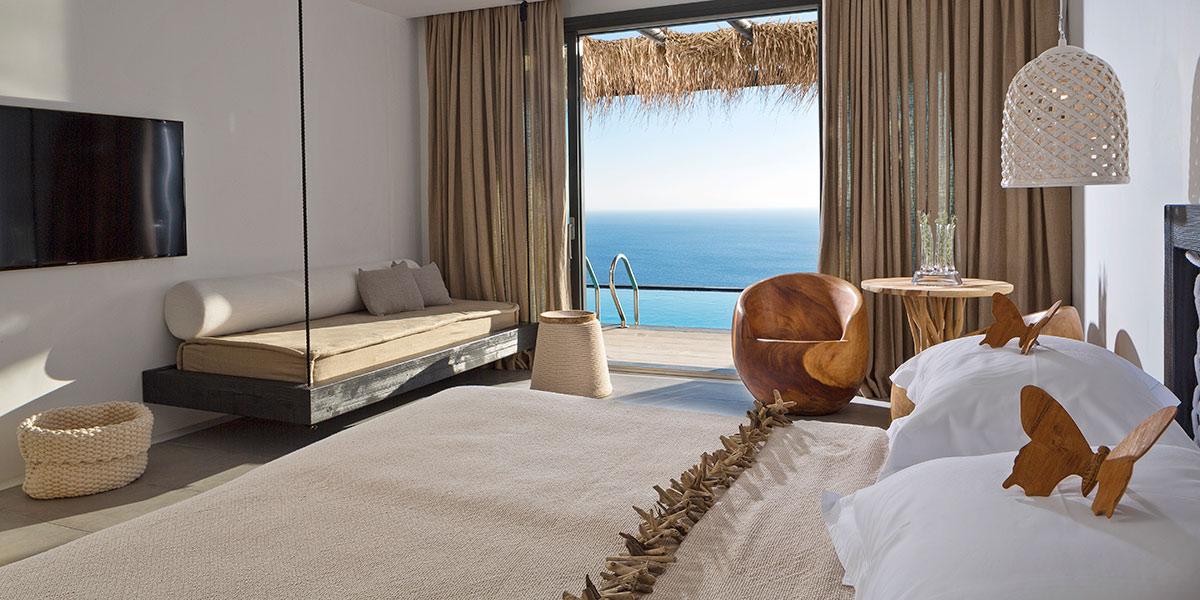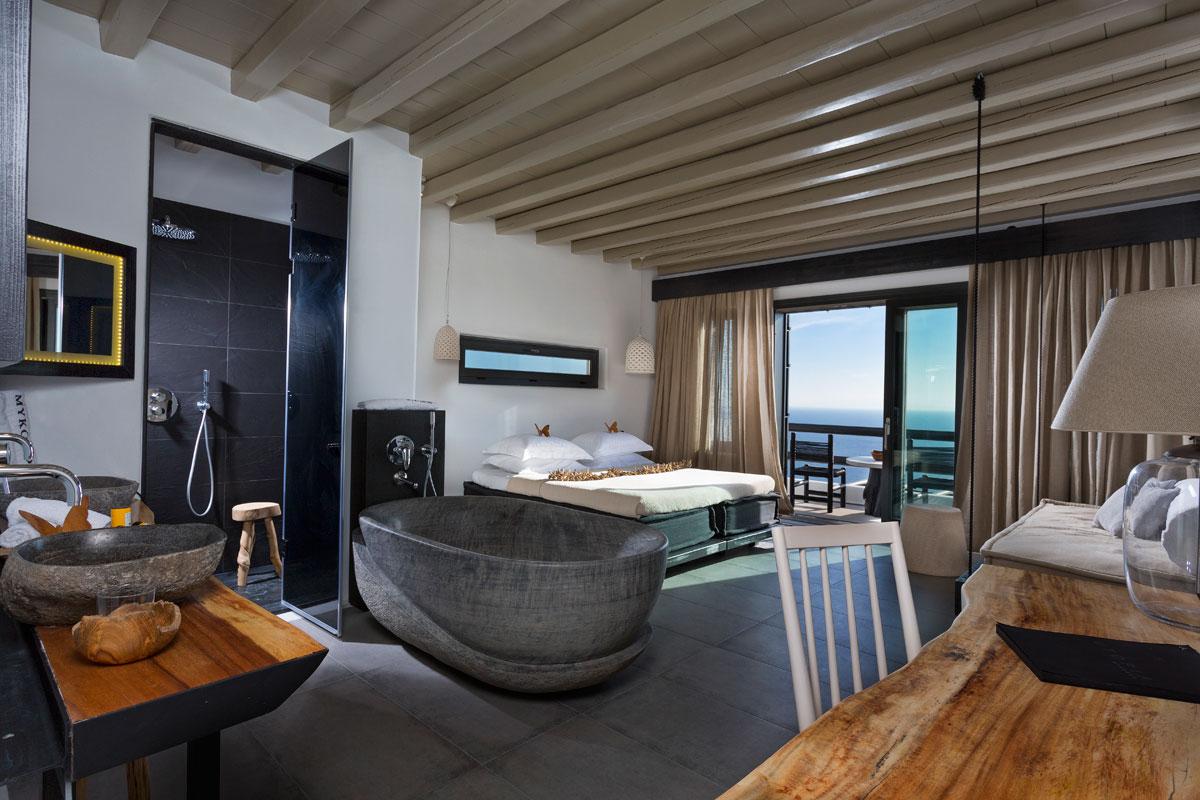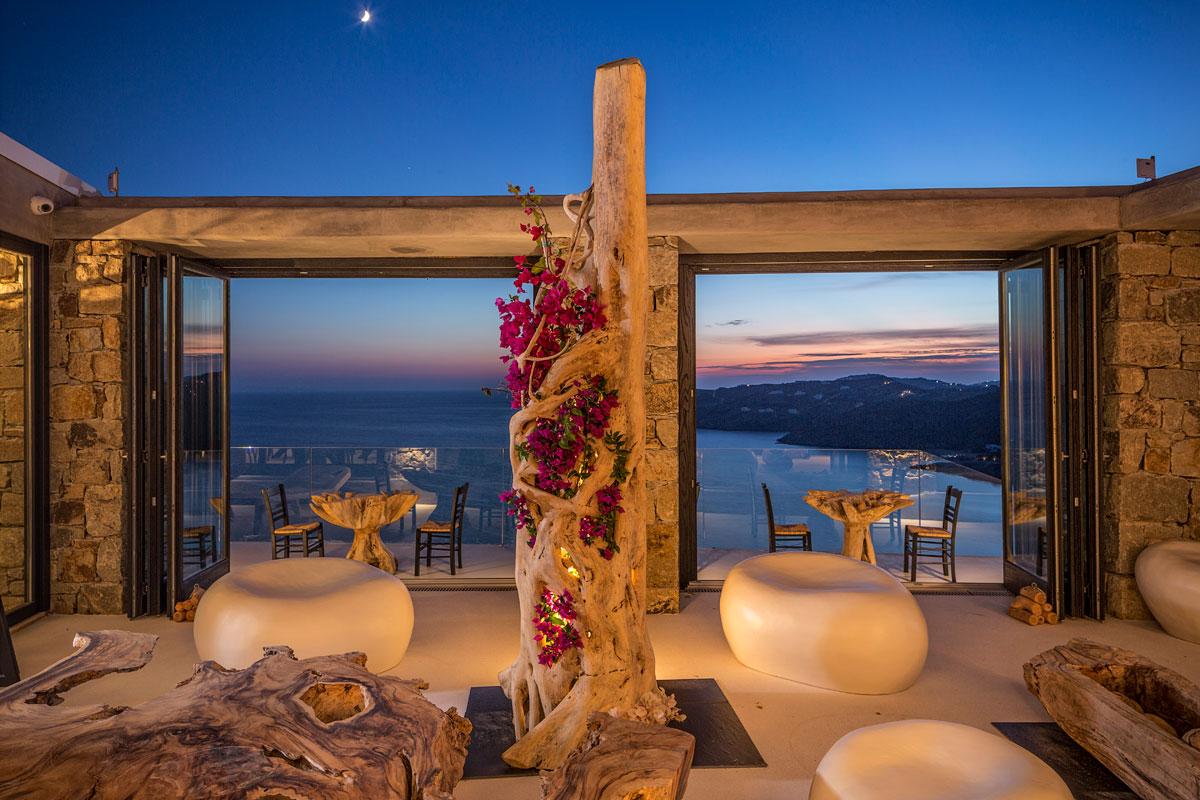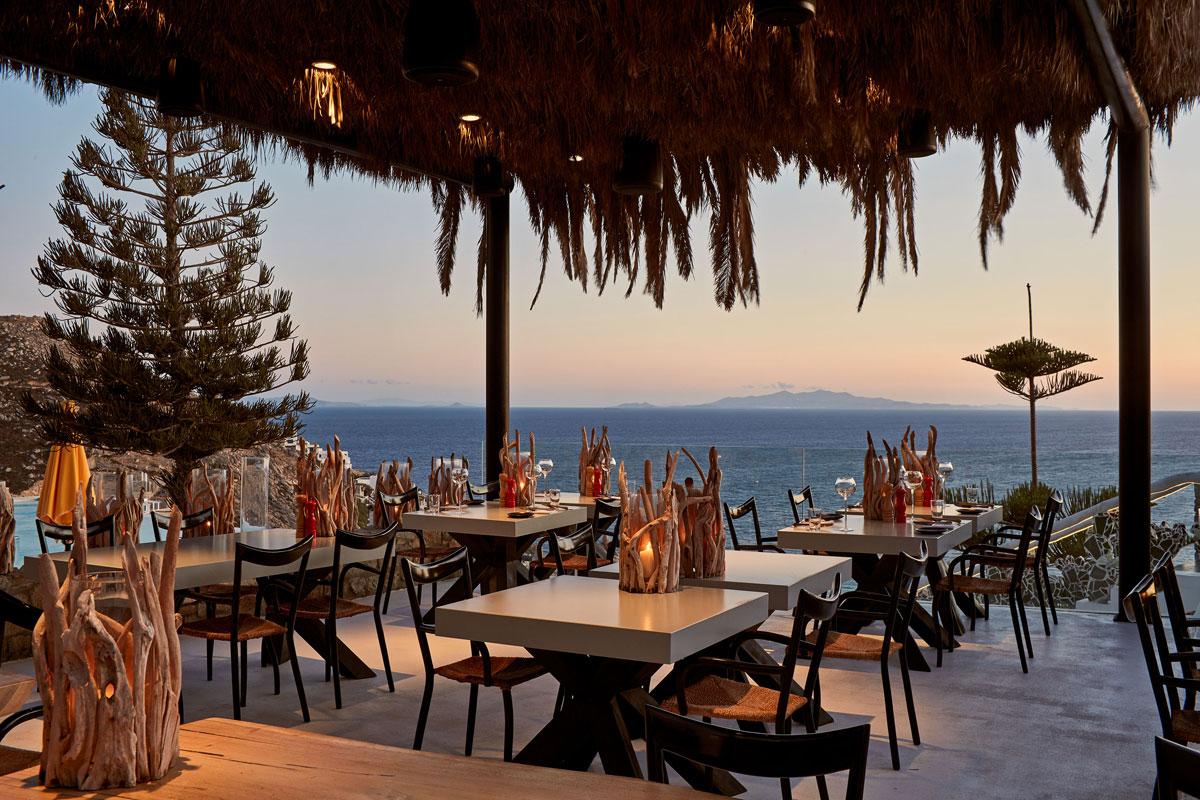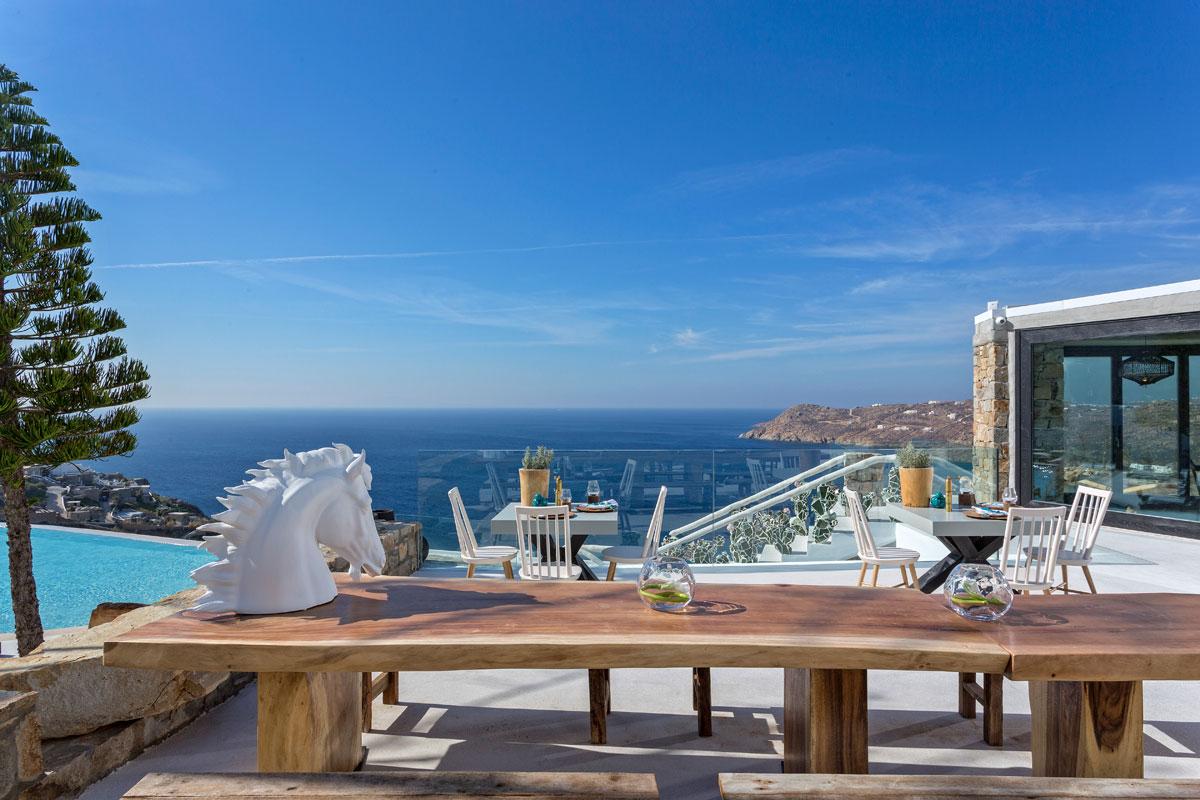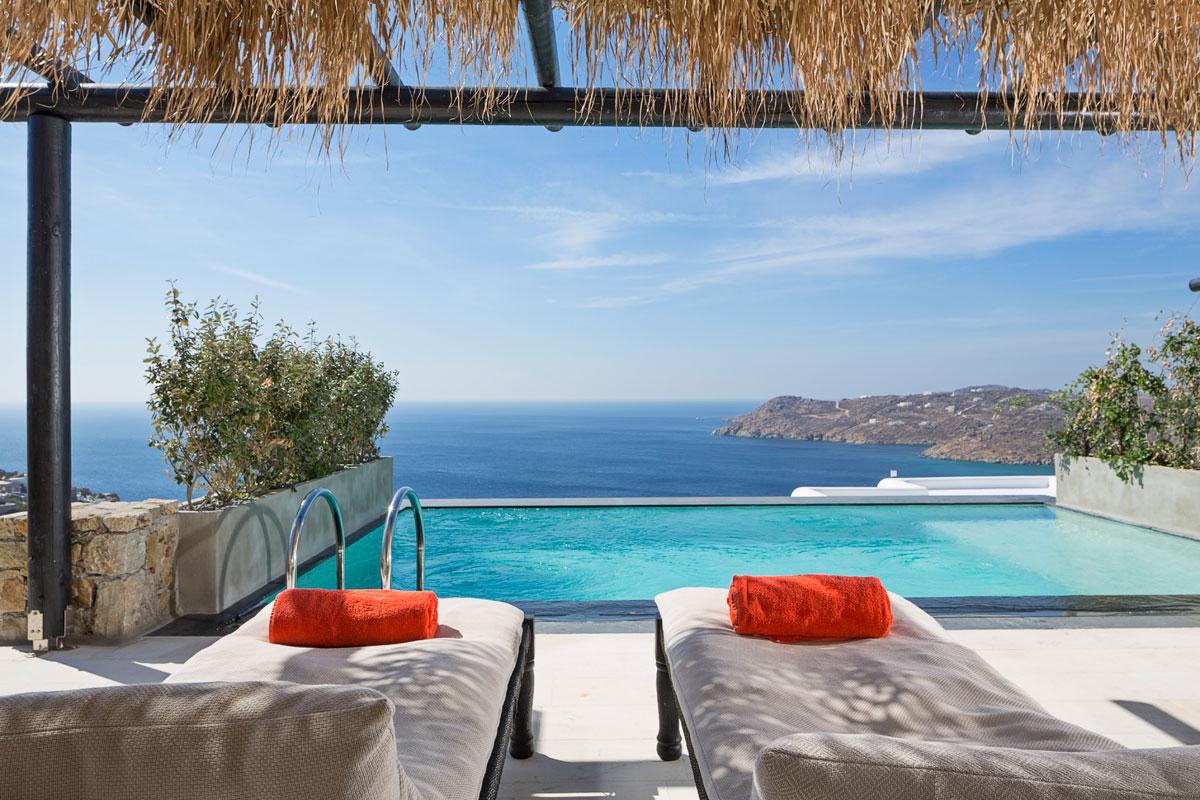 https://www.myconianutopia.gr
At 300 metres above Elia beach, the Myconian Utopia Relais & Châteaux offers the finest of refinement and natural beauty in Mykonian hospitality. Luxury and excellence of service combine with natural beauty and opulence at the hotel. With the use of hand-cut stone and sustainable materials, the ultra-glamorous interiors create a harmonious juxtaposition between iconic pieces of design and elegant furnishings. It is a popular choice for honeymooners and couples seeking romance and a perfect setting minutes from Mykonos's longest beach. Every amenity is available in the luxury suites and villas, as well as attentive service. Dining options, bars and Thalasso spa treatments are all available within the resort's wonderful entertainment areas. A vibrant sunset sets the stage for appetizers and drinks at the infinity pool where guests can lounge on shaded loungers while enjoying light meals and cool cocktails. After an idyllic day filled with picturesque delights, spend an evening at the Pavilion Relais & Châteaux restaurant enjoying an epicurean feast. Under the stars, sparkles twinkle after dark, inviting the first of many nightly pleasures.
Alfajiri Estate Kenya
Diani Beach, Kenya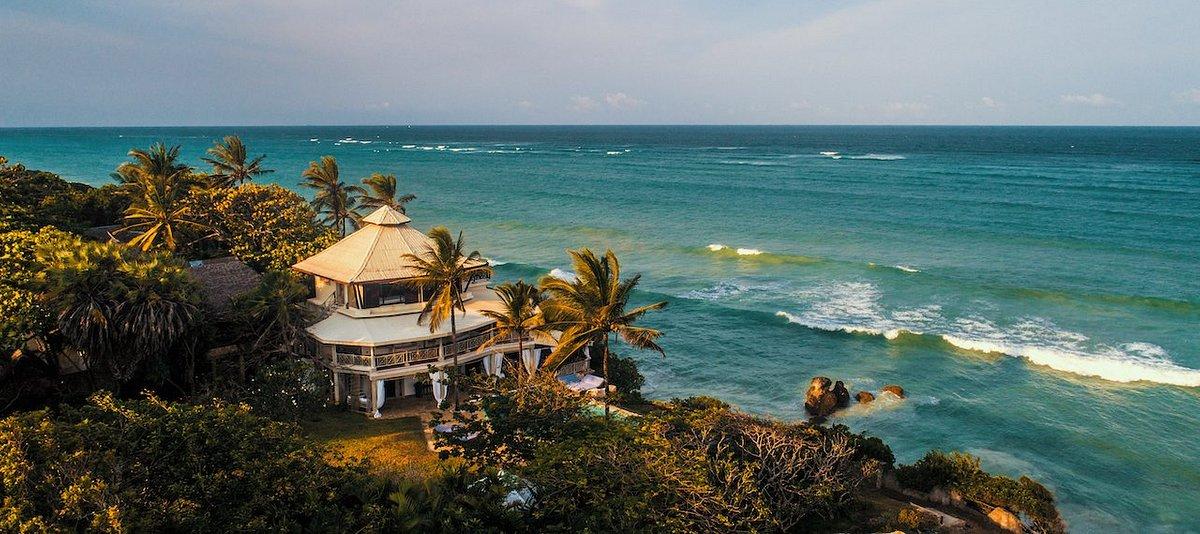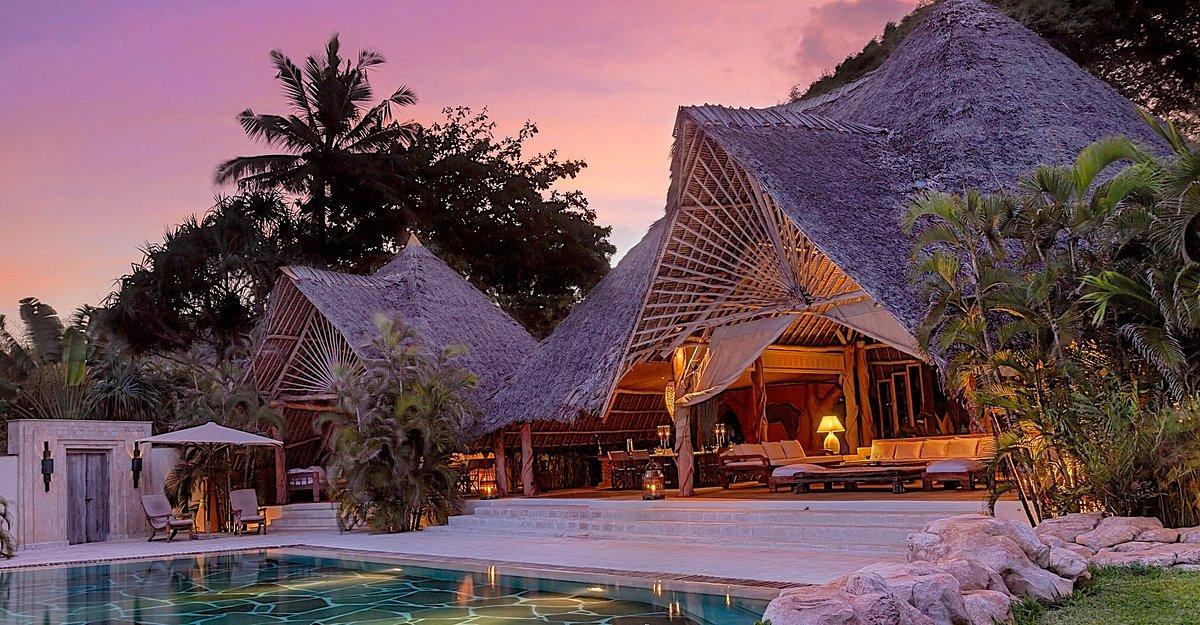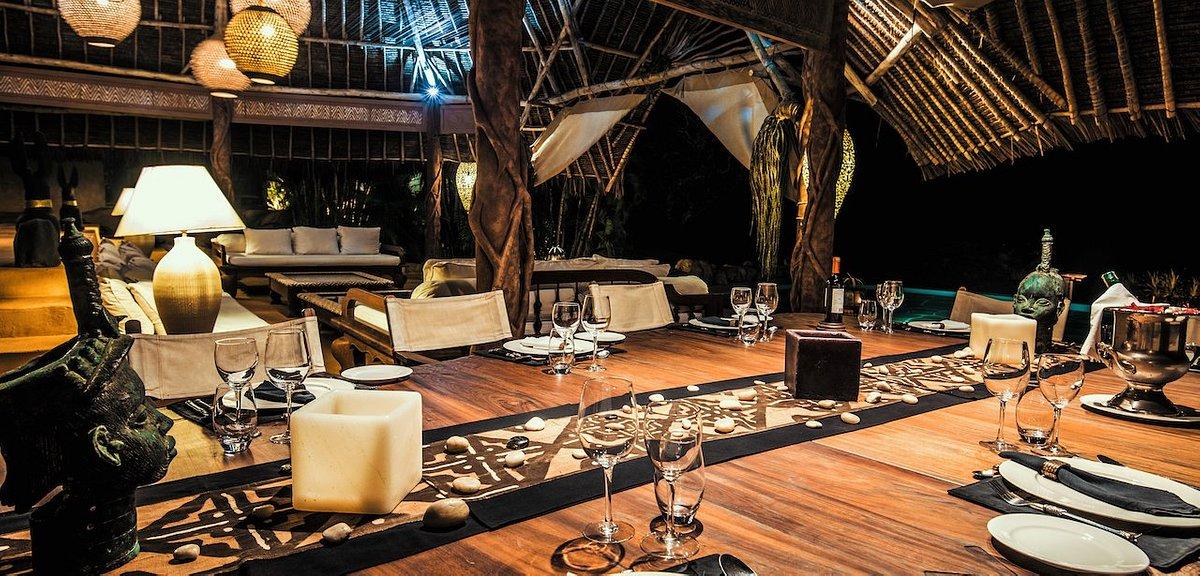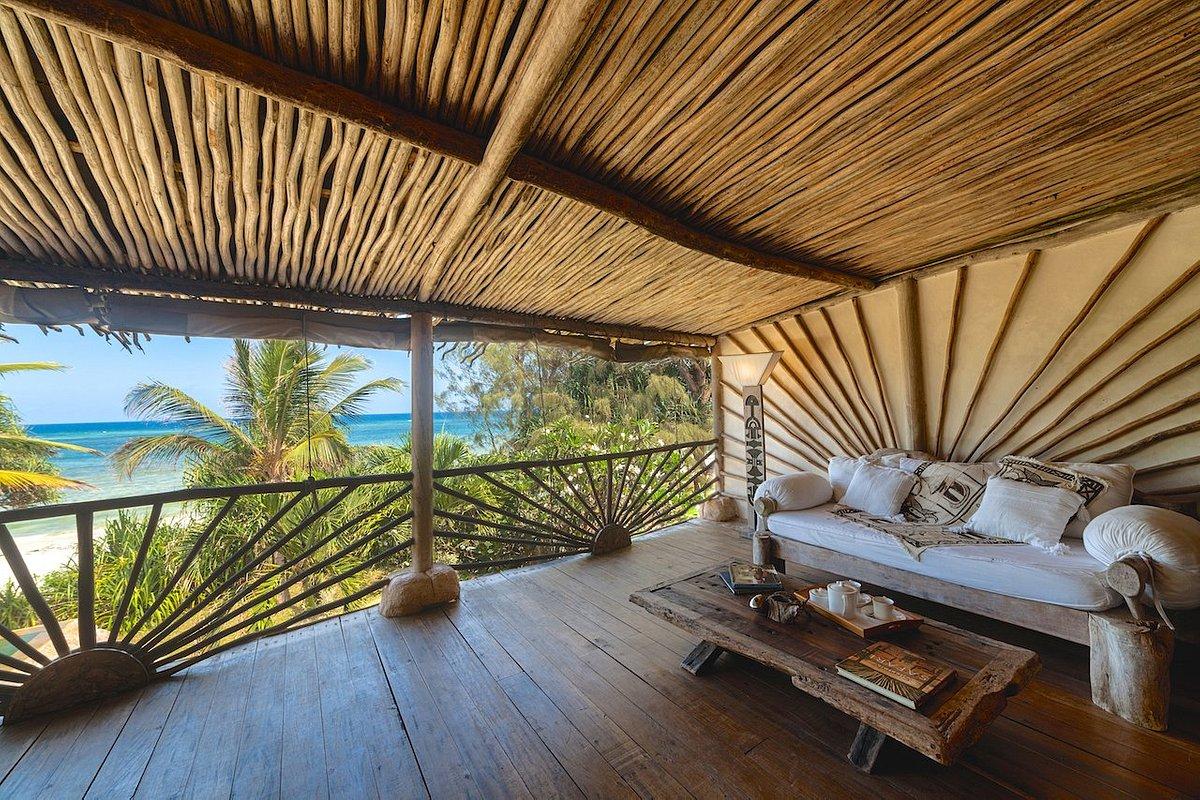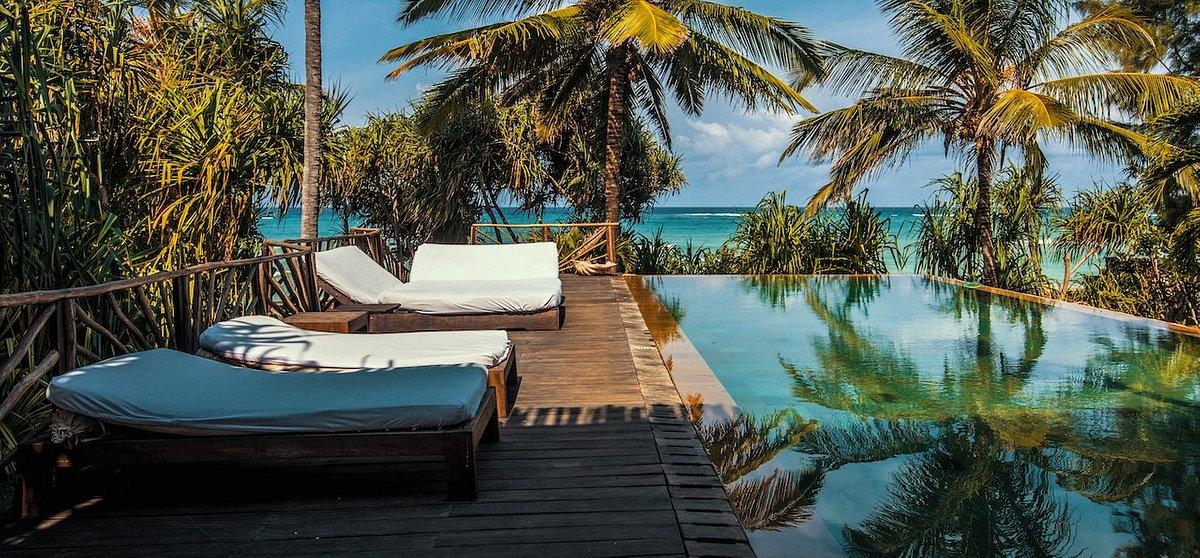 http://www.alfajirivillas.com
Located on Kenya's most exclusive beach, Alfajiri Villas are opulent, lavish, and wildly luxurious. A truly unique villa experience on Kenya's coast, you won't find anything like it in East Africa - privacy and exclusivity don't come any better than this. With three completely different villas that are available for couples on honeymoon, couples on romantic getaways, and families on vacation together. The villas offer unmatched luxury, a private swimming pool, a stunning beach view, and your own butler. Choosing a villa is an incredibly personal and special experience - no sharing, total privacy, and ultimate relaxation. Its elevated position ensures privacy and a stunning view of the Indian Ocean from the Cliff Villa. Many people consider it to be the finest villa along the East African coast. With a large, lushly landscaped veranda and infinity pool, the second private Garden Villa offers unsurpassed views of changing tides of the Indian's Ocean. There is an intimate beach that is surrounded by a rolling lawn flowing from the pool and terrace. There is also a beachfront villa, Beach Villa, which is an African design villa with a high makuti roof and the ultimate in beachfront luxury. Throughout your stay, you will be treated with a high level of personal service, enjoy award-winning food, and enjoy the entire Alfajiri experience.
Cousine Island
Seychelles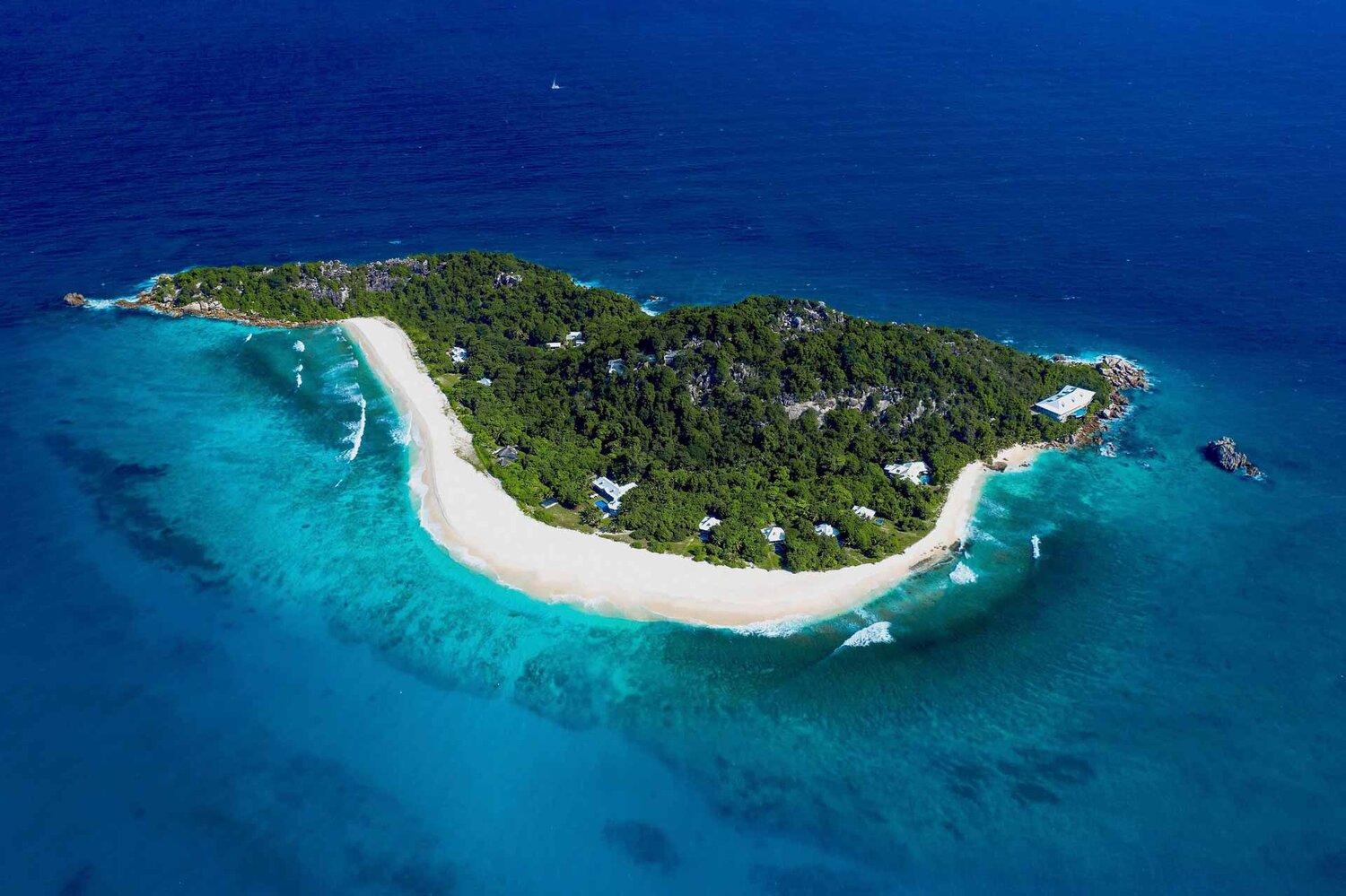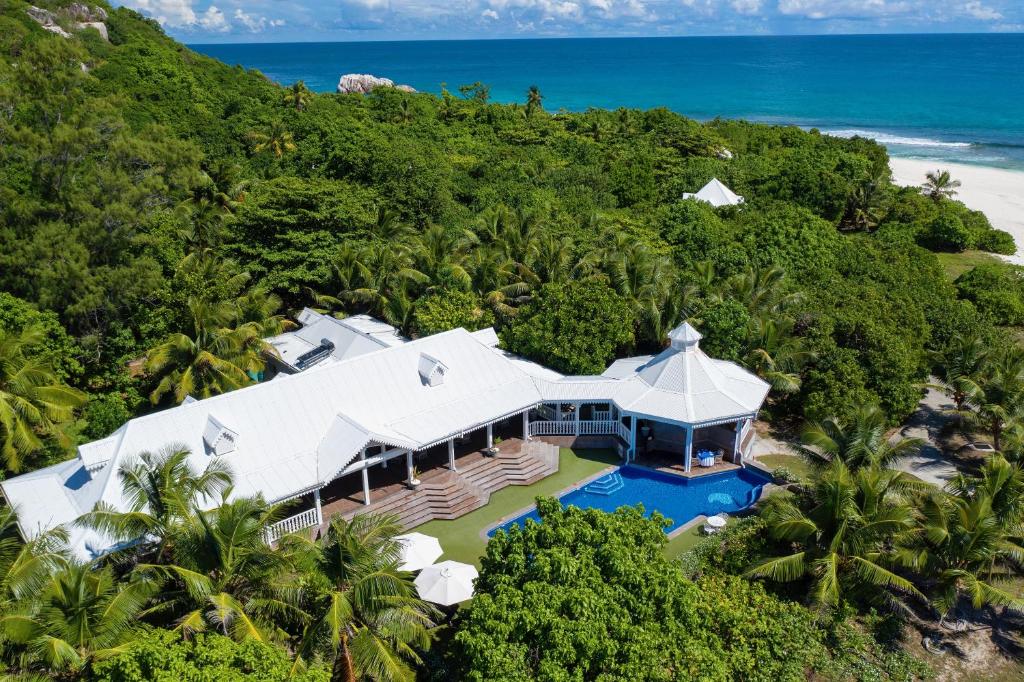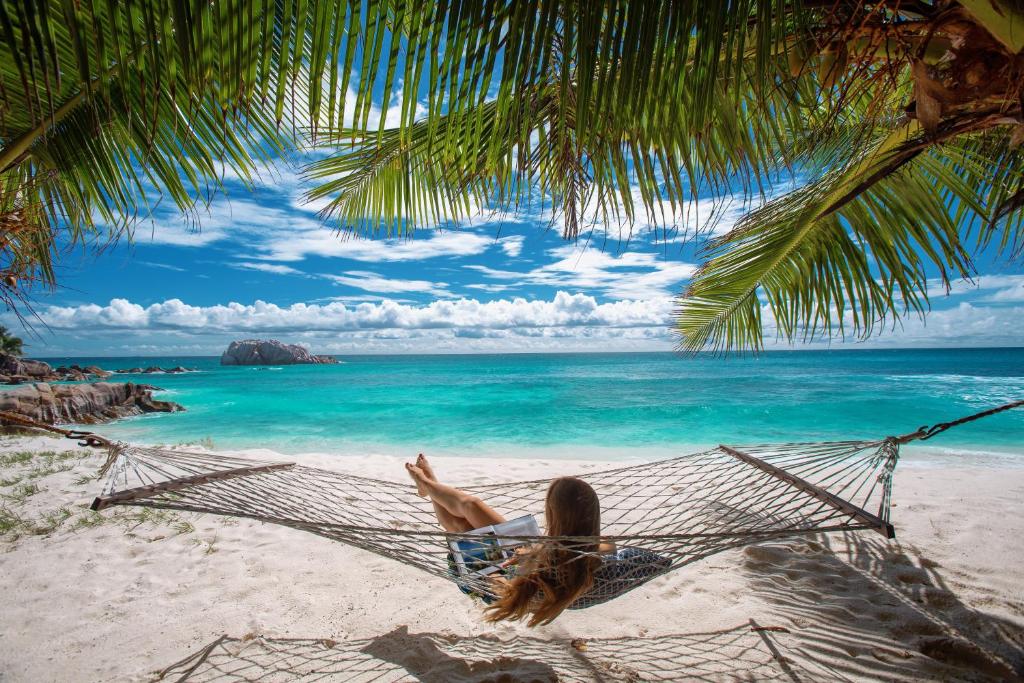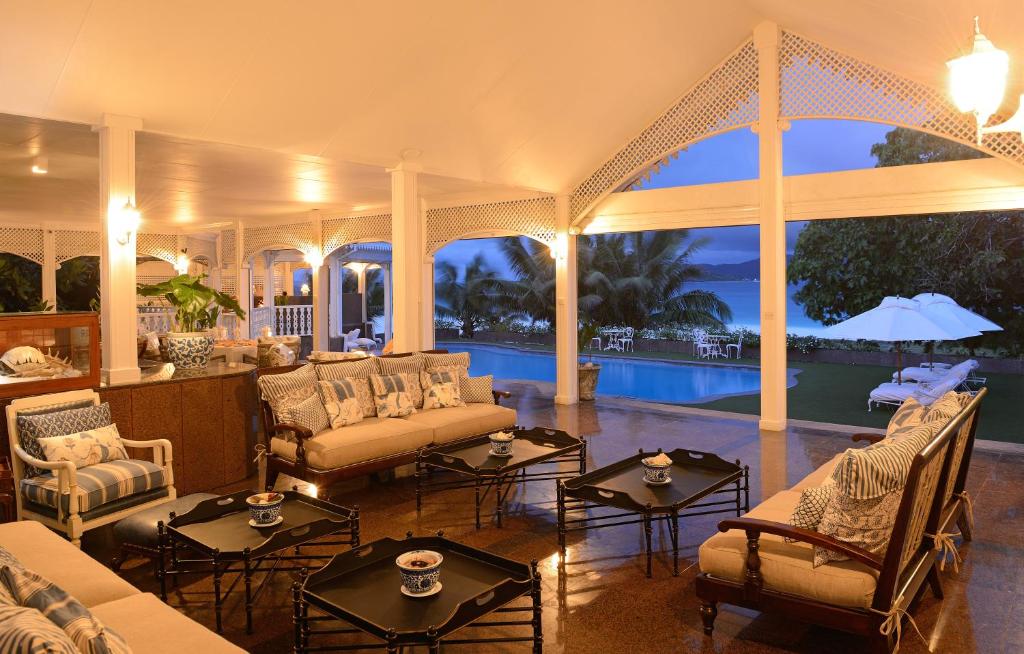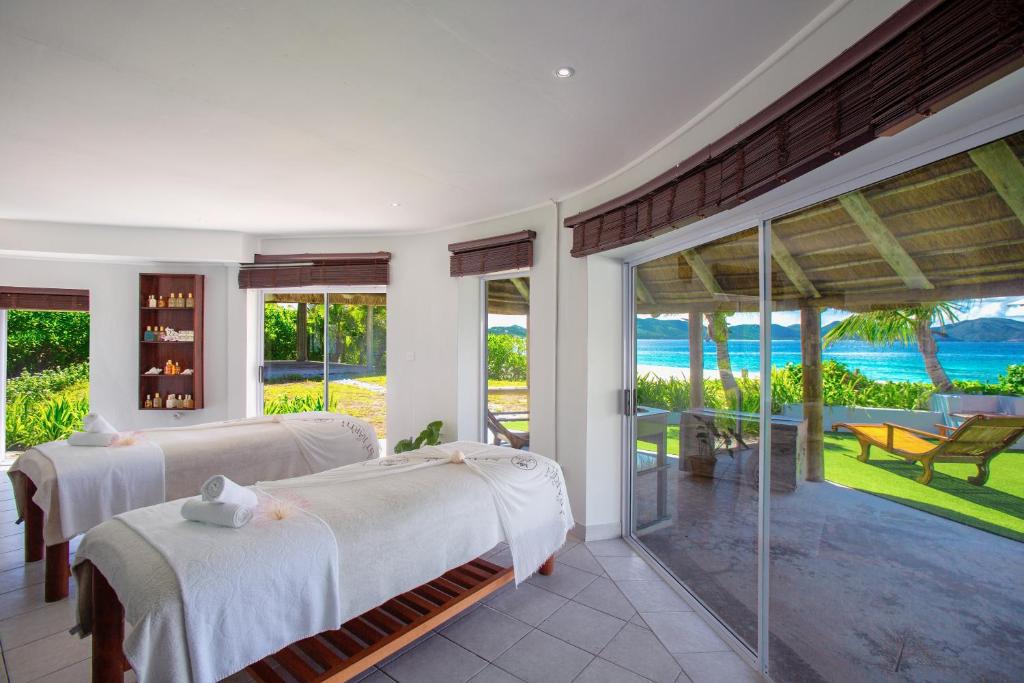 https://cousineisland.com
A beautiful island with a mysterious history lies deep within the Indian Ocean, one thousand miles away from Africa. Waters like these are usually found only in fantasy. As one of the few places on Earth where the miracle of nature thrives, man is just a silent observer. Previously exploited for its fertile soils, the secluded island offers a secluded space for reflection and romance. Its natural shape captivates your heart, connects you to nature, and connects you with your true self. There are rare native species and guests who wish to experience the island's magic and pulse on Cousine Island. Designed with guests' privacy in mind. A secluded retreat, Cousine Island Seychelles offers minimal impact on the environment. A lush and exotic island setting has been embraced by the villas and resort facilities, which have been designed to provide exclusivity and unobtrusiveness. In addition to the Pavilion, which includes four French Colonial Luxury Villas and a Presidential Villa, there is also the Pavilion, which is a fantastic dining and social area. The Pavilion is surrounded by restaurants and cafés and features panoramic views of the city. For exceptional privacy, detailed attention, and personalized care, we accommodate a maximum of 12 adults at a time in order to provide each guest with the feeling of belonging and comfort they would expect at home. The Cousine Island vacation destination in Seychelles is a place for guests to unwind and relax.
Candacraig House Scotland
Scotland, United Kingdom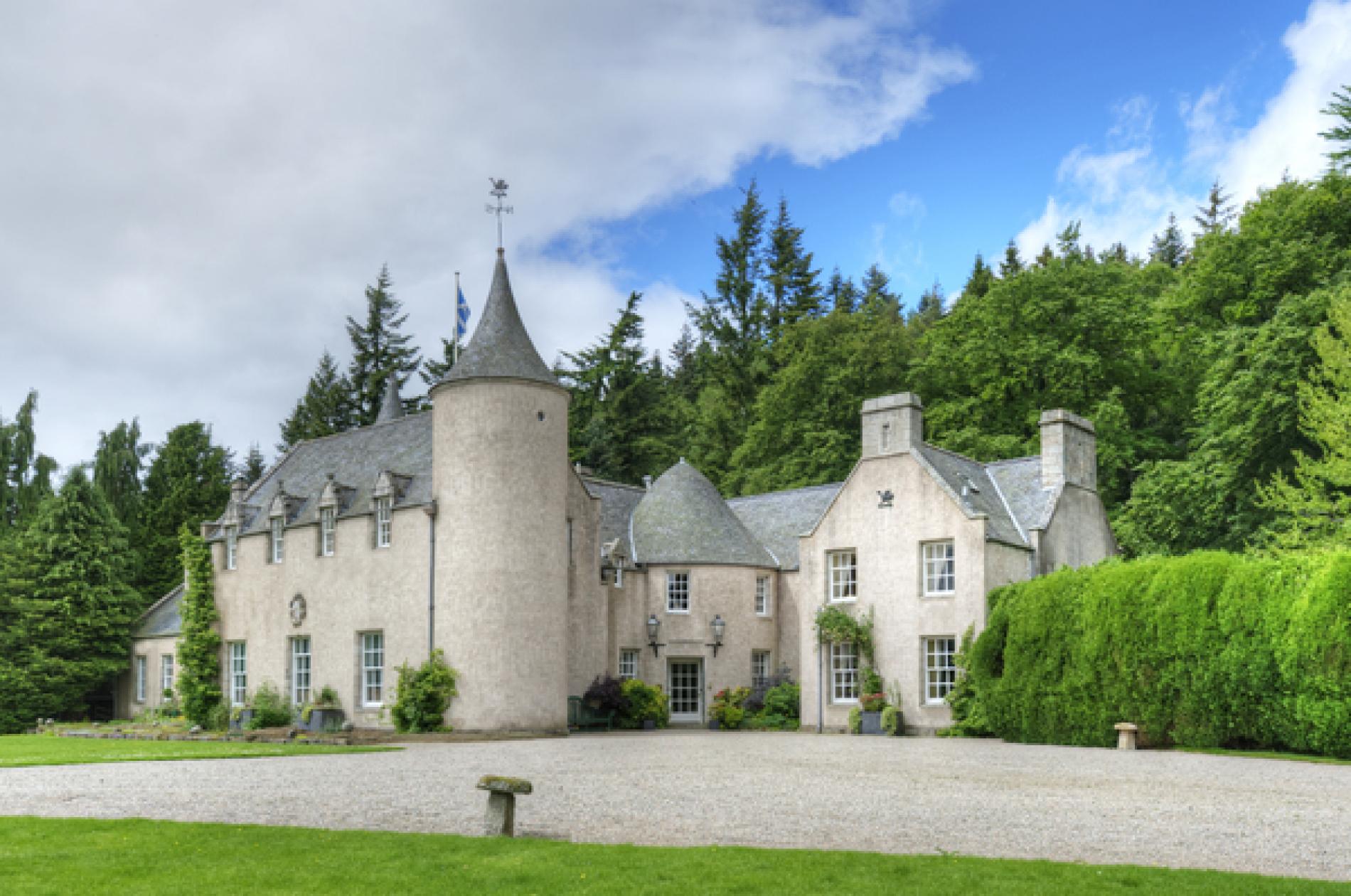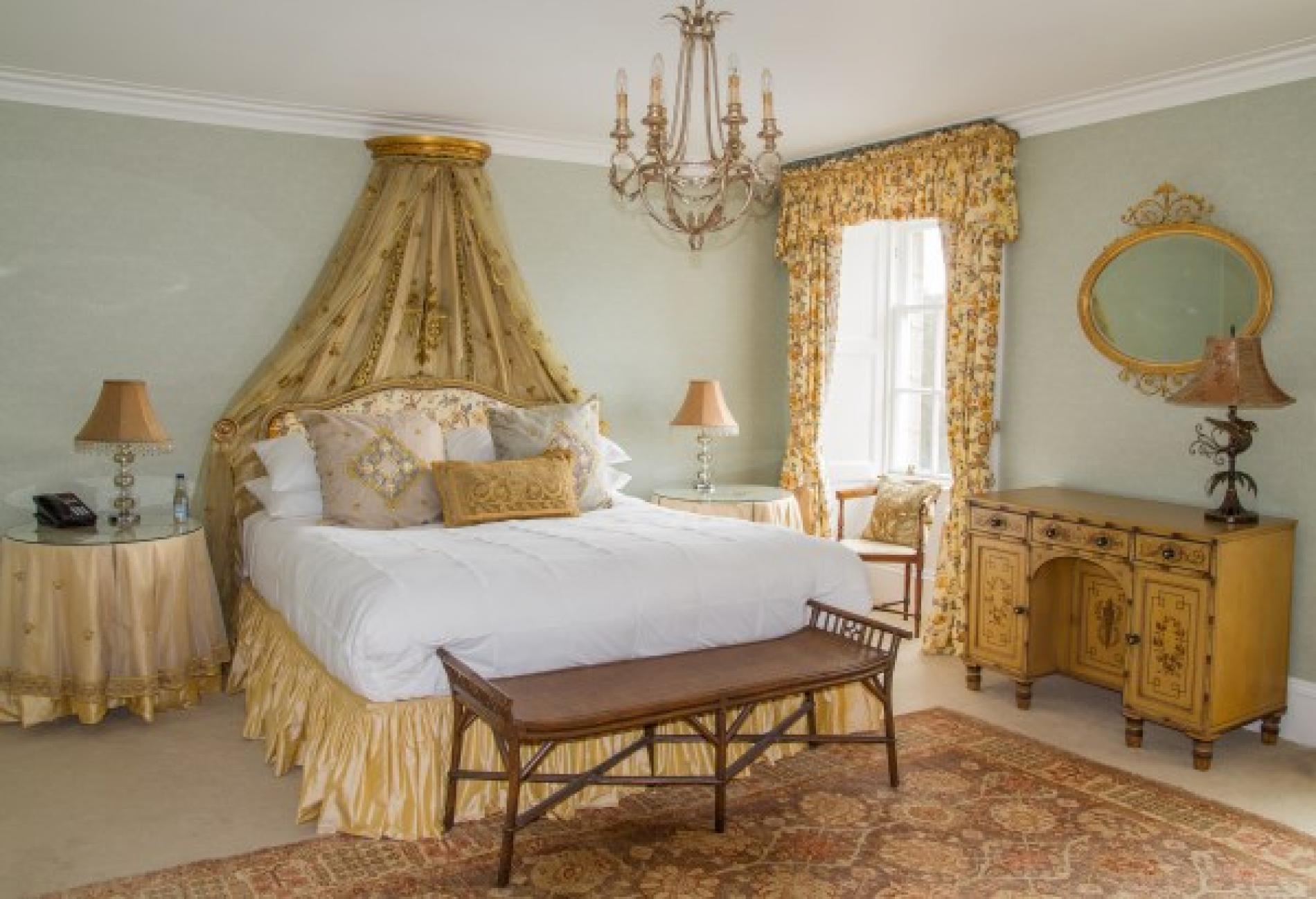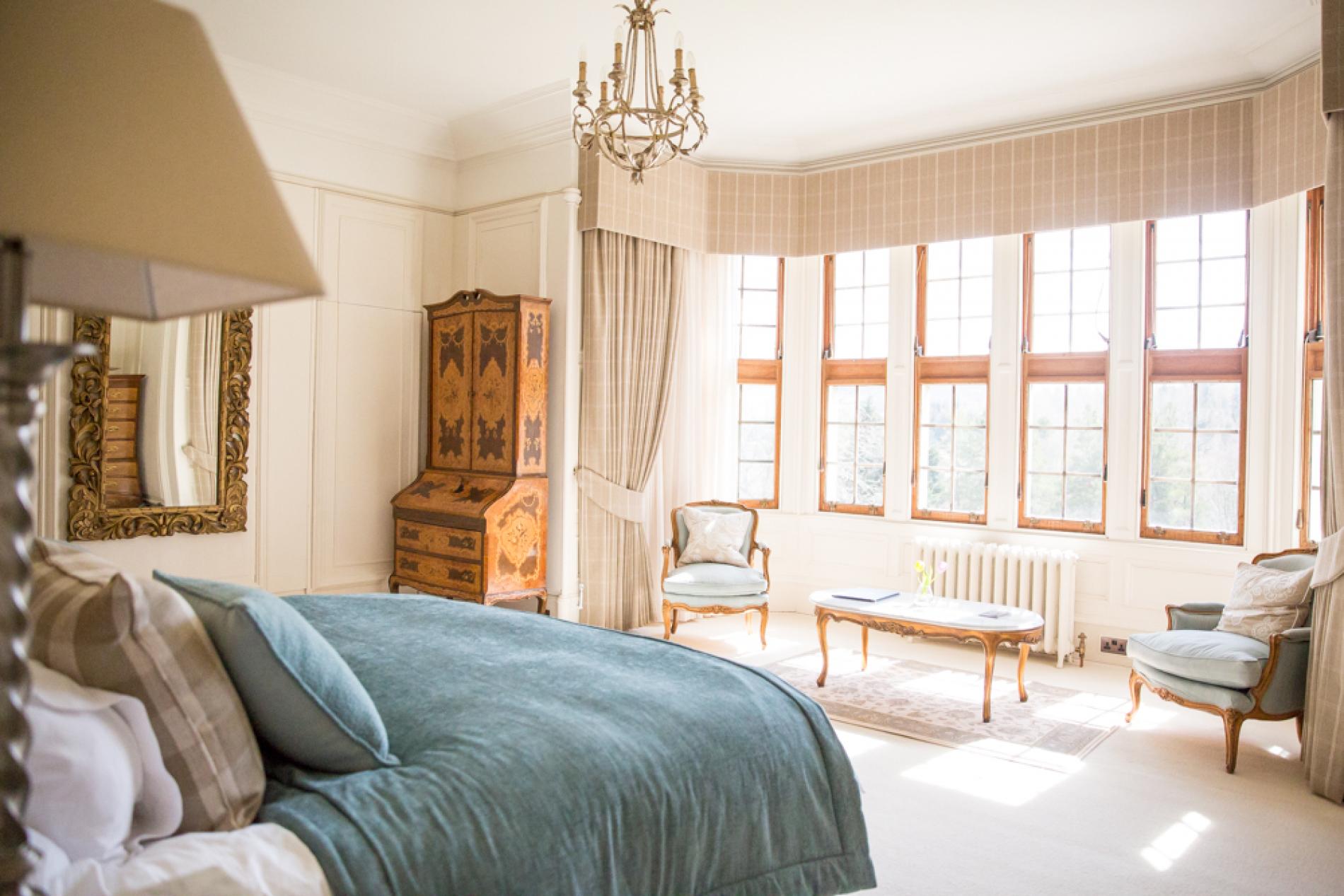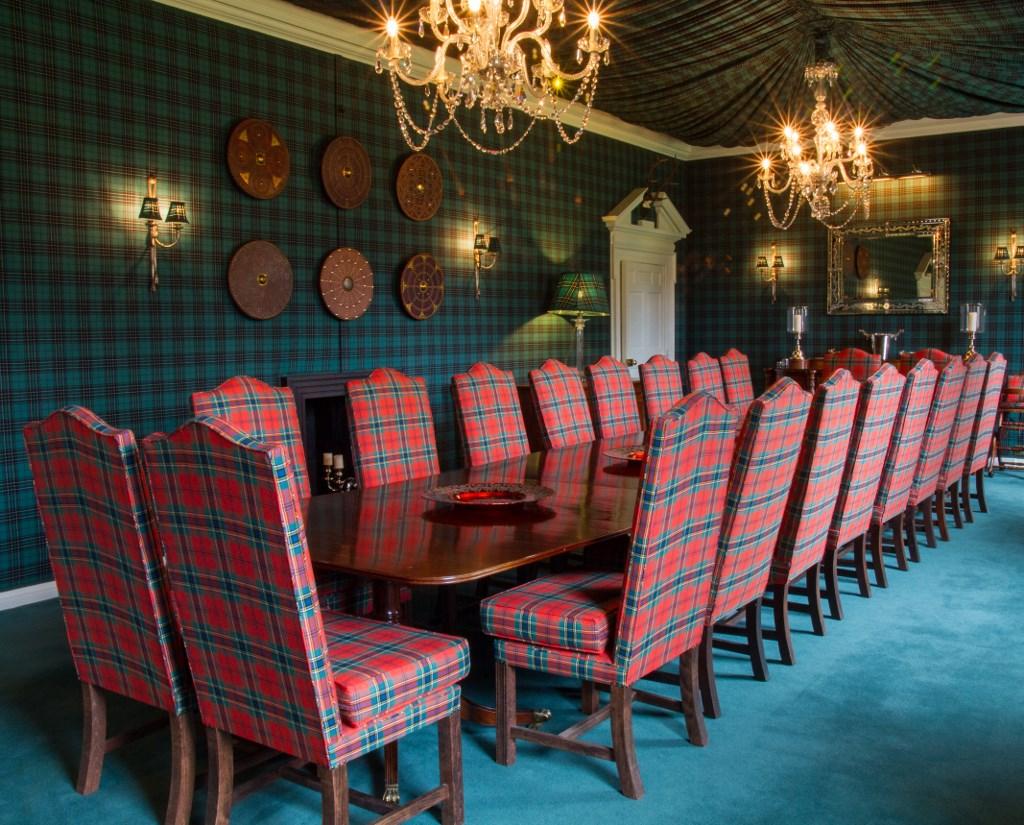 https://candacraig.com
Located in central Scotland, Candacraig House has been beautifully restored and furnished to the highest standards. In addition to providing truly bespoke hospitality that caters to your preferences and needs, our staff uphold the exceptional standards you would expect of such a luxury space. Guests can relax in the formal Dining Room, fabulous Drawing Room, Whisky Library, and twelve sumptuous bedrooms. Candacraig boasts 18 acres of private woodland and manicured lawns, a Victorian walled garden, and a nearby lochan and bonfire pit. Moreover, there is a table tennis table outside, a croquet lawn, and a kid's activity area. The historic and tranquil Victorian walled garden is located in the center of Candacraig's impressive eighteen-acre estate. It's always refreshing to breathe in the fresh air of the Highlands, and this setting makes for a relaxing stay. Challenge your skills at the giant chess set or stroll along the hedge-lined path. Candacraig's walled garden allows guests to enjoy the special moments that make the venue so unique, no matter what the day brings them.
Borgo Finocchieto Estate
Tuscany, Italy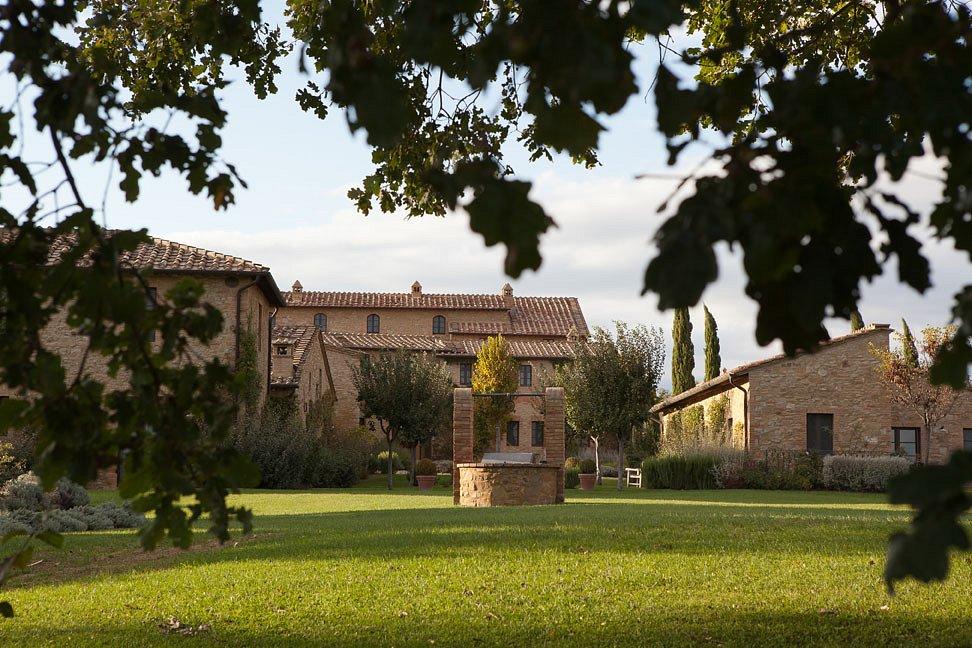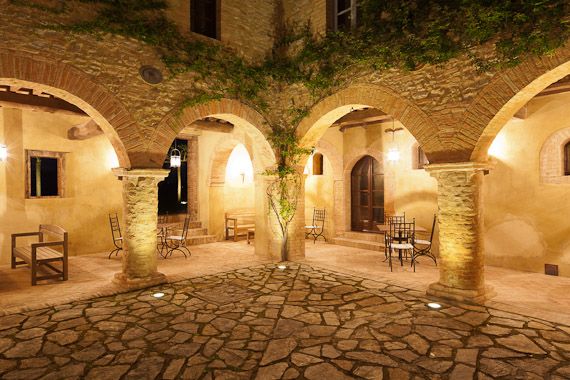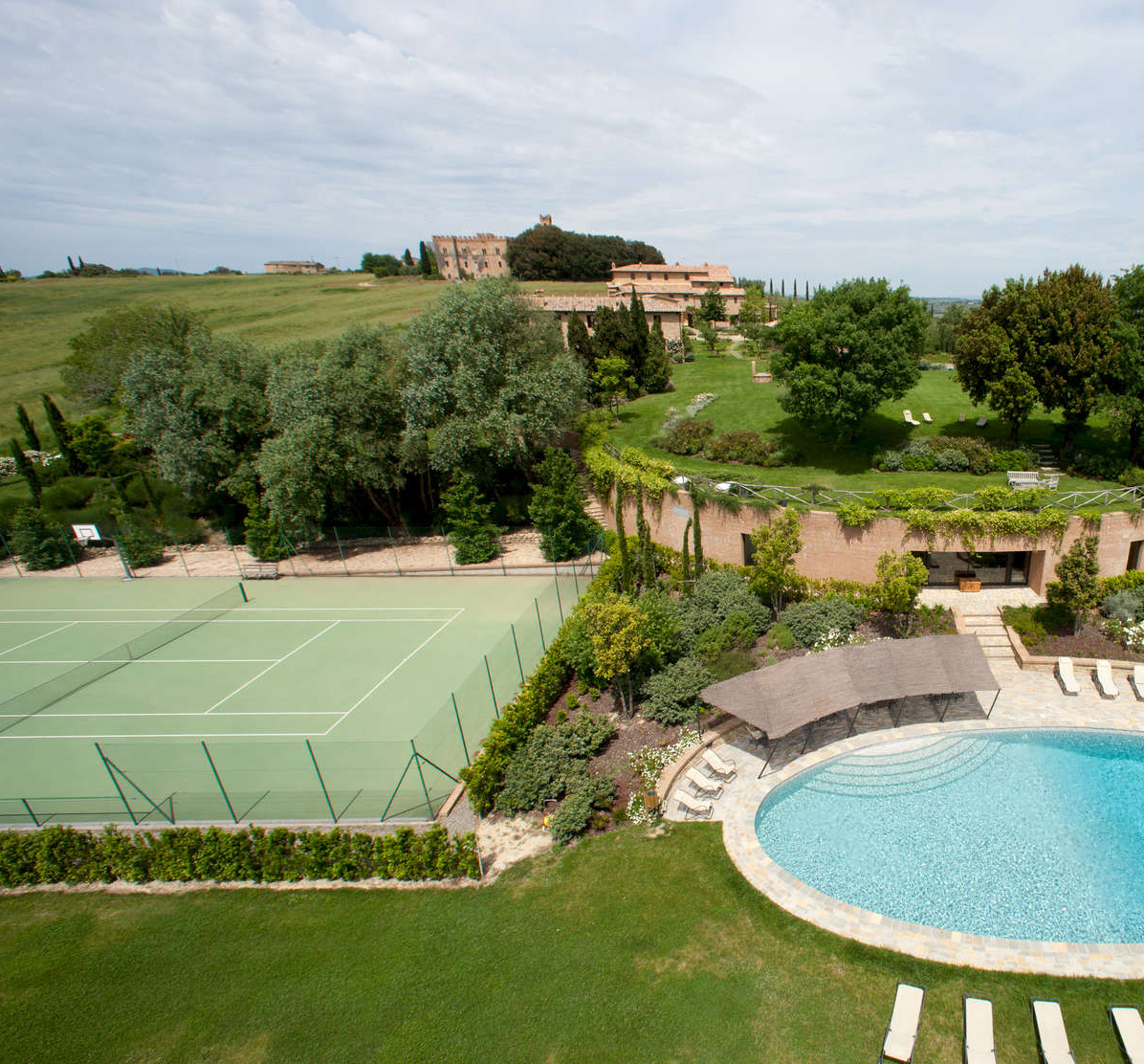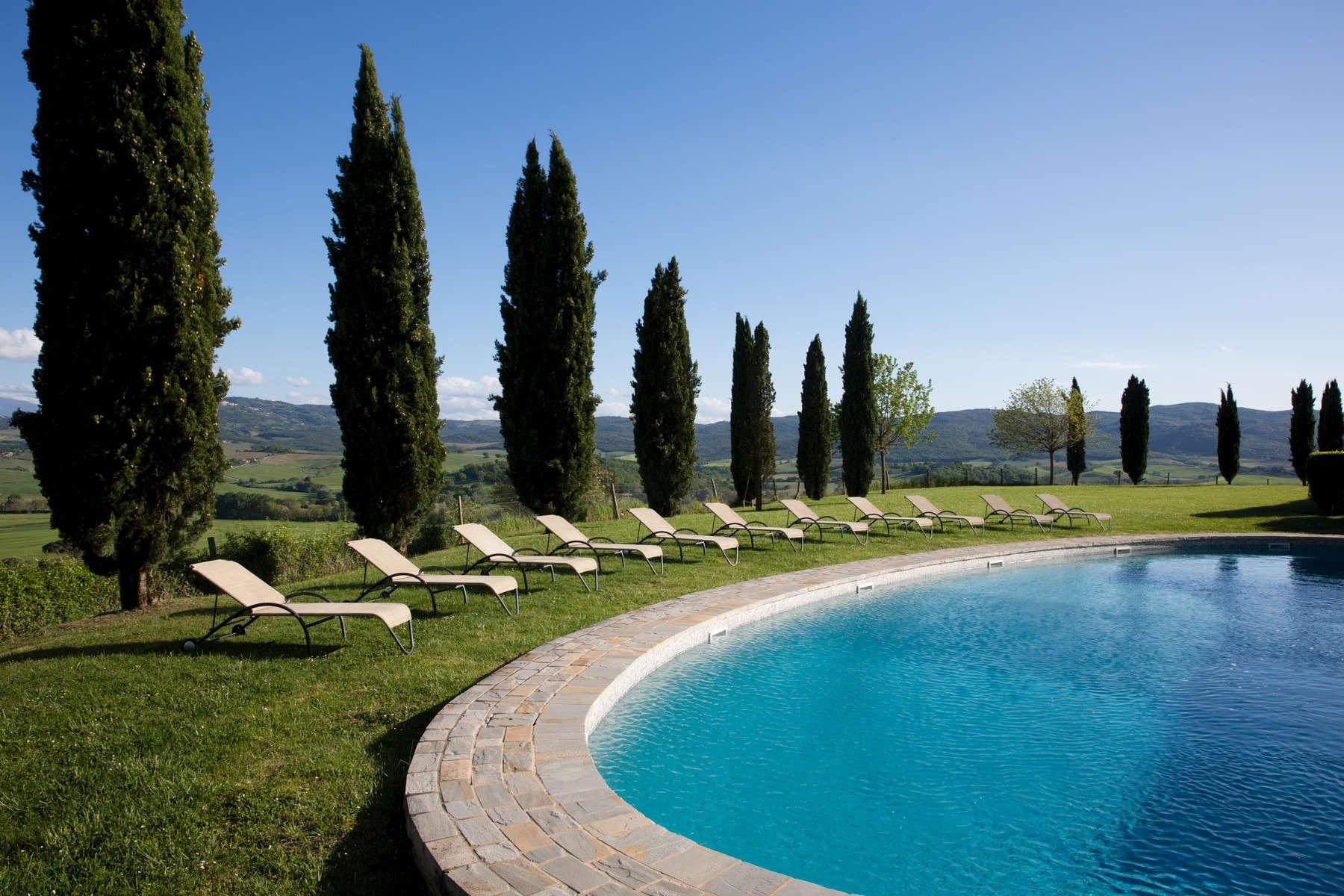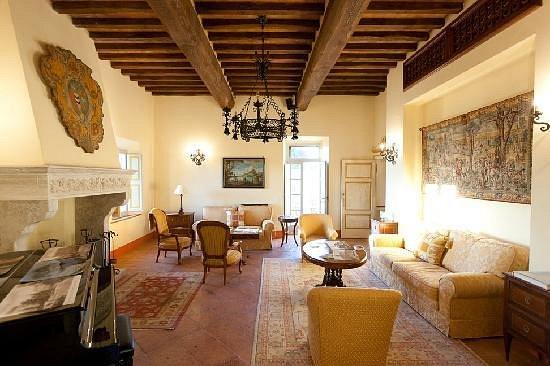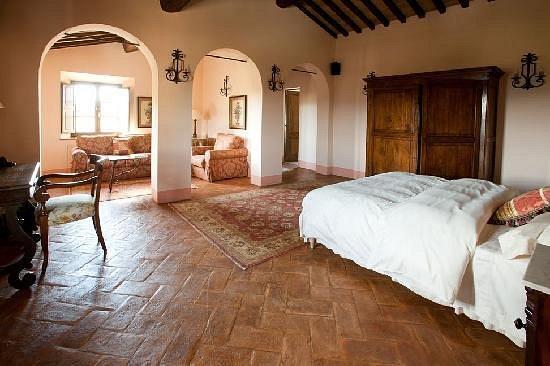 http://www.borgofinocchieto.com
Located thirty minutes south of Siena, in the Brunello winemaking region of Tuscany, the Tuscan luxury villa Borgo Finocchieto was elegantly restored from an eight hundred-year-old village. There are stunning views from the villa. A seven-acre Tuscan hilltop grounds is home to five rustic village houses with room to accommodate 44 guests in 22 bedrooms. The Borgo creates unforgettable events that are customized to the tastes and philosophies of each individual customer. There are few experiences like Borgo in Tuscany, as many visitors have figured out before you. In the village, you'll find a manor house and four comfortable cottages. Tuscany's best offerings are exclusively available in the Villa, which is designed to satisfy guests who don't compromise on quality. Among Borgo's unique qualities are its rich history and setting, quality and comfort of its spaces, privacy and, above all, its exceptional level of service.
4BR Residence at Amanoi Resort
Ninh Thuan, Vietnam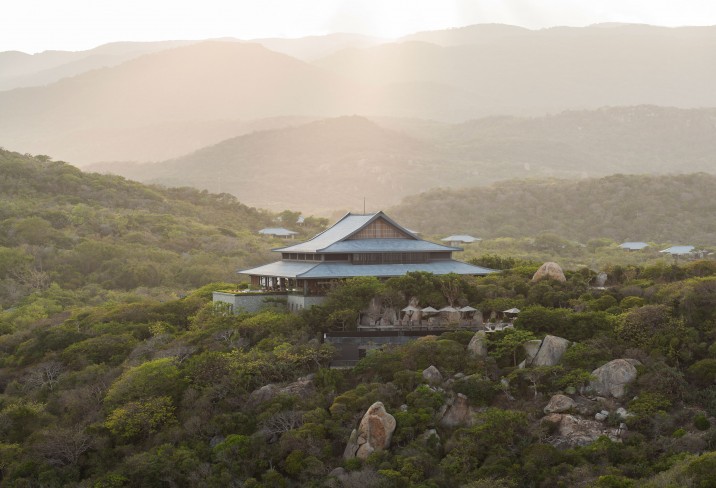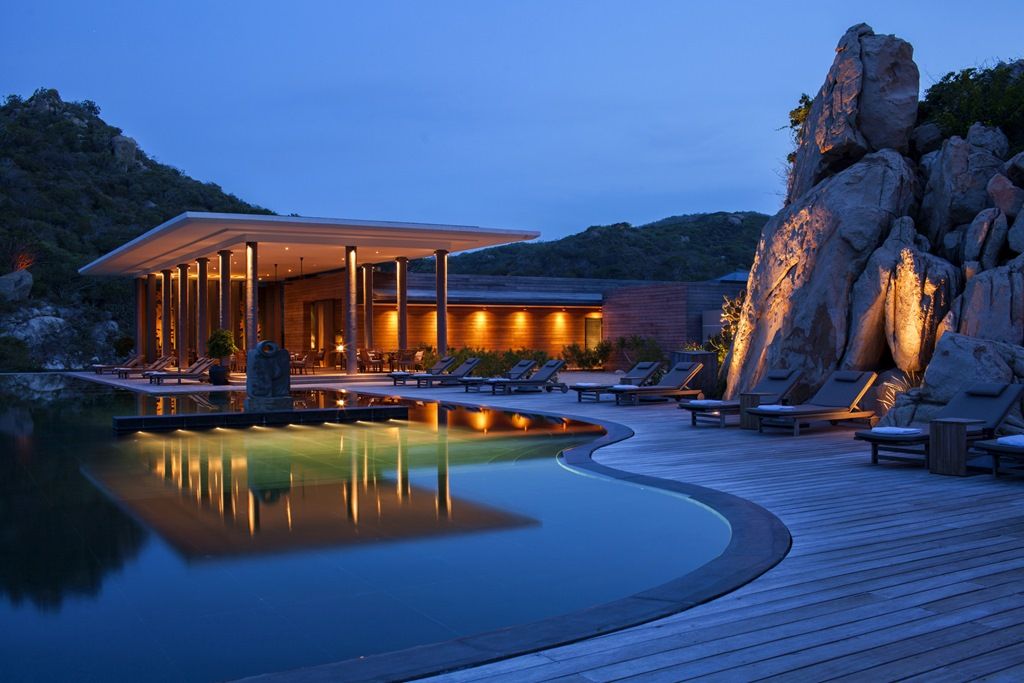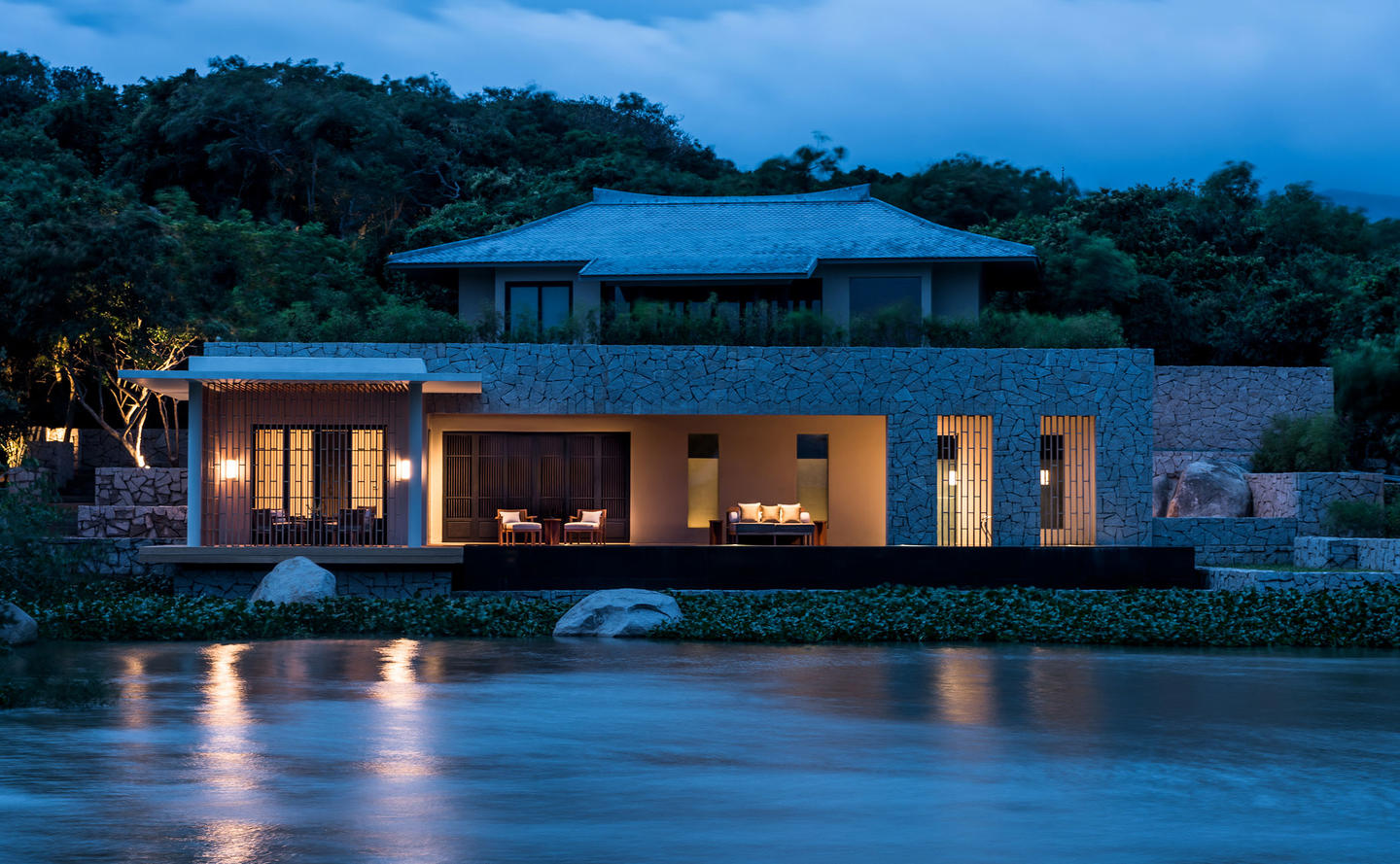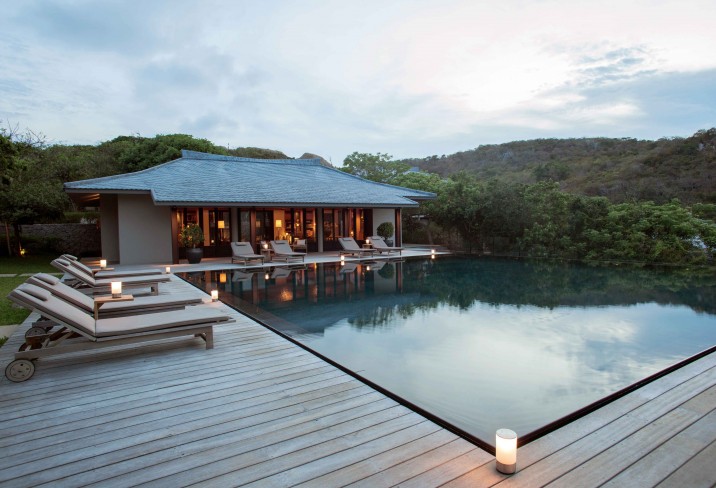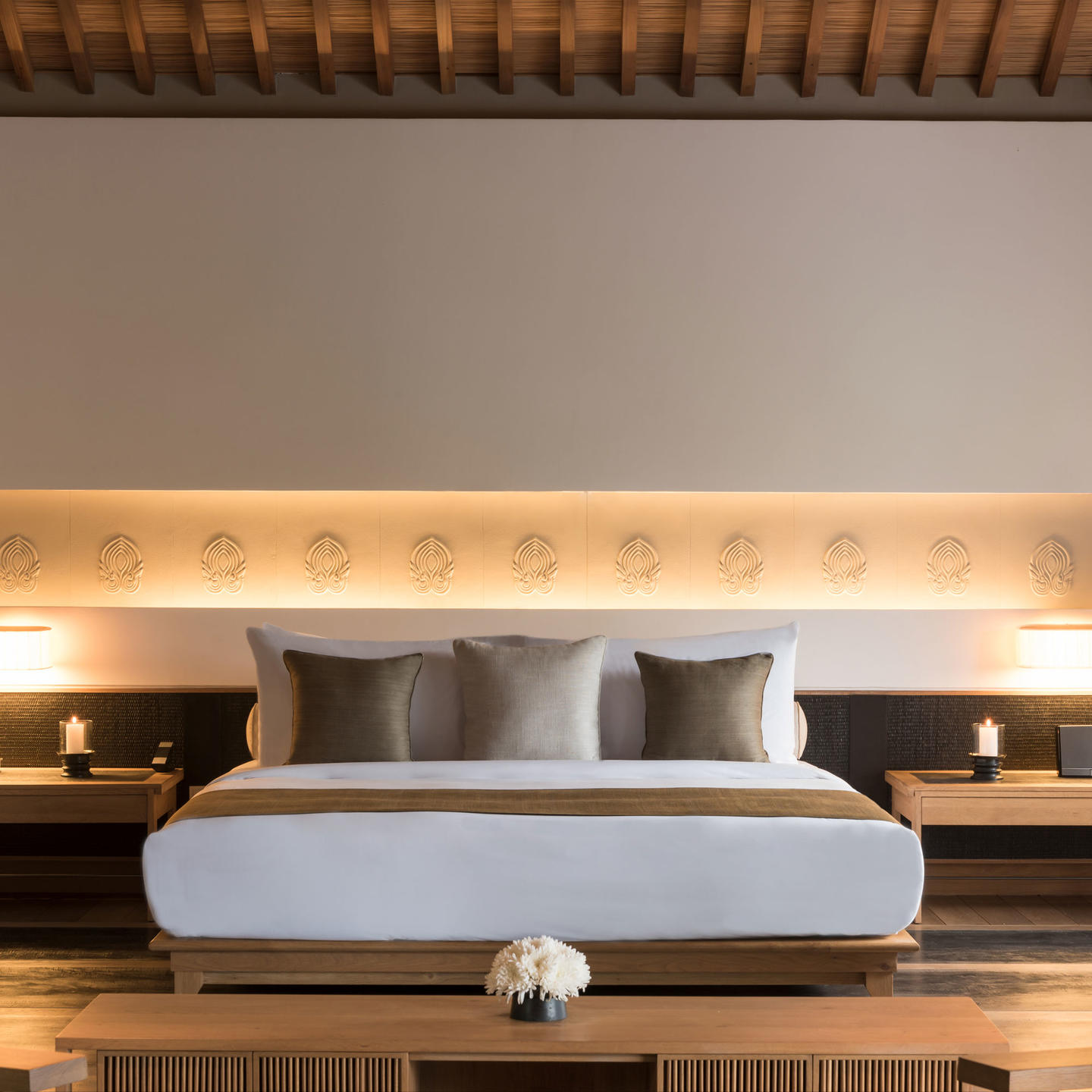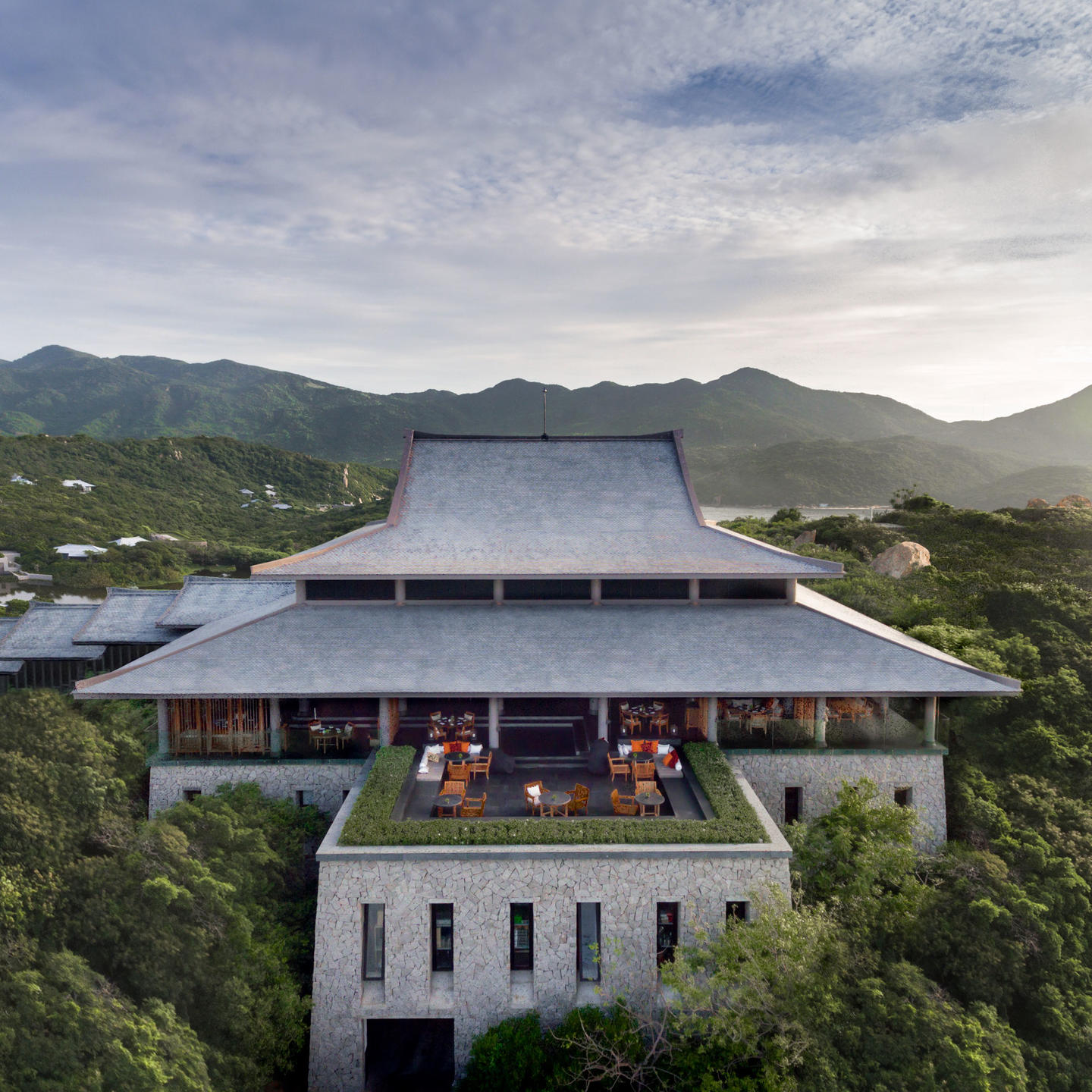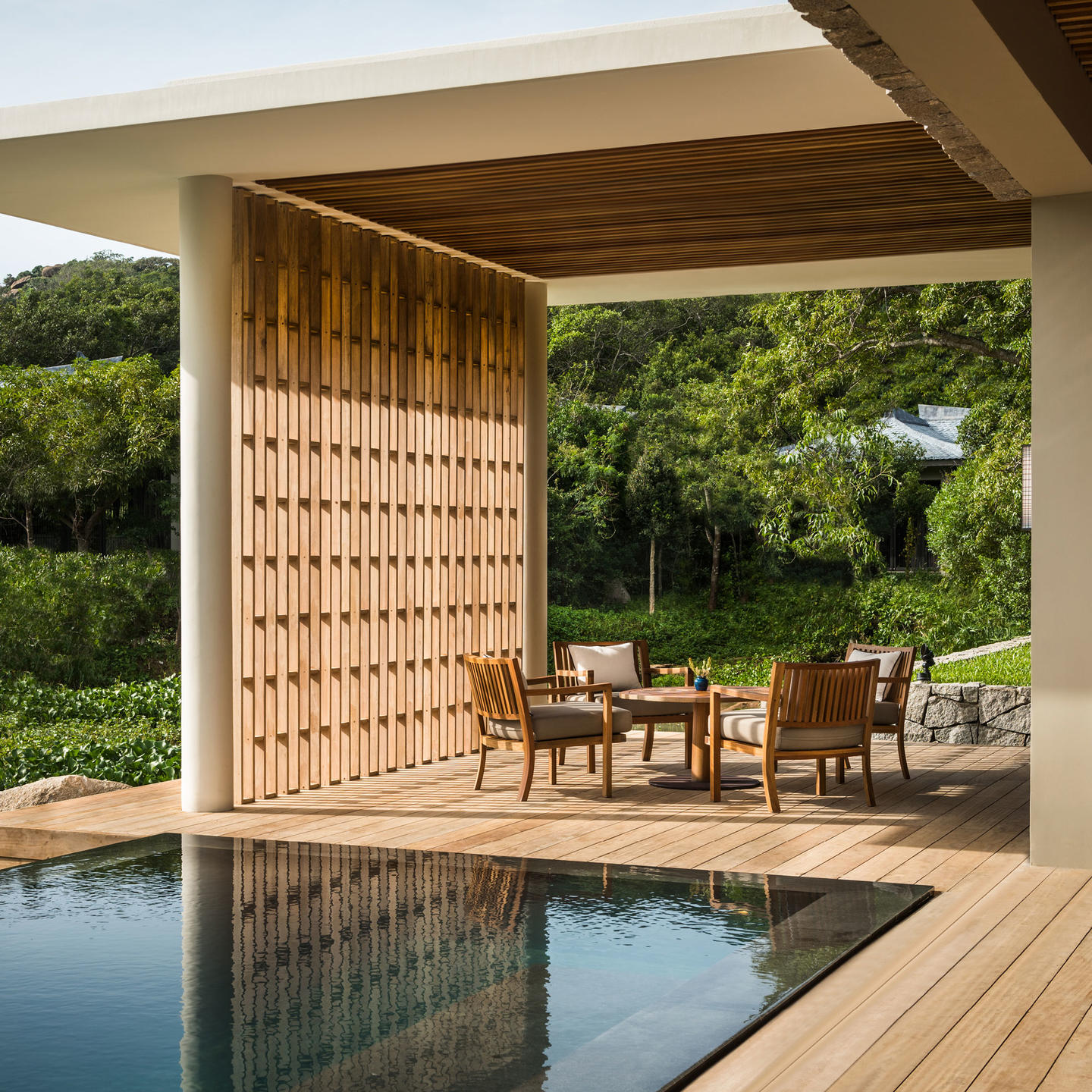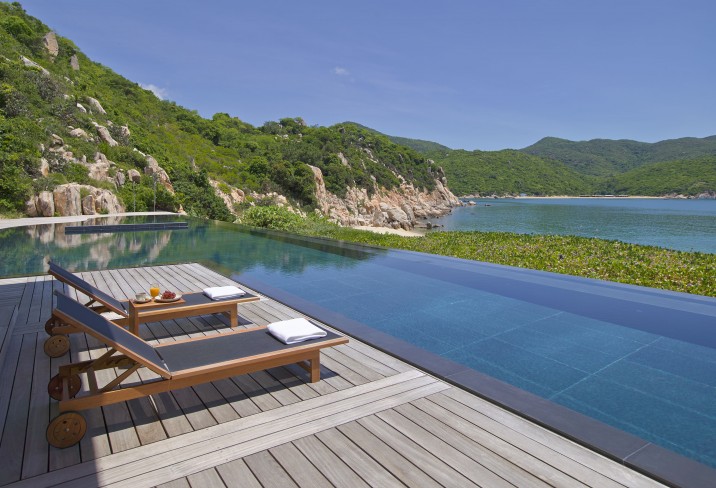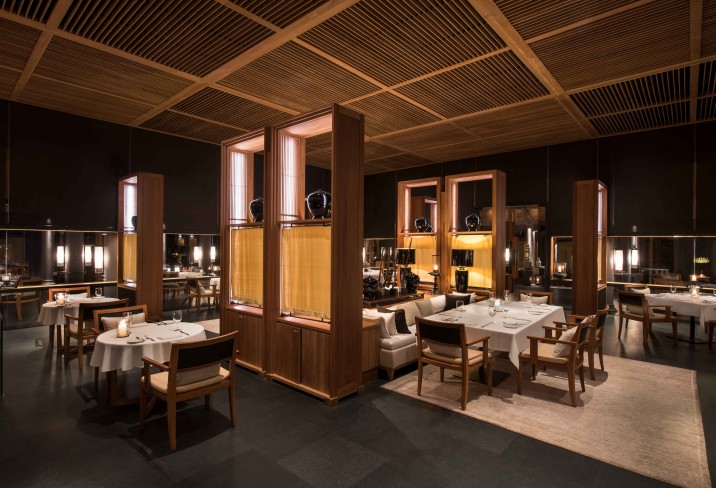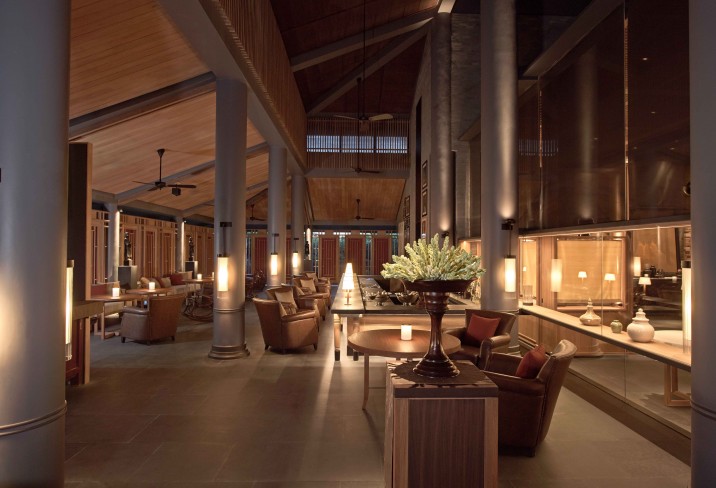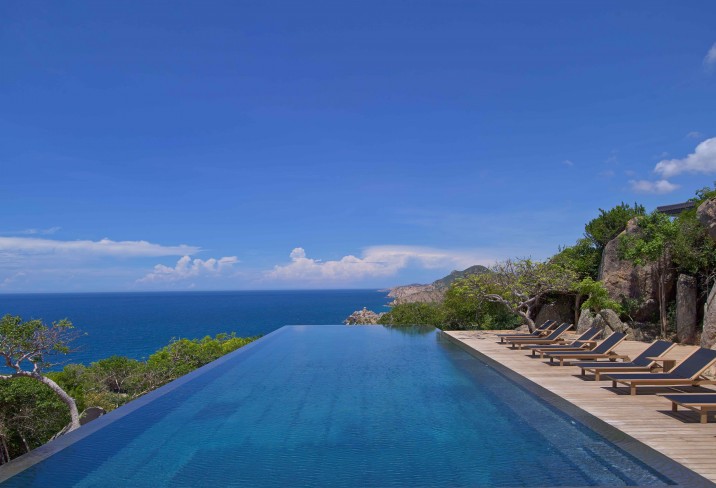 https://www.aman.com
Located on the shores of Vinh Hy Bay, Amanoi is surrounded by the Nui Chua National Park, a spa retreat dedicated to bringing profound change through personal wellness immersions. Whether you are looking to lose weight, regain focus and spiritual connection, or promote inner balance and overall wellbeing for a longer, healthier life, these programmes ensure positive results and a deep sense of peace. During each immersion day, you'll have the option to participate in intensive movements, spa treatments, and group movements along with an overview of your wellbeing. Immersions provide unmatched nutrition support and education: Every meal is aimed at reaching your goals, and the latest information is distributed to help ensure your goals will be met after your return home.
4BR Palawan Villa at Amanpulo Resort
Pamalican Island, Philippines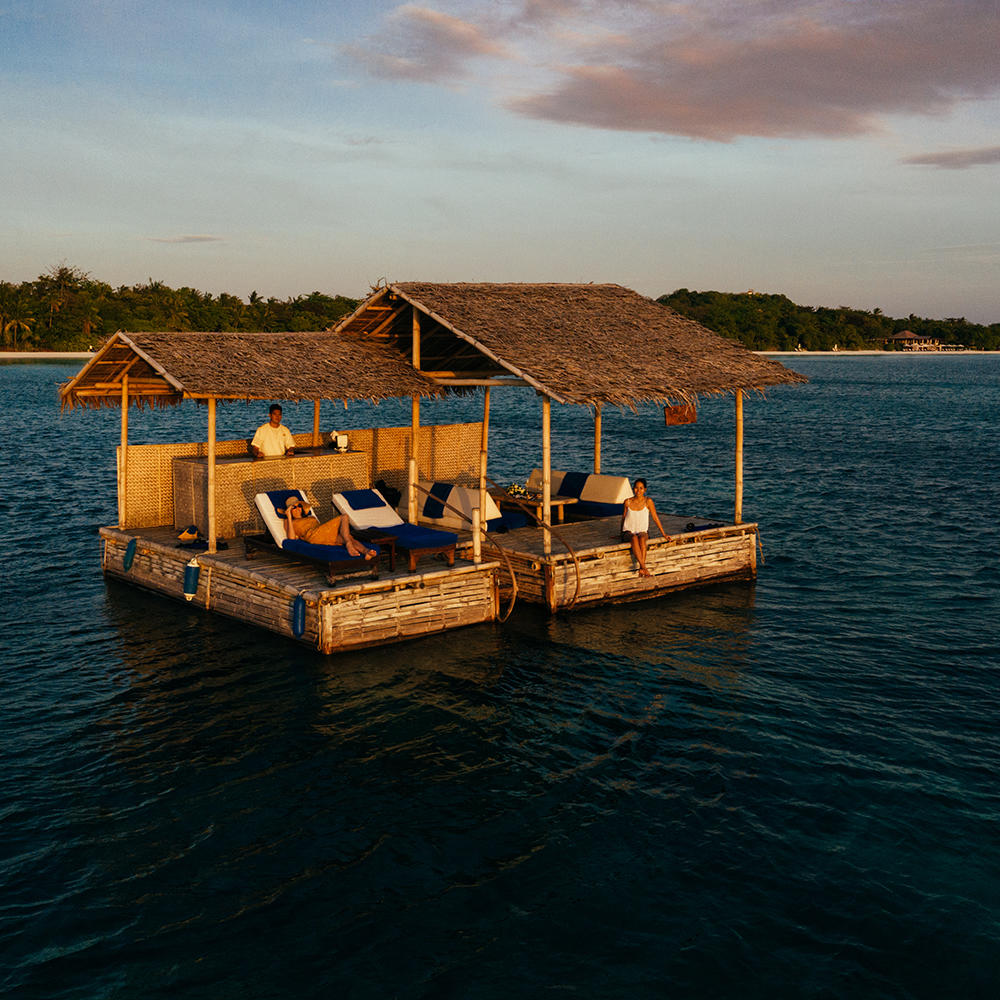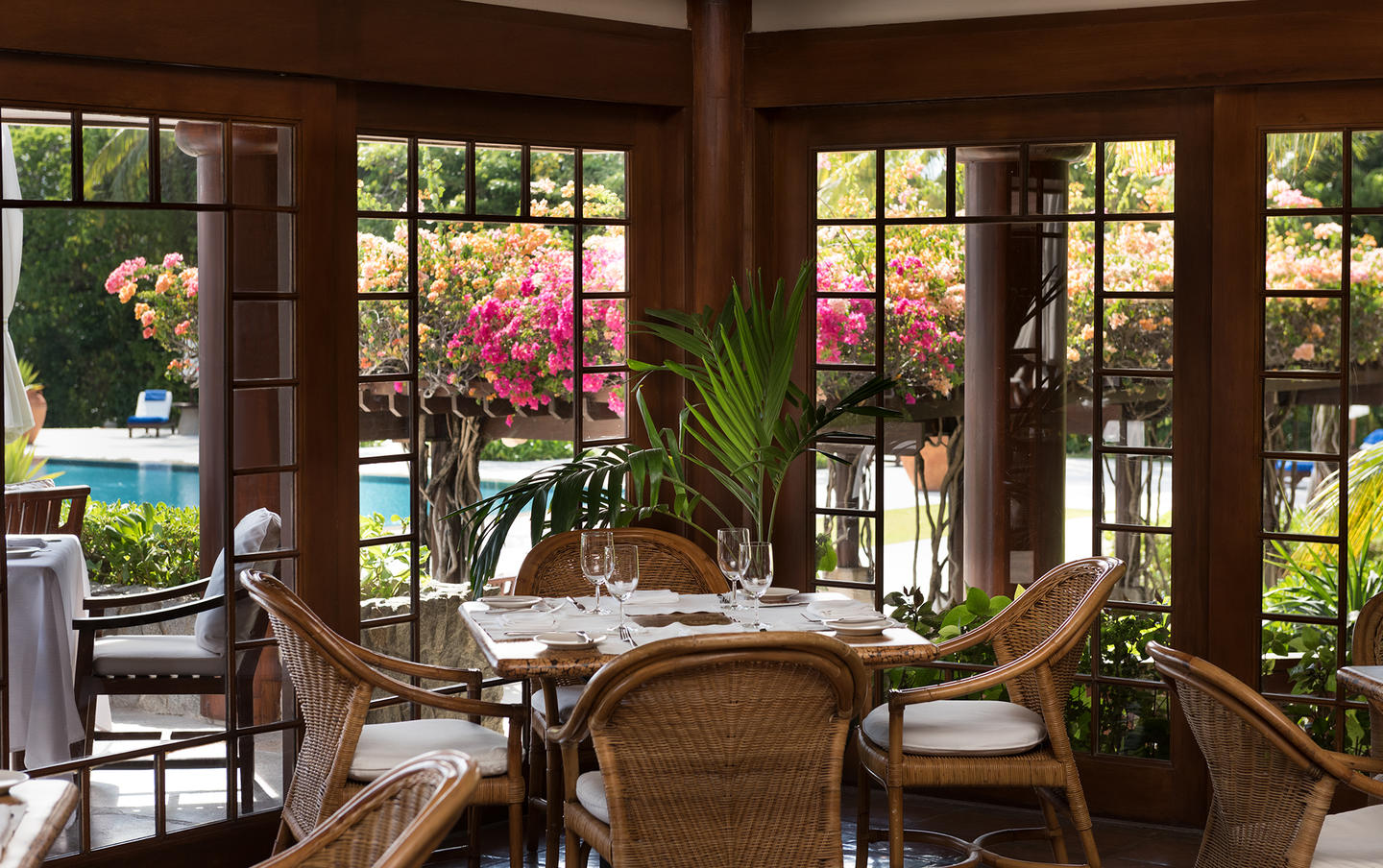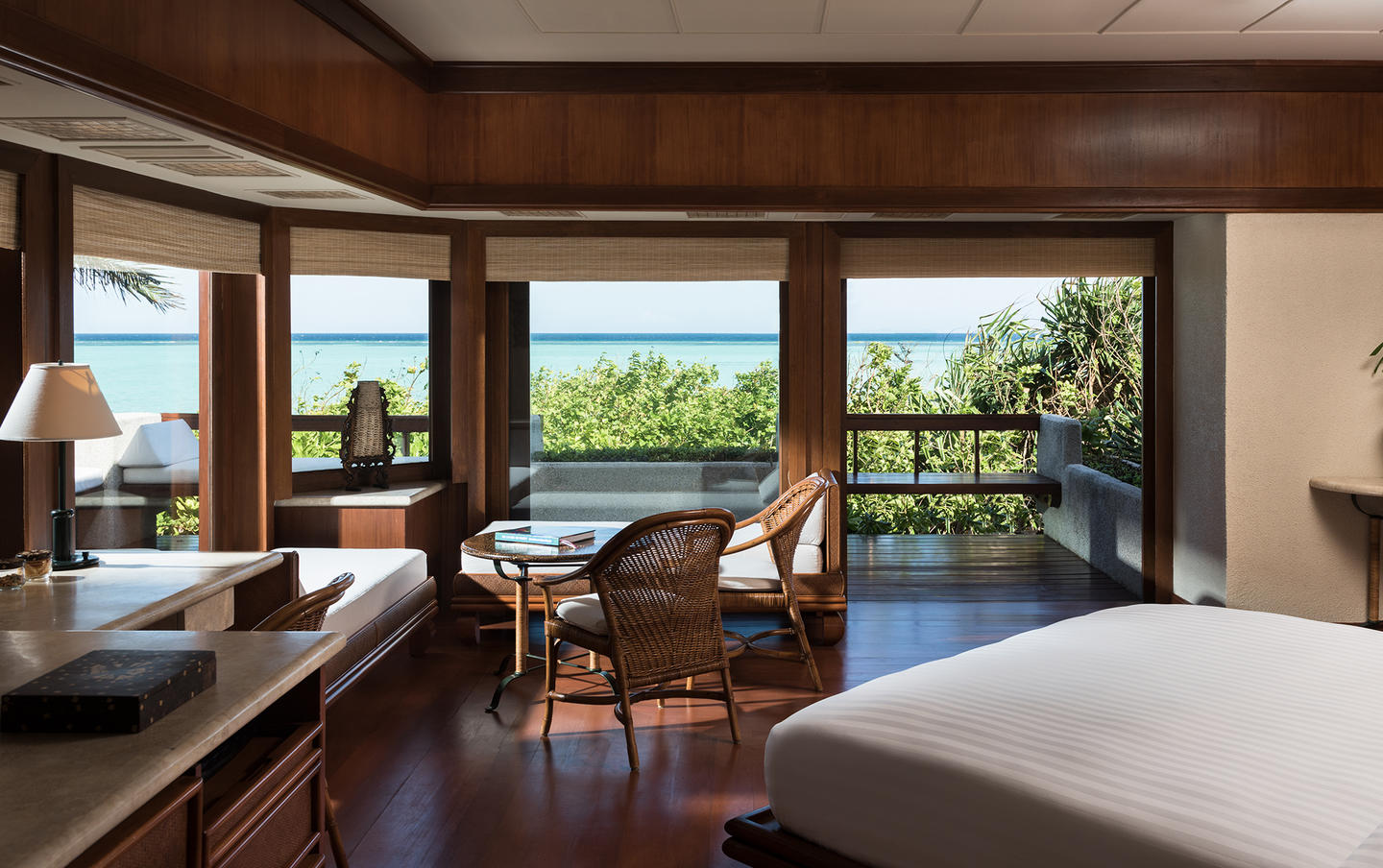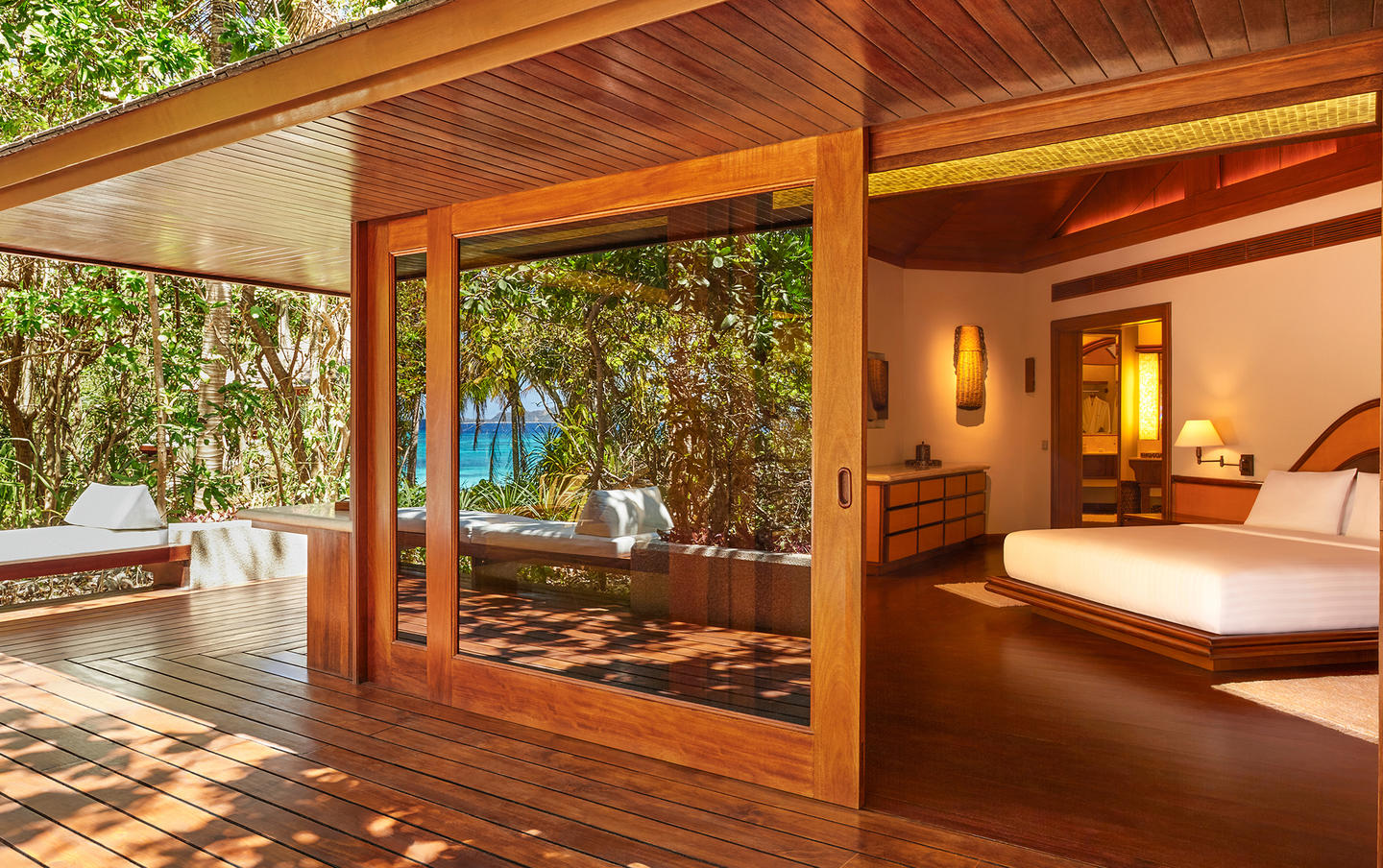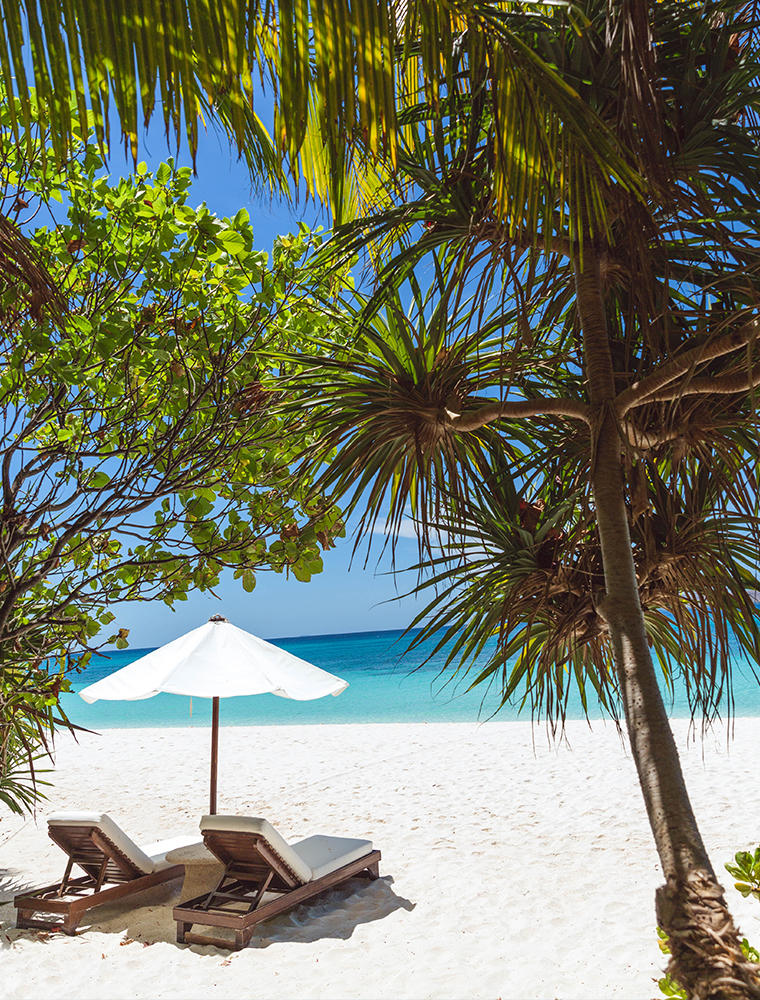 https://www.aman.com
The luxurious villas at Amanpulo are located just steps from the shoreline of Pamalican Island and offer superb privacy. The pavilions are designed for seamless indoor-outdoor living, with large swimming pools, outdoor lounge and dining areas, and one, two, three or four separate bedrooms. At each villa, private chefs and butlers are on hand, and club cars (one per bedroom) are available for independent exploration. There is an abundance of water activities in Amanpulo, whether it is scuba diving, sailing, windsurfing or simply floating in the water, they can all be enjoyed by beginners and experts alike. There are tennis courts and bicycles on the island, but there are also nature walks that showcase lush native plants, dozens of bird species that nest on the island, and nesting sites for green and hawksbill sea turtles. At night, you can observe the stars through a refracting telescope. These are just a few pieces of a much bigger cake. I have compiled a shortlist of 15 Most Luxurious Villas around the globe. However, the list is endless. By Rashmi Goel