We mostly have heard Louis Vuitton as a famous clothing brand, but it is known for its amazing perfumes as well. Might be a little expensive, but it's all worth the money. Louis Vuitton fragrance men has a range of perfumes that includes amazing fragrances and comes in different bottle sizes.
The fragrance notes of LV perfumes will definitely attract you, such as lemon, cocoa beans, green tea, oud, Amber, Saffron, rose, and a lot more. The name of these perfumes is a luxury in itself. The best one includes- Ombre nomade, Nuit de Feu, Imagination, and Nouveau Monde. LV perfumes have that classy vibes and of course, they are of premium quality and will not leave you disappointed.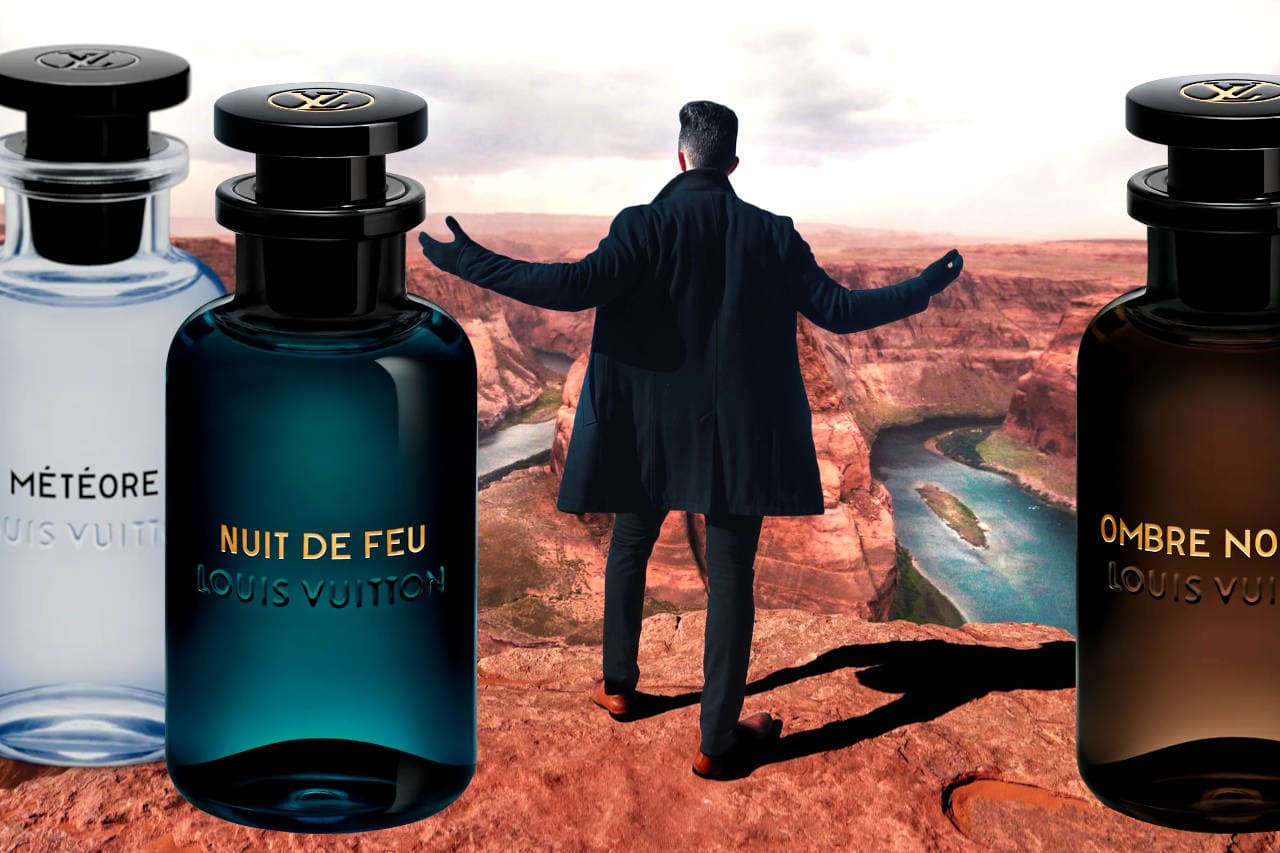 source: google.com
In this blog, we will review 10 awesome LV fragrances for men in detail.
Read Also: 10 Best Carolina Herrera Men's Fragrance For 2023
10 Awesome Louis Vuitton Fragrances for Men
Let's focus on some awesome Louis Vuitton fragrance for men
Ombre nomade- Ombre Nomade comes in 1st position when we talk about the best LV perfumes. It is the best among them, as people around you can't help but notice and say, "Wow, something smells good!" It gives a smoky smell, something like incense or leather. The smell of this perfume suits people who have bold and strong personalities.
| | |
| --- | --- |
| Top Notes | Saffron, Rose, and Raspberry |
| Middle Notes | Birch, Incense, Geranium and Saffron |
| Base Notes | Amber wood, Oud and Benzoin |
Nuit de Feu- You may not like Nuit de Feu initially, as it takes a few minutes to turn into the perfect scent. It is best for stylish guys in their mid-twenties. This perfume cannot be applied in all seasons, as it feels great during fall and winter. In the beginning, it's quite strong and smells like traditional oud. Later, it transforms into something sweeter. According to some reviews, the positive point is it stays close to your skin, and you can enjoy smelling great for 6 to 8 hours.
| | |
| --- | --- |
| Top Notes | Oud |
| Middle Notes | Agar wood, Incense and Olibanum |
| Base Notes | Leather and Musk |
Les Sables Roses- Les Sables Roses has a rose-scented fragrance. It is perfect if you are going on a date or celebrating a romantic occasion. It has good quality ingredients, which make it a rich scent. Les Sables Roses is more suitable for both men and women. So, if you want to smell romantic for 10 to 12 hours, then this perfume is for you.
| | |
| --- | --- |
| Top Notes | Rose and Black Pepper |
| Middle Notes | Saffron and Oud |
| Base Notes | Ambergris and Agar wood |
Au Hasard-"Au Hasard" can be roughly translated as "at random". It's a mix of unusual combinations of smells. It might not seem like they should go together, but surprisingly, they do. It has a dry and musky fragrance filled with leather and woodiness. As it dries down, hints of neroli and cardamom spice bring warmth to the scent. According to some users, Au Hasard is nice, but it's not worth the higher price.
| | |
| --- | --- |
| Top Notes | Bergamot, Lemon and Aldehydes |
| Middle Notes | Cardamom, Pear Liqueur, Green Notes, Neroli and Freesia |
| Base Notes | Leather, Musk, Sandalwood, Cashmeran and Ambrette |
Sun Song- "Sun Song" perfume bottle looks like a ray of bright sunshine. This perfume is perfect to apply in summer. The first spray of it feels like grapefruit, refreshing and lively. This smell also mixes with the scents of orange blossom and musk in the middle. And if we're talking about looks, among all the Louis Vuitton bottles, this one is probably the coolest.
| | |
| --- | --- |
| Top Notes | Citron |
| Middle Notes | Orange Blossom |
| Base Notes | Musk |
L'immensité- The one that has a proper blue fragrance. It is best for everyday wear and doesn't include fancy ingredients, but it balances out everything nicely. When you put it on, you'll get a strong grapefruit smell like the grapefruit rind. It's also mixed with a salty, woody scent.
| | |
| --- | --- |
| Top Notes | Ginger, Grapefruit and Bergamot |
| Middle Notes | Sage, Rosemary, Water Notes, and Geranium |
| Base Notes | Amber, Ambroxan, and Labdanum |
Nouveau Monde- This one has the best oud fragrance among all perfumes by LV. At first, it will give you a strong and primal scent. After settling, you can smell a dark cacao with a touch of light rose, patchouli, and smoky incense. It's perfect for older guys comfortable with scents that are more traditional.
Météore- This is very popular among young men and no doubt, it is perfect for them. It includes citrus, which makes you feel fresh. This perfume gives a creamy, flowery, and seductive vibe and stays for a long time.
Cactus Garden- Cactus Garden has soothing ingredients like lemongrass, incense, and matte tea. All this together will make you feel the heat and refreshment. It stays around 6 hours, with a strong smell for the first 1 to 2 hours.
| | |
| --- | --- |
| Top Notes | Lemongrass |
| Middle Notes | Ginger and Matte Tea |
| Base Notes | Bergamot and White Musk |
Afternoon Swim- Afternoon Swim has a mix of citrus and sea freshness. When you spray it on, you'll first smell the burst of orange, along with a fresh hint of ginger spice and powdery bergamot. You can find this perfume easily online.
| | |
| --- | --- |
| Top Notes | Ginger and Mandarin |
| Middle Notes | Bergamot |
| Base Notes | Ambergris |
Does Louis Vuitton have a men's cologne?
Yes, LV does have men's cologne and fragrances. These are specially designed for men and it comes in different bottle sizes, fragrances, and notes. The customer can choose the one which is best for him and suits his choice. Some of their popular colognes include the following-
Louis Vuitton Orage
Louis Vuitton L'Immensité
Louis Vuitton Sur la Route
Louis Vuitton Nouveau Monde
Louis Vuitton men's cologne imagination
"Imagination" by Louis Vuitton has a combination of notes that create a distinctive smell. Here are the key fragrance notes-
| | |
| --- | --- |
| Top Notes | Calabrian bergamot, Citron, Sicilian Orange. |
| Middle Notes | Tunisian Neroli, Ceylon Cinnamon, Nigerian Ginger. |
| Base Notes | Olibanum, Chinese Black Tea, Ambroxan, Guaiac Wood. |
After reviewing it, we can say it gives a fresh and zesty citrus fragrance. You feel like you are smelling lemon and oranges. It also has some kind of smoky, woody, and sweet elements. How it smells on each person can be different, so you must try it before buying it. Talking about the time it stays on your skin is about 8-9 hours; yes, it's a long and sufficient time.
Louis Vuitton Nouveau Monde Eau De Parfum
Louis Vuitton Nouveau Monde Eau De Parfum has a combination of different smells, like oud, cacao beans, and saffron. As we read, it has oud in it, which makes it even better. The presence of oud doesn't give a weird smell. Overall, we can say that it has a good-smelling fragrance.
Sizes
| | |
| --- | --- |
| 100ML - | 3.4 FL.OZ |
| 200ML - | 6.8 FL.OZ |
Louis Vuitton Météore Eau De Parfum
Louis Vuitton fragrance men have best perfumes, and one of them is Louis Vuitton men's cologne météore. First, it has the following fragrance notes-
Mandarin
Java vetiver
Neroli
Bergamot
Black pepper
Pink pepper
Sichuan pepper.
It smells like fresh citrus and different kinds of pepper. The citrus notes are juicy and natural. It spreads its scent quite well and lasts around 8-9 hours. It is best to use in spring and summer. But, this perfume has mixed reviews, according to some users it not so special.
I hope from the list of awesome Louis Vuitton fragrance men perfumes, mentioned in the article; you will able to choose the best LV perfume for him. All the perfumes of this brand are awesome, some may have mixed reviews, but they are all worth giving a try. Choose the one that best suit you and then you can start your day by smelling great!
(By Simran Singh)